MSC Divina Review
Overview | Design | Activities | Entertainment | Dining | Cabins | Kids & Teens
Line: MSC Cruises
Built: 2012
Passengers: 3,900
Class: Fantasia
Routes: Eastern Caribbean and Western Caribbean sailings from Miami
Best For:
Experienced travelers who want a more European cruise experience and open-minded cruisers looking for a beautiful ship at a great value.
Not For:
Cruisers looking for a raucous party atmosphere, those who prefer sailing only with other Americans, self-proclaimed foodies, travelers with food allergies.
Highlights:
Stunning Italian décor including Swarovski crystal staircases
Full production show every night of the cruise
Eataly Pizzeria
Overview: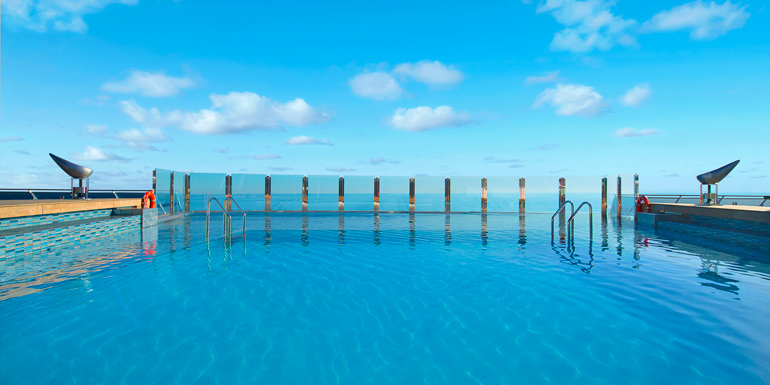 Divina's "infinity" pool - Photo by MSC Cruises
After trying to expand its Italian-inspired cruise product into the North American market for a decade with only mixed results to show for it, Switzerland-based MSC Cruises doubled-down in late 2013 and homeported the MSC Divina, one of their newest and biggest ships, in Miami to sail to the Caribbean year-round. With enhanced entertainment, tweaked menus designed appeal more to the American palate, a crew hand-picked to offer a higher level of service, and ship venues redesigned for the deployment, MSC Divina succeeds in offering a cruise experience that would feel right at home in the Mediterranean. Unfortunately, it falls a bit short in a number of key areas, almost three years after its' North American debut.
On an average sailing, 50% of MSC Divina's passengers hail from North America, with 50% from outside the US and Canada, primarily sourcing from Europe, China and South America. While English is the first/primary language spoken onboard, some announcements (particularly those safety-related) are made in up to 6 languages, which can be off-putting to less-traveled cruisers used to hearing only English on a cruise. Still, thanks to rates that are often absurdly low (under $400 for a 7 night cruise during some times of the year), MSC Divina is a great value for cruisers who are open to new experiences and have the proper mindset and expectations.
Design: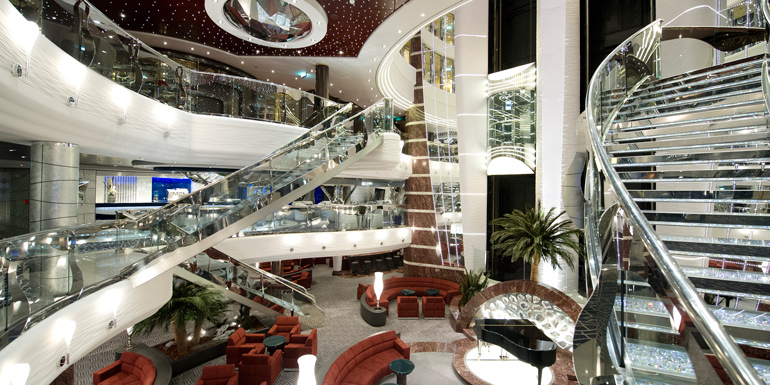 Swarvoski crystal staircases in Divina's atrium - Photo by MSC Cruises
MSC Divina is, to put it simply, stunning. Stepping aboard feels akin to walking into the lobby of a luxury hotel in Italy, and there's no other large cruise ship sailing from the US that looks quite like it. One favorite selfie stop is the Swarovski crystal staircases that circle the lobby and atrium. They're the real deal - each of the 100 stair steps is reported to have cost 3,000 euros. Throughout the ship, Italian sculpture and art lend an air of elegance, as do the photos of godmother Sophia Loren and other "divas" that inspired the name and décor.
While the decor is spectacular, the layout tends to be a bit confusing. Even after being onboard for several days (on my second cruise), I found myself referring to deck maps to determine the direction I was heading much more often than on other ships. Walkways tend to pass through bars and other venues, sometimes making navigation confusing and difficult. For example, to reach the La Luna piano bar, art gallery or Pantheon theatre balcony from mid-ship or aft, it's necessary to pass through the Golden Jazz bar.
Look for the hidden elevator mid-ship on the starboard side, around the corner from the main elevator bank. You might get lucky and have a shorter wait.
Divina deals from $
Activities: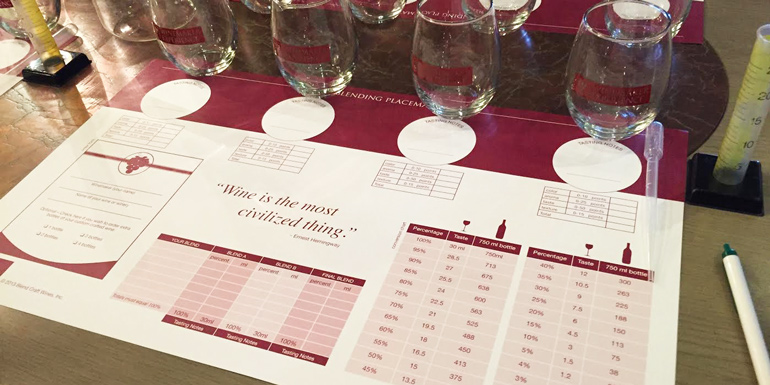 Try your hand at wine blending with Divina's Wine Maker Experience. - Photo by Simon Duvall
MSC Divina offers many traditional cruise activities, some of which come with a twist. Bingo, for example, is offered poolside on sea day afternoons. A unique offering is the Wine Maker Experience, available on sea days for $49 per person. An experienced vintner walks guests through a tasting of 4 wines and helps them create a custom blend suited to their taste. Each participant receives a bottle of their wine, including a personalized label, which makes a great (and tasty) keepsake of the cruise. It's a step above a typical cruise wine tasting, and it's only offered on MSC Divina. Arts and Crafts, trivia, dance lessons, cooking demonstrations and Italian lessons are also regularly on the schedule.
The library on MSC Divina feels like an afterthought, comprising just a few small shelves of books hidden away in a conference room on Deck 16 next to the disco. The disco itself doubles as a specialty restaurant, with a la carte dinner served before the dance floor opens.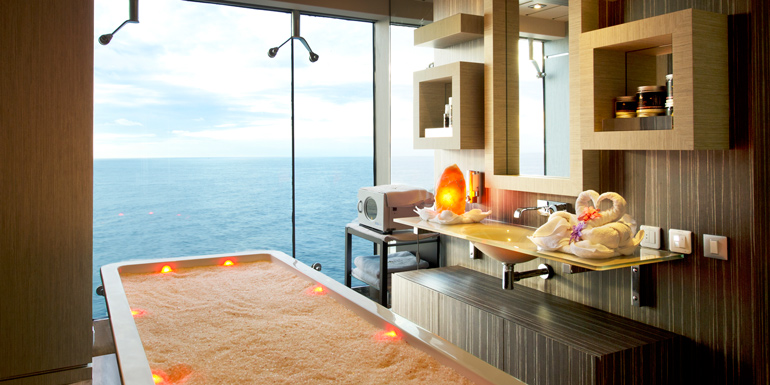 Divina's Aurea Spa - Photo by MSC Cruises
Divina's Aurea Spa offers a full menu of services. It's operated by the line and is one of the last independent spas at sea. The spacious fitness center, with panoramic views off the bow of the ship offers a complete inventory of equipment and fitness classes.
Tucked away in a hard-to-find corner of Deck 16 is Virtual World, home to a Formula 1 racecar simulator and a 4D cinema, offering about 6 different movie rides. Both are a la carte and are a bit pricey in the $8 to $13 range.
Entertainment: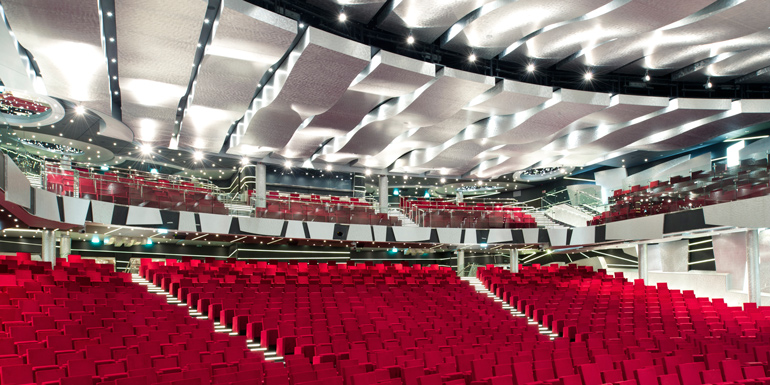 MSC Divina's theater - Photo by MSC Cruises
While many other lines are cutting back on entertainment, MSC Divina offers a different full production show every night of the cruise. It's the only cruise line sailing from North America to do so. It's not just about the quantity of the shows, though, since the productions are high quality and unlike anything else at sea. Most would best be described as variety shows, opening with a traditional musical/dance number or two and then moving to themed variety acts (acrobats, magicians, vaudeville-type artists). On the last night of the cruise, Starwalker takes to the stage. This larger-than-life Michael Jackson tribute is a must-see performance that ends with a touching, photo-worthy moment you won't want to miss. There's also a matinee opera performance during a sea day on most cruises.
MSC Divina hosts a larger cruise/entertainment staff than is typical for a ship of this size, and they really do their best to engage with passengers. Whether taking to an empty dance floor in a lounge to get others on their feet, or offering 'free hugs' in the aisles of the theatre before the evening show, they make their presence known. The cruise staff also serve as ambassadors for international guests and help those who don't speak English plan and enjoy their time onboard.
Due to the full schedule of shows, each production is only shown on 1 night, so if a show looks interesting, be sure to catch it because it won't be repeated later in the cruise.
Divina deals from $
Dining: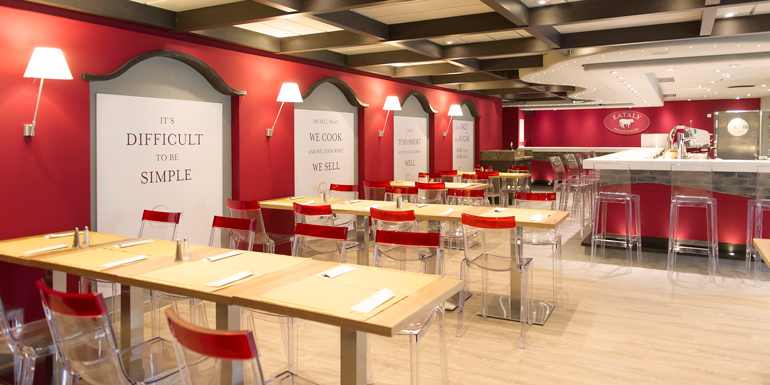 Eataly Steakhouse - Photo by MSC Cruises
Dining is, unfortunately, an area where MSC Divina falls short of expectations. While service and food have improved since the ship's North American debut in 2013, the quality is still very inconsistent, with some meals and dishes exceeding expectations and others falling woefully short.
In the main dining room for dinner, service and food quality were generally good. Some appetizers and dishes, like the fettuccini alfredo, the "farmer's salad" and the chilled strawberry soup were superb and even rank among the best cuisine I've enjoyed at sea. At lunch in the main dining room, however, the obviously frozen fish and chips and a "taco salad" with romaine lettuce and poorly seasoned chicken were both disappointments.
The food at Eataly Steakhouse, one of MSC Divina's four specialty dining venues, was also a letdown. The Caesar salad was the best part of the meal, followed closely by the bomboloni donuts for dessert. The spaghetti with tomato, mozzarella and basil pasta course and the New York strip steak were average at best. The service at Eataly Steakhouse was superb, but the food quality and casual atmosphere, with paper napkins and plastic chairs, didn't justify the a la carte pricing.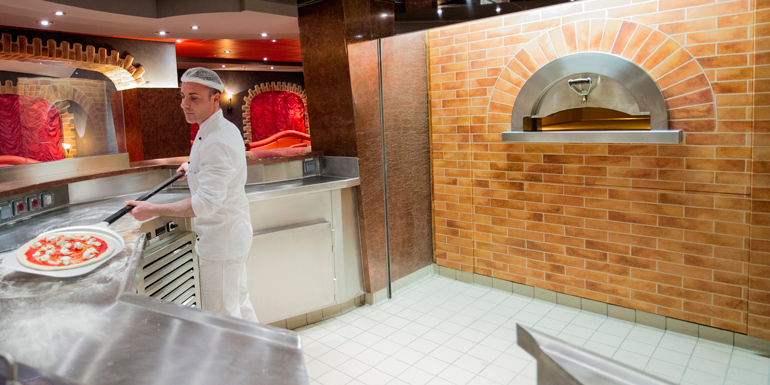 Pizza is a high point on Divina. - Photo by MSC Cruises
One of the culinary bright spots aboard MSC Divina is the Eataly Pizzeria. Featuring handmade-to-order thin-crust pizzas including a unique "metre of pizza" that you have to see to believe, Eataly Pizzeria offers hot and fresh food with a la carte prices that are reasonable for the quality and portions.
Also of note is the Calumet and Manitou Buffet, open 20 hours a day. Superb pizza, delicious burgers and a wide assortment of international cuisine are on offer, and a map of the buffet greets guests at the entrance, which, at least in theory, helps reduce crowding and lines at the first food stations, as it's easy to see that the same menu items are offered in other locations. 24-hour room service is also available at no extra charge.
Freshly-made Venchi gelato is available both on the pool deck and in the Piazza del Doge lounge for $2-$3. Given the large number of choices available, a way to enjoy a taste of multiple flavors of gelato at once would be a great addition. The Piazza del Doge lounge offers pastries ($1 and up) throughout the day, and you can get your Segafredo Coffee fix there or at the Caffe Italia Bar.
Cruisers with food allergies might do best to steer clear of MSC Divina, as the ship seems to struggle to accommodate dietary concerns. A member of our traveling party had a gluten allergy, and the ship was only able to accommodate her meals in the main dining room.
Cabins: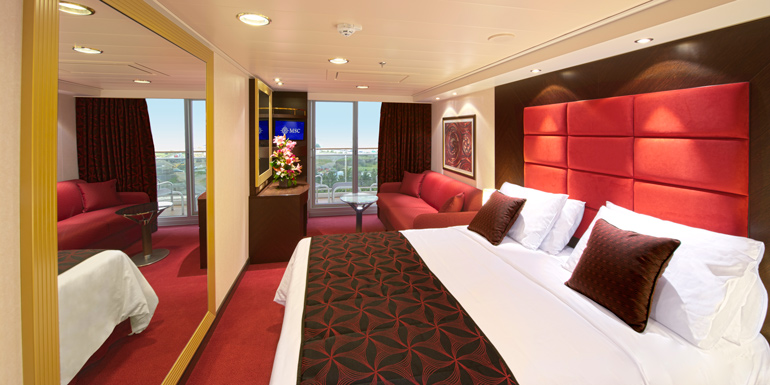 Balcony cabin - Photo by MSC Cruises
Staterooms on MSC Divina are typical in size and amenities. Bathrooms are relatively spacious and offer a slightly larger than normal shower with swinging plastic doors rather than a curtain. Two outlets are provided by the desk, and an (a la carte) mini bar is stocked regularly.
The MSC Yacht Club is a dedicated, key-card access space exclusively for suite passengers located at the front of the ship. Yacht Club guests enjoy access to a private lounge, restaurant and pool courtyard and have the services of a concierge and private butler available. Of particular note is the Sophia Loren Suite, designed by the ship's godmother.
Kids & Teens: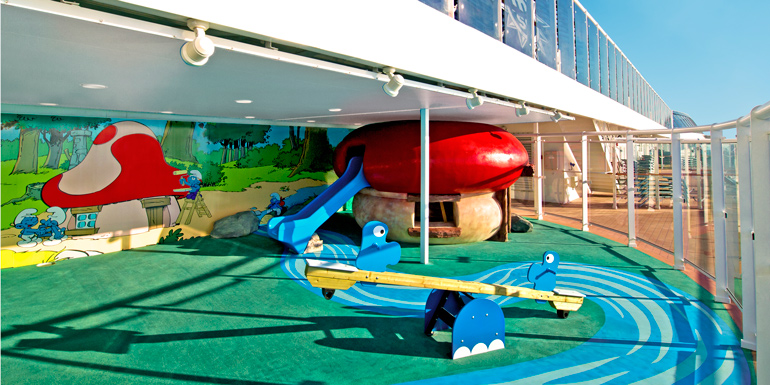 I Puffi play area - Photo by MSC Cruises
Kids 11 and under sail free on MSC (and tweens and teens 12 to 17 sail at reduced rates), so Divina tends to attract families, especially during the summer months. The kids programs feature I Puffi (the Italian name for The Smurfs) and a partnership with Lego. Grafitti's teen club is a perfect hideaway for tweens and teens.
Join The Discussion
Have you sailed on MSC Divina? What did you think?