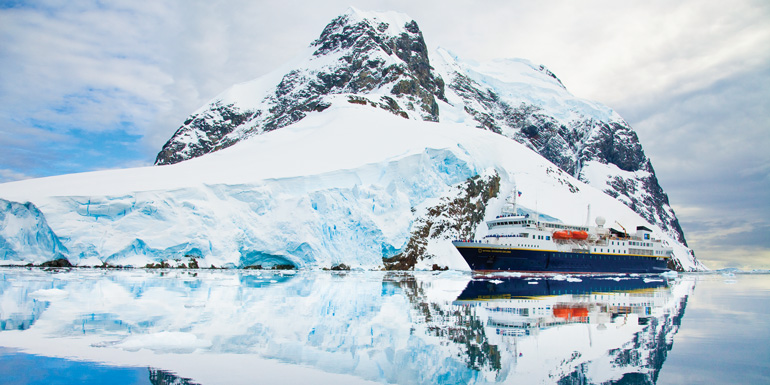 Ships
Year-round: National Geographic Endeavour, National Geographic Explorer, National Geographic Islander, National Geographic Orion, National Geographic Sea Bird, and National Geographic Sea Lion. Ships chartered for part of the year: Delfin II; Jahan; Lord of the Glens; Sea Cloud.
Routes
Polar Regions: Antarctica and Arctic
North America: Alaska, Baja California, Canada, Caribbean, Costa Rica and Panama, Pacific Northwest
South America: Amazon, East Coast of South America Galapagos Islands, Patagonia, Peru,
Europe: British Isles, European Atlantic Isles, Holland and Belgium, Mediterranean, Scotland
Southeast Asia and Pacific: Australia, Borneo and Indonesia, Cambodia and Vietnam, Pacific Islands,
Africa and Indian Ocean: Southern Africa and Indian Ocean, West Africa
Best For
Adventurers who seek unusual itineraries, those who enjoy active shore excursions and have an interest in the environment, photography buffs and, on the wildlife cruises — especially Galapagos and Baja, California — families traveling with children.
Not For
Late-night party animals or mainstream cruisers looking for dining options, water parks, show lounge entertainment, gambling, or shopping.
We Love
The expedition team is tops, and many staff members have been with the line for years.
The team organizes evening gatherings to recap the day and discuss plans for the next day.
Evening recaps also include watching videos created while ashore or — cooler still — under the sea by semi-submersible, underwater cameras and hydrophones.
Shore excursions in Zodiac inflatable motorboats get you close to sea life and the animals that gather at the water's edge.
Many itineraries involve close encounters with wildlife on land and provide the thrill of walking among the animals — especially in the Galapagos Islands.
Wildlife photography classes, run by National Geographic photographers, are offered on select itineraries.
In warm seas, you can kayak and snorkel off the side of the ship.
We Could Live Without
Cabins are sometimes small, especially aboard the National Geographic Sea Lion and National Geographic Sea Bird.
Occasionally, rough water conditions can feel intense aboard these small ships.