Norwegian vs. Royal Caribbean: Smackdown!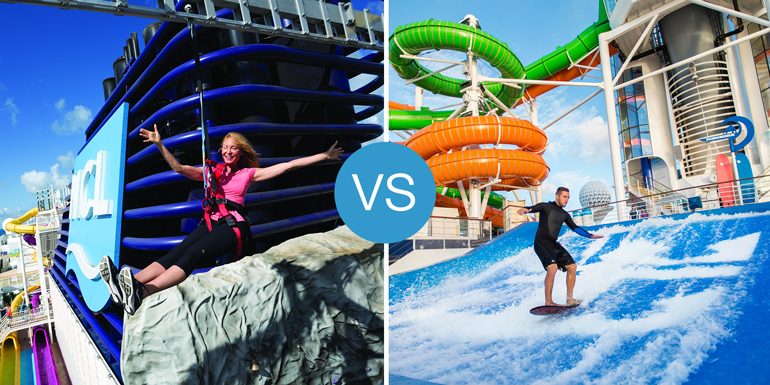 We take a look at two behemoths of the cruising industry, Royal Caribbean and Norwegian Cruise Line, and compare them in a Cruiseline.com Smackdown!
Design
Both Royal Caribbean and Norwegian are advocates of the bigger-is-better concept of cruising with an overload of activities, dining, and entertainment. The flow of both line's new ships keep the majority of dining and entertainment venues primarily together in the same locations for easier navigation while still keeping gridlock to a minimum. The neighborhood concept on Royal's Oasis-class ships is an excellent example as it gives each area of the ship a unique feel while still keeping the ship accessible and crowd-free.
Each cruise line offers its own impressive design touches. Royal Caribbean has an expansive art collection on all its ships with the collection on Ovation of the Seas featuring 11,000 pieces. Notable on Norwegian Cruise Line's newer ships is the colorful hull artwork including the Peter Max New York City design on the Norwegian Breakaway and the marine wildlife artist and ocean conservationist Guy Harvey designed hull on the Norwegian Escape.
Our Pick: Draw. The open-air interiors on newer Royal ships (right) make excellent use of the space, and Norwegian's Waterfront (left)offers a great variety of restaurants and bars with some of the best views on the ship.
Cabins
Both Royal Caribbean and Norwegian Cruise Line offer similar standard cabins with or without balconies, with plenty of amenities and welcoming service. The difference between the two lies in their special offerings: Royal Caribbean has recently added the Royal Suite Class to its newer ships, which comprises three service levels based on suite category and features a host of benefits and upgraded amenities, including a Royal Genie butler service and exclusive and priority access. Newer Royal Caribbean ships have over 30 categories of cabins to choose from, which may sound like a headache, but actually help passengers choose the most optimal layout and view for their party and budget.
Each line also has an assortment of family staterooms. Royal's family cabins come in several different varieties and layouts from family inside and oceanview cabins to family suites (with corresponding price tags), and are generally the largest in the industry. Norwegian's newest ships (Getaway, Breakaway and Escape) have a greater number of staterooms that can fit a family of 5, plus the option of booking connecting rooms which make them a great choice for large groups.
Our Pick: Norwegian. Royal's family cabins (right) are arguably the best in industry, but the Haven's (left) exclusive ship-within-a-ship concept reigns supreme.
NCL deals from $
Dining
Choice is the key word for dining on both Royal Caribbean and Norwegian Cruise Line ships. With often 18 dining options or more on select ships, both complementary and specialty for a fee, casual to fine dining, both lines offer something for everyone. Each line has its own celebrity chef and branded restaurants to impress, and the concept of dining where you want, when you want. Highlights on Royal include Jamie's Italian by Jamie Oliver and Michael's Genuine Pub, the first American gastropub at sea by James Beard Award-winning chef Michael Schwartz, while Norwegian's top offerings include Latin-inspired seafood at Bayamo by Iron Chef Jose Garces' and Margaritaville.
Though not officially needed, reservations are the true key to dinner success for both lines if you really want to eat in a certain restaurant. Norwegian is famous for pioneering the freestyle dining concept, which Royal Caribbean adopted in the form of Dynamic Dining on its new Quantum-class ships. Royal also offers Dynamic Dining Classic for those guests who prefer the traditional cruise dining experience of eating at a set time each night with the same wait staff and with the same companions.
Our Pick: A draw with both cruise lines offering excellent and varied cuisine in both their complimentary and specialty restaurants.
Activities
There are plenty of opportunities to get your adrenaline pumping on each line. Royal's highlights vary by ship but can include SeaPlex, the largest indoor active space at sea with a circus school, full-size regulation basketball court, roller skating, bumper cars, and DJ booth. RipCord by iFly on the Quantum-class ships gives passengers a simulated skydiving experience, and their FlowRider surf simulator is a staple of the Royal Caribbean fleet. Some ships also have a zipline across the Boardwalk neighborhood, ice skating rinks, and rock climbing walls.
Norwegian Cruise Line's thrills also vary by ship but can include Aqua Parks with multi-story water slides and kids' areas and elaborate ropes courses that include the chance to zipline and "walk the plank" out over the side of the ship. Other activities include mini-golf, rock climbing, and basketball.
Our Pick: Royal Caribbean. While the activities available will depend on the ship, Royal generally offers more in terms of heart-pumping activities that can keep the action going and going.
Royal Caribbean cruise deals from $
Entertainment
Both cruise lines have strong selection of Broadway musicals including Grease and Mamma Mia! on Royal Caribbean and Rock of Ages and After Midnight on Norwegian Cruise Line. Royal Caribbean's entertainment also includes AquaTheater high diving and acrobatic performances, ice skating shows, and original productions. On Norwegian Cruise Line, guests can enjoy intimate performances such as Howl at The Moon dueling pianos, jazz and blues clubs, Second City comedy troupe, and original productions that include Cirque Dreams & Dinner, The Illusionarium and For the Record: The Brat Pack Live.
Our Pick: Norwegian. Both of these cruise lines know how to amp up the fun with an impressive lineup of entertainment, but Norwegian Cruise Line's choice of smaller music venues edge it out over Royal Caribbean.
For Kids
Families make up a large part of both cruise lines' markets. Supervised children's programming for Royal and Norwegian starts at age three and as young as six months on select ships. Kids are divided by age groups and have their own dedicated spaces with age-appropriate activities including trendy teen lounges. In addition, family-focused programming gets mom, dad, and the kids enjoying time together with both cruise lines.
Royal Caribbean stands out with its DreamWorks Experience on select ships where such DreamWorks characters such as Po of Kung Fu Panda; Shrek, Fiona and Puss In Boots of Shrek; and Alex the Lion, Gloria the Hippo, and the Penguins from Madagascar are featured in themed activities and parades.
Our Pick: Royal Caribbean. It's a draw for families with teens, but for parents with younger children, the DreamWorks Experience makes Royal Caribbean the winner in this category.
Overall
Our Pick: Royal Caribbean. In most categories the two cruise lines deliver an equally superior contemporary cruise ship experience. Royal Caribbean comes out slightly ahead in terms of having more standout activities as well as the DreamWorks characters for those traveling with children. Norwegian Cruise Line's The Haven is definitely the choice for guests seeking an upscale ship-within-a-ship experience, and its entertainment wins out over Royal Caribbean's.
Join The Discussion
Which line do you sail on?