Disney vs. Royal Caribbean: Smackdown!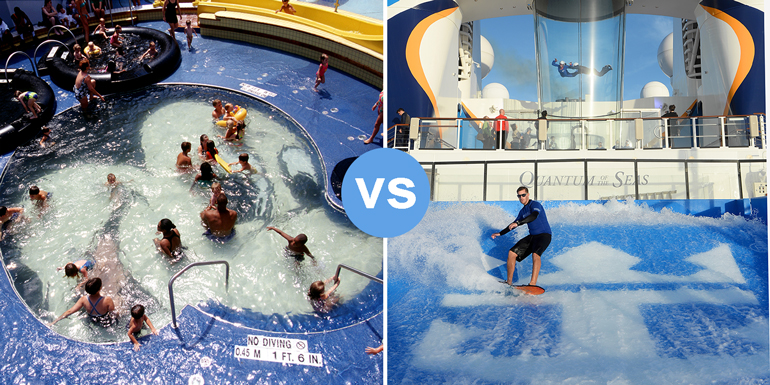 You could make a case that these are the best two lines for families with young kids of multiple ages, the kinds of families who like activities and action. Not sure which line is better at the basics? Read on for our opinion:
Activities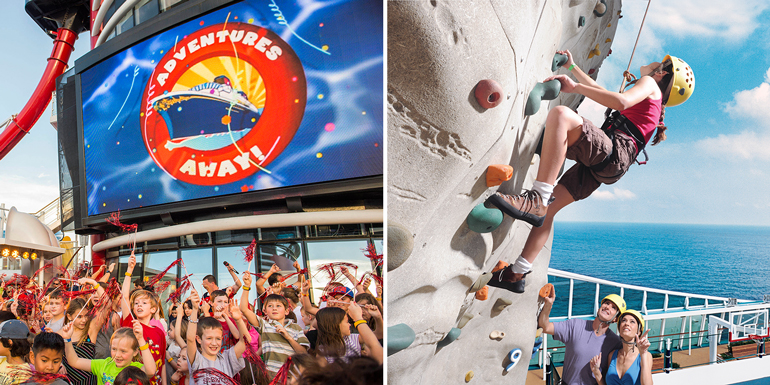 High-energy onboard activities are the biggest draw of both lines. - Photos by Disney Cruise Line and Royal Caribbean
Many of Disney's activities take full advantage of the brand, from character meet-and-greets to themed playrooms, Broadway-style musicals (including "Toy Story" and "Aladdin," and movie theaters that screen first-run and 3D films. Still, these ships also have water slides (including one that is a "water coaster") and impressive adults-only areas, both on the ship and on the private island.
That said, Royal Caribbean is perhaps best known for their high-adrenaline options, from surf simulators to sky diving simulators, bumper cars, and rock climbing walls. There are also character meet ups through a partnership with DreamWorks.
Our Pick: Draw
This is the biggest strength of both lines, which lead the industry in innovative family-friendly entertainment, so this one is a draw.
Cabins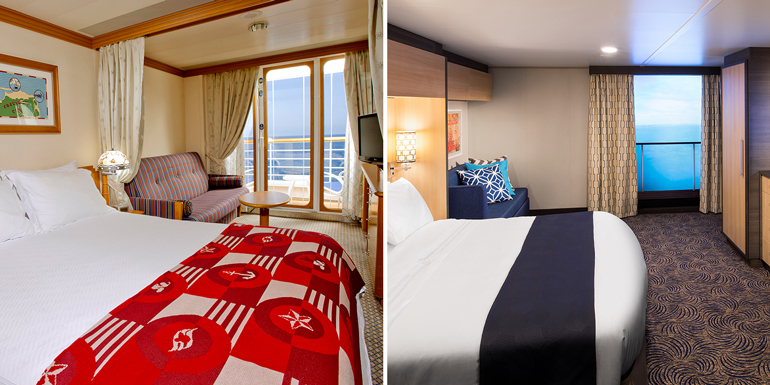 Disney Balcony cabin and Royal Caribbean interior cabin with virtual balcony - Photos by Disney Cruise Line and Royal Caribbean
Royal Caribbean has done some interesting things with cabins, including suites designed like duplex apartments and interior cabins with floor-to-ceiling LED "windows" that serve as virtual balconies. Disney has, from the beginning, offered features that set it above other lines in terms of serving families. Case in point: their bathrooms are split into two, one with a shower and sink and the other with a toilet and sink, allowing families to speed through morning and evening rituals much faster.
Our Pick: Disney
There are strengths on both lines, but we have to give this one to Disney, since you'd have to book a presidential suite on most mass market lines in order to get two bathrooms.
Dining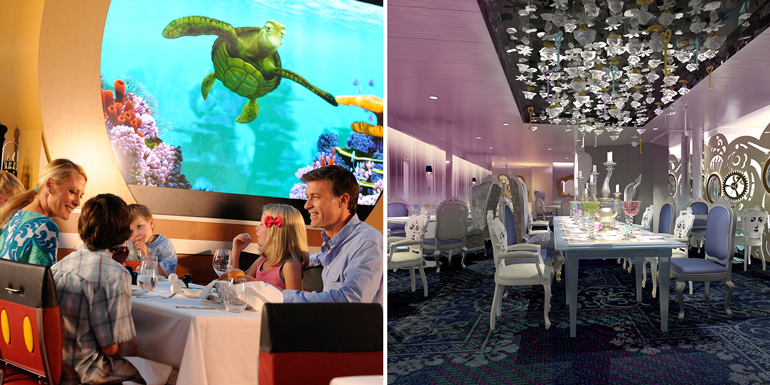 Disney's Animators Palate and Royal Caribbean's Wonderland - Photos by Disney Cruise Line and Royal Caribbean
Royal Caribbean International has stepped up its game in the food department in recent years. Today, you'll find that newer ships have impressive choices, both included in the cruise fair and at specialty restaurants. In fact, on its newest ship, Quantum of the Seas, the dining has been reimagined to allow for open seating at five different restaurants with five unique menus and five themed atmospheres, a serious upgrade.
While the quality remains better in the specialty restaurants — which include Wonderland, a chic modern spot that uses molecular gastronomy techniques to wow guests, and Jamie's Italian, Jamie Oliver's first restaurant at sea — improvements have taken place even in the buffet area, where, for example, pagers are handed out to alert you that your omelet is ready.
Disney Cruise Line, on the other hand, has always done a consistently solid job with food. Even its chicken fingers and French fries on the pool deck are memorably tasty, and soda fountains are free and self-serve.
The line's specialty restaurants include modern French Remy, which frequently wins accolades for both food and service, and its signature innovation: Your waiters move with you from restaurant to restaurant at night, guaranteeing smooth service and drinks on the table when you arrive.
Our Pick: Royal Caribbean
There are more choices on Royal Caribbean ships, but it is hard to compete with the service on Disney ships, so you just have to decide which is your priority. This one is almost a draw, but we give a slight edge to Royal Caribbean with the launch of Quantum of the Seas.
Overall
Our Pick: Draw
Both lines deliver on their promise to entertain a wide swathe people, especially families with kids in different age groups. If your children are younger, you may find that Disney is the better fit; if they're older, Royal Caribbean – with it's high adrenaline activities – may be best for you.
Join The Discussion
Which line do you prefer?