Celebrity vs. Royal Caribbean: Smackdown!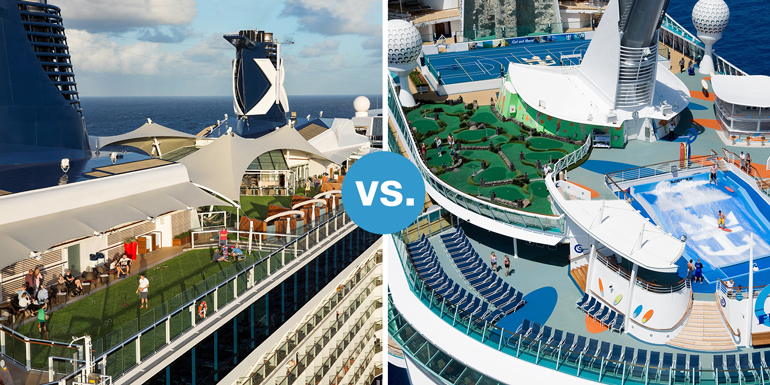 These big-ship lines offer similar price tags, but the experiences couldn't be more different: Celebrity Cruises is refined (think painting classes and croquet on grass lawns), while Royal Caribbean is down to earth, with sporty activities like ice skating and simulated skydiving. Read on for our comparison:
Dining
For years, Celebrity has focused on food served in elegant surroundings, from an alfresco steak house to classic French fare in an ocean liner-themed restaurant. Royal Caribbean has never been a "foodie" line, but its soon-to-launch Quantum-class ships will have 18 restaurants, including an Italian one from Chef Jamie Oliver and a pub from James Beard Award-winning Chef Michael Schwartz.
Our Pick: Celebrity — Celebrity wins this one easily, but Royal Caribbean is starting to catch up.
Standard Cabins
Neither of these lines offers the largest standard cabins (Carnival Cruise Lines, Holland America Line, and Disney Cruise Line all offer larger ones), but Celebrity's standards start at a respectable 170 square feet and feature robes, minibars, and bathroom toiletries that include hair conditioner (many lines just offer shampoo and body wash). Most of Royal Caribbean's standard cabins are smaller, especially on older ships; interiors on Vision-class ships, for example, are just 132 square feet.
Our Pick: Celebrity — The line's cabins are bigger and offer more amenities.
Specialty Cabins
Celebrity offers a variety of suites and specialty cabins, including the two-bedroom Reflection Suite, with its glass shower stall cantilevered over the side of the ship, and the AquaClass cabins, which provide complimentary access to the spa's steam room and their own specialty restaurant. Royal Caribbean has fresh ideas too, from two-story, glass-walled loft suites to suites with views of the AquaTheater's diving shows.
Our Pick: Celebrity — Its specialty options are more creative.
Kids
Celebrity has colorful playrooms for three different age groups, plus a teen center and video arcade. Royal Caribbean has this and more: a drop-off nursery for babies and toddlers, and a partnership with DreamWorks that — on some ships — has Shrek, Kung Fu Panda, and other characters posing for photos. Both lines offer private, in-cabin babysitting.
Our Pick: Royal Caribbean — The line offers more activities, and its nursery makes this decision a no-brainer for those with children under 3 years of age.
Activities
Celebrity can claim several cruise ship firsts: glassblowing demos and real-grass lawn clubs for bocce. Classes range from jewelry making to wine pairing. Royal Caribbean's claim to fame: climbing walls, ice-skating rinks, surfing machines, and ziplining. Its upcoming Quantum class will have some great additions, including bumper cars and a skydiving simulator.
Our Pick: Draw — They both go — dare we say it? — overboard with things to do.
Entertainment
Royal Caribbean offers family-friendly ice-skating shows and synchronized swimming performances. On the soon-to-launch Quantum class, expect a full-length presentation of "Mamma Mia!" and performances by high-tech, robot-like screens. Celebrity is also innovative, and you can catch a European-style circus show or a theme party with dancers in extravagant costumes. The line's lounges have serious style: Molecular Bar, for example, serves liquid nitrogen-topped concoctions.
Our Pick: Draw — Royal Caribbean does family entertainment well, and Celebrity's better for adults.
Itineraries
The two lines do all the biggies — Caribbean, Europe, and Alaska — as well as exotic locations: Hawaii, South America, Asia, Australia, and more. Plus, the 98-passenger Celebrity Xpedition explores the Galapagos Islands year-round.
Our Pick: Celebrity — Galapagos Islands sailings push Celebrity over the edge.
Overall
Our Pick: Draw - This one is just too close to call. Royal Caribbean has distinguished themselves as the line for adrenaline junkies and active cruisers, while those who prefer refined relaxation will be drawn to Celebrity's casual elegance.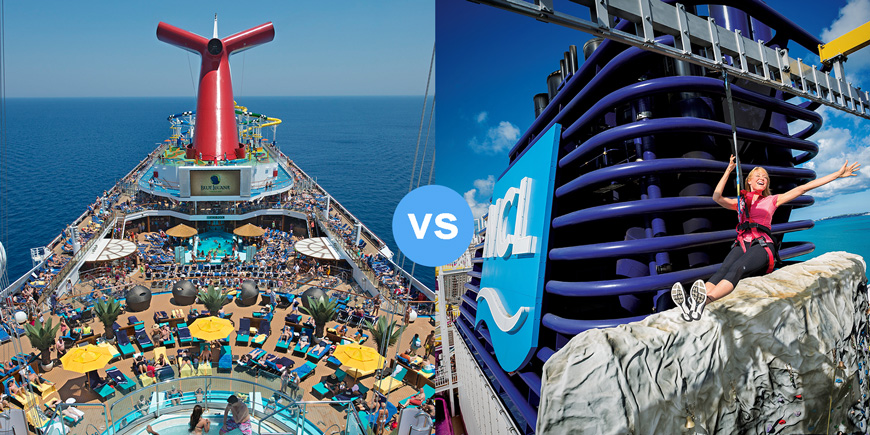 Join The Discussion
Which line do you prefer?