Best Hike: Natural Pool Trail, Aruba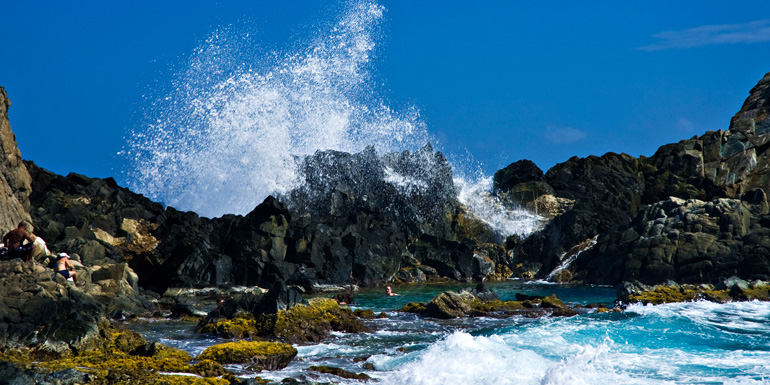 You wouldn't know it from your arrival at Aruba's cruise terminal in the port of Oranjestad, but the relatively small desert island of Aruba offers one of the most rewarding hikes in the Caribbean. The Natural Pool trail on the northern coast takes you from a small, palm-shaded hacienda called Rancho Daimari, out along a dramatic, rugged shore to a secret tidal pool in Arikok National Park.
You'll need a park pass ($10), available from the ranger station in Santa Cruz, just a 20-minute drive from the port. Then head to Rancho Daimari — another 10-minute drive. Check in at the office, which has a small bar that serves drinks and refreshments. You'll want to stock up on water.
The rancho offers guided horseback rides along the limestone cliffs and hidden beaches ($78 per person plus a $10 national park fee) to the natural pool. But the relatively flat terrain and lack of motor traffic — you might encounter the odd mountain bike — make this a wonderfully easy and relaxed hike.
Follow the dirt road past the horse stables to the sand dunes and sea. The landscape here is a haunting blend of scenery you might find on the rugged shores of Northern California and the bright red formations of the Australian Outback. The trail is braided and rough, but as long as you keep the shore to your left, you'll spend the next 45 minutes winding your way past pretty beaches. Just avoid the temptation to dive in — the surf is strong and dangerous here — until you reach the natural pool.
The best part: The pool itself — called "conchi" in Papaimiento, the local language — is a refreshing reward. Nearly 8 feet deep (depending on the tides), the clear, tranquil waters are protected from the pounding north-shore surf by a wall of black volcanic stone. When the surf explodes over the top and trickles down into the pool, the sunbaked rocks heat the foam. You'll feel like you're swimming in warm Champagne. Arirok National Park, San Fuego 70, Aruba; 297-585-1234; ArubaNationalPark.org