10 Best Things to Do in Vancouver, Canada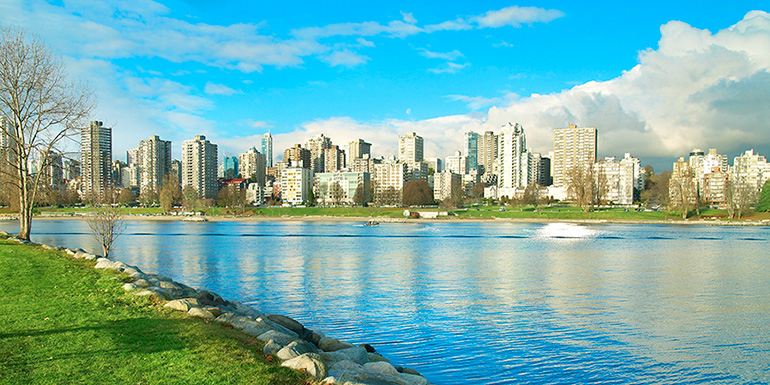 Hard to believe that just over a century ago, this forward-thinking metropolis was a rough-and-tumble logging settlement. Now you'll find towering glass high-rises, abundant public parks, and vibrant galleries against an intoxicating jumble of mountains, sea, and sky.
Vancouver is also home to the Rodeo Drive of the North and an impressively diverse population that's put its stamp on a buzzing dining and cocktail scene. Don't know where to start? Here's where to go and what to do when your ship pulls into port.
Hotels in Vancouver, Canada
Splurge: Rosewood Hotel Georgia – When the Hotel Georgia reopened its doors in 2011, it signaled the return of a legend. The 1927 Georgian Revival building — once frequented by Frank Sinatra and Nat King Cole — retained its classical grandeur (Czech chandeliers, painted crown moldings, Italian marble floors) but stepped up its modern-day amenities. Art deco interiors are enlivened with original artworks from Canadian artists; a fragrance concierge offers a spritz at check-in (Chanel No. 5, madam?); and a Bentley car service whisks guests around town. Today, the hotel still hosts celebrities and other notables, but with more discretion. Doubles from $275.
Steal: Opus – Whimsy and personality infuse the Opus, a 96-room boutique hotel in trendy Yaletown. The 70s-inspired rooms have white duvets, iPad® devices for on- and off-property use, and retro candy — Blow Pop® suckers, Pop Rocks® candy, or Lemonhead® drops — at turn-down service. The new Northern Italian-cuisine La Pentola della Quercia occupies a portion of the ground floor, and Opus Bar features live music every weekend. Doubles from $209.
Tip: Most hotels in town offer pre- and post-cruise packages, which include transfers to the port.
Top Restaurants in Vancouver
Breakfast: Café Medina – Thanks to its mouthwatering fricassées and mini-waffles with milk chocolate-lavender and fig-orange dipping sauces, the wait can be more than an hour at this brick-walled nook on the edge of Chinatown. If your stomach grumbles in the interim, slip down the street to Yolk's for a takeaway poached egg sandwich: The panko-tempura avocado on a ciabatta bun will surely stave off your hunger.
Lunch: Rainier Provisions – Part food purveyor, part restaurant, this popular if precious spot has "Portland" written all over it. In addition to Stumptown Coffee, Rainier serves a simple menu inspired by produce from the Okanagan Valley. Look for ratatouille-stuffed portobello mushrooms served with Lyonnaise potatoes and arugula lemon pesto, for example. Not sure what you want? Peer into the glass at the deli counter for the day's selection of cheese, charcuterie, and links made by a fifth-generation sausage maker.
Dinner: Pidgin – New to Vancouver's dining scene, this Gastown quarter hot spot knows no boundaries. A blur of French, Japanese, and Korean influences, Pidgin's fare takes on a character that's refined and unfussy, flavorful but simple. Dishes such as bison tataki with wasabi vinaigrette and foie gras rice bowl with chestnuts and daikon pair well with the artisanal sakes and British Columbian wines on tap.
Dessert: Earnest Ice Cream – Owners Ben Ernst and Erica Bernardi peddled their confections from a cooler mounted on a vintage bicycle before opening this shop on the up-and-coming Fraser Street. The sunny space — whose mood matches the store's motto: "Without ice cream, there would be darkness and chaos" — has old-fashioned barstools and hanging clipboards that post the flavors. Try the popular salted caramel or one of the seasonal scoops, such as roasted rhubarb oat crumble, mulled pear, or white peach brown butter.
Tip: Vancouver has no happy hours, at least not as we know them. Because of strict liquor laws, restaurants and bars are banned from discounting alcoholic drinks for short periods of time. Instead, you'll find "appy hours" (discounted appetizers) and all-day specials on featured drinks.
Best Activities in Vancouver
For Everyone: Granville Island – You can easily spend an entire day at Granville Island's shops, artisan studios, and food stalls, accumulating souvenirs more original than maple syrup and leaf-shaped cookies. Here, printmakers, ceramists, jewelers, and even totem pole-carvers craft and sell their wares. A children's market features a kite-and-puppet store and "princess" salon, and an on-site brewery quaffs any mid-retail thirst. There's even a weekly farmer's market despite the presence of a very robust public market.
For Couples: Forbidden Vancouver – A historical walking tour may sound like a humdrum pastime, but add bootlegging mobsters, corrupt politicians, and histrionic showgirls, and you have a spicy afternoon. Forbidden Vancouver explores the underground history of this former frontier town. Duck through back alleyways, erstwhile vaudeville districts, and once-illicit drinking dens on a tour animated by the company's storytellers.
For Families: FlyOver Canada – This new multimedia show near the waterfront takes you on an east to west coast journey across Canada's calving glaciers, rolling vineyards, and lit-up metropolises. Parents will love the geography lesson; kids will dig the swooshing chairs, spraying mists, and occasional gusts of wind.
For the adventurous: Bowen Island – When the sun is out, Capilano Suspension Bridge and Grouse Mountain seem more like overpopulated city blocks than natural green spaces. A less trammeled option: Bowen Island, 45 minutes from downtown Vancouver. Trek or bike along trails shaded by moss-covered cedars, or negotiate hilly terrain past waterfalls and lakes. The steepest trail tops off at 2,500 feet.
Tip:If you're looking to hike Grouse Grind's notoriously steep "Stairmaster" trail, hop on the SeaBus from the waterfront, then take the 236 bus from Lonsdale Quay. You won't need to pay the full $40 admission price as advertised on the "free" shuttles from the waterfront.
Insider Tip
Canada recently phased the penny out of its currency. Expect to round to the nearest 5 cents when paying cash, but you'll be charged the exact amount in debit or credit transactions.
iPad is a trademark of Apple Inc., registered in the U.S. and other countries.
Blow Pop is a registered trademark of Charms Marketing Co.
Pop Rocks is a registered trademark of Zeta Espacial.
Lemonhead is a registered trademark of Ferrara Candy Co.