10 Best Things to Do in Seattle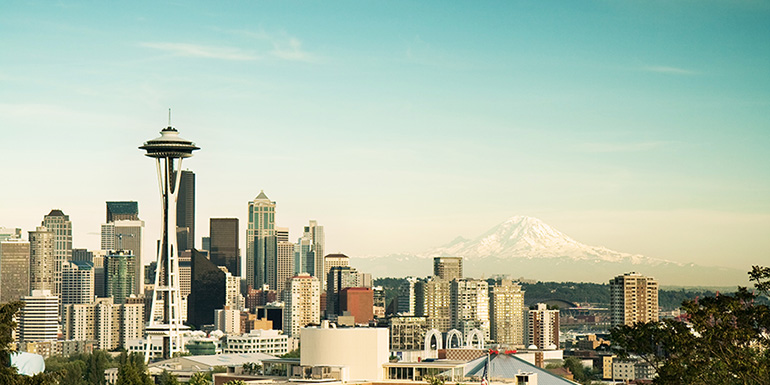 Some Alaska­­ cruises start with a bonus: a visit to Seattle, the de facto capital of the Pacific Northwest. The Emerald City is in the middle of a $335 million project to replace its seawall, the latest in a series of rehabilitation developments and new attractions that have benefited the waterfront. If you're going to be in Seattle, these are the spots are worth exploring before you embark.
Hotels in Seattle
Splurge: Four Seasons Seattle – Rising above Pike Place Market and the Seattle Art Museum, this hotel is about as luxurious as they come downtown. Nearly all of the 147 rooms have at least a partial view of Elliott Bay, and amenities such as free Wi-Fi and thick terry bathrobes come standard. The real treat, however, is upstairs on the pool deck — after 6 pm, the area turns into a guests-only open-air lounge with handcrafted cocktails and light bites. Doubles from $315.
Steal: Mayflower Park Hotel – Location is important in a big city, and this 160-room hotel has one of the best you'll find. The hotel is a short walk from Seattle Center, as well as the Monorail. For a historic hotel (it opened in 1927), accommodations are surprisingly comfortable: Beds are firm, bathrobes are plush, and there's 24-hour room service.
The place also offers great deals for cruise ship passengers — through October, a one-night package includes room, breakfast, long-term luggage storage, and shuttle transfers to and from the cruise ship terminals. Also, look for holiday sale specials that can bring the rate as low as $119. Doubles from $259.
Top Restaurants in Seattle
Breakfast: Café Campagne – Transport yourself to France with brunch at this classic Parisian café in Pike Place Market. Executive Chef and Owner Daisley Gordon serves up traditional fare such as oeufs en meurette (poached eggs with a sauce of pearl onions, bacon, and mushrooms), croque-monsieur, and quiche. The restaurant bakes soft-on-the-inside baguettes daily and, on windy days, you can smell the goodness from blocks away. But the real star of the show here is dessert (which includes house-made crème brûlée and clafoutis, a flan-like fruit tart), so be sure to pick some up for later.
Lunch: Salumi – This salami shop — run by Armandino Batali, father of celebrity chef Mario — has operated at cult status since 1999. Diners line up for simplicity served right. The lunch menu comprises sandwiches, salads, and a special or two. All of the meats are cured in-house; the finnochiona (fennel) salami with provolone is a classic.
Dinner: Matt's in the Market – Sample the freshest fish in the region (including geoduck, a large saltwater clam indigenous to the Northwest) at this sophisticated eatery, located on the third floor of the Corner Market Building. An open kitchen enables diners to watch as chefs whip up dishes such as sturgeon with fava beans and mint pesto, and sea scallops with celery-caper berry relish. Reserve a table near the windows so you can watch the bustle below.
Dessert: Top Pot Doughnuts – Doughnuts are to Seattle what cupcakes are to just about everywhere else: all the rage. This local chainlet's flagship café, on Fifth Avenue under the Monorail, has ample seating so you can savor your treat with coffee. Try the decadently messy raspberry bismark, a cake doughnut oozing real raspberry filling.
Best Seattle Activities
For everyone: Seattle Aquarium – Housed within Pier 59 on the Seattle Waterfront, this attraction offers an approachable yet detailed introduction to the marine life of the Pacific Northwest. The "Window on Washington Waters" exhibit is home to a 120,000-gallon viewing tank with more than 800 fish and invertebrates indigenous to Puget Sound. Another don't-miss: Daily feedings in an underwater dome are a huge hit with visitors young and old.
For couples: Olympic Sculpture Park – City officials scored a major victory when they repurposed a 9-acre industrial site into an indoor/outdoor sculpture park a decade ago. Today, a Z-shaped path leads visitors past works by Alexander Calder, Louise Bourgeois, and others. The park also looks out on nature's sculptures: the Olympic Mountains to the west.
For families: Soundbridge – This interactive music center, which is part of Benaroya Hall, offers children's classes that emphasize exploration and immersion. On Saturdays, there's even a drum circle for children ages 5 to 11.
For the adventurous: Seattle Great Wheel – Locals and visitors alike have embraced Seattle's spin on the London Eye. On clear days, the 175-foot-tall observation wheel on Pier 57 offers some of the best vistas of the Olympic Mountains to the west. In all, the wheel spins 42 enclosed gondolas, meaning you can ride in rain or shine. At night, the attraction lights up like a carnival, making it a spectacle itself.