10 Best Things to Do in San Francisco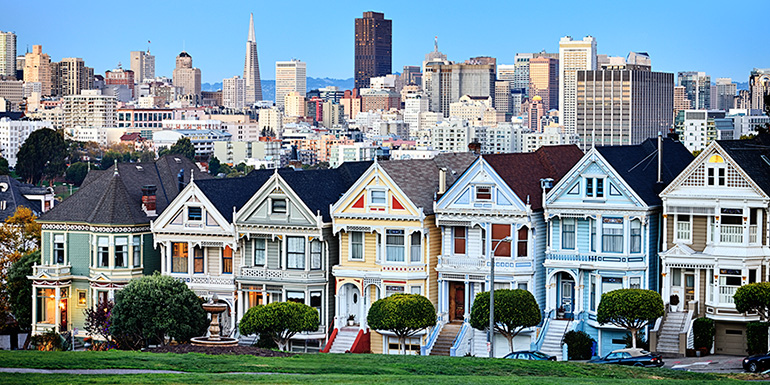 We wouldn't try to claim San Francisco's an undiscovered gem — not with 16.5 million visitors a year. What locals often find surprising, though, is how few of those out-of-towners resist the tidal pull of Pier 39 and Fisherman's Wharf. Sure, that tourist-friendly district boasts tons of hotels and views, and a location convenient to the old cruise terminal at Pier 35 and the new one opening next year at Pier 27. But you really should escape the tourist zone. Here are the best things to see and do in San Francisco:
Hotels in San Francisco
Splurge: Hotel Vitale – Across the street from the Ferry Building — culinary showcase of all things local — this 200-room hotel was already a favorite for its sleek Armani-esque aesthetic and New Age aura (think lavender-scented hallways). But the Vitale also provides a front-row seat to the city's newest spectacle, the Bay Lights: 25,000 dancing LEDs programmed by artist Leo Villareal to illuminate the Bay Bridge every night through March 2015. Doubles from $269.
Steal: Inn at the Presidio – There's another bridge in town, of course, and this new 22-room hotel puts you within walking distance of it. (OK, walking distance for most locals — those used to driving everywhere may chafe at the 1.6 miles.) The first lodging to open within the Presidio (the city's fort-turned-national park), the inn occupies a graceful brick structure built in 1903 to house bachelor officers. Now, the historic details (army blankets, Doric columns, framed bugles) blend comfortably with modern luxuries (gas fireplaces, pillow-top beds, flat-screen TVs). Doubles from $195.
Tip: The F line, a rehabbed fleet of classic streetcars, follows San Francisco's waterfront, running from Ghirardelli Square past the cruise terminal down to the Ferry Building, where it turns inland onto Market Street and heads west to Hayes Valley and the Castro.
Top San Francisco Restaurants
Breakfast: Ferry Building Marketplace – What'll it be … the olive oil fried-egg sandwich at Il Cane Rosso? The jalapeño scrambled-egg taco at Gott's Roadside? A double bacon-maple biscuit at the Biscuit Bender cart? The breakfast options increase exponentially during the Saturday morning farmers market. Decisions, decisions … make Blue Bottle Coffee your first stop so you can concentrate.
Lunch: Pizzeria Delfina – This spinoff of perennially top-rated Delfina has itself spawned branches in Pacific Heights and the suburbs. But head to the tiny original on what must be the Mission's most food-centric block for a margherita pizza with creamy fior di latte mozzarella. (Also on this stretch of 18th Street: cult favorites Bi-Rite Market and Tartine Bakery.) If the wait for a table is long — and the sun's out — get your pizza to go and brave the hipster hordes in nearby Dolores Park.
Dinner: Rich Table – In their Hayes Valley restaurant, co-chefs Evan and Sarah Rich pair the kind of innovative cooking you'd expect to find in Manhattan with the rustic, relaxed atmosphere you'd only find in California. Bare-wood tables, hefty Heath pottery, and dish-towel napkins meet bucatini with peas and mint, a popcorn soup (really) spiked with chiles, and house-baked Doug fir levain (again, really!). Don't forget the by-now-famous sardine-speared potato chips — those you'll have to see, and taste, to believe.
Dessert: Smitten Ice Cream – These days, great ice cream is available all over town, but to see it created right in front of your eyes, you have to go to the Proxy project, a flock of repurposed shipping containers around the corner from Rich Table. There you'll find Smitten, which makes every scoop from scratch. The secret? A chorus line of liquid nitrogen-fueled ice cream machines. Only four flavors are available at a time — vanilla and chocolate, plus two seasonal options, like strawberry white balsamic — but here, less is definitely more.
Tip: Every Sunday through the end of October, the city's most popular food trucks will gather from 11 am to 4 pm on the Main Post for Off the Grid's Picnic at the Presidio. You can even rent kites and horseshoe sets. Can't make it to the picnic? Many of the same vendors cycle through the SoMa StrEat Food Park, open seven days a week, year-round.
Best Activities in San Francisco
For everyone: Angel Island – You've already been to Alcatraz, of course — if not, proceed directly to alcatrazcruises.com and order tickets — but you've probably never even heard of Angel Island, San Francisco's answer to Ellis Island. Tour the restored Immigration Station, which saw a million people pass through its doors. Then walk or ride (you can rent a bike at the ferry landing) the five-mile Perimeter Road, which offers, in a silver-lining twist, even more dramatic views of San Francisco and the Golden Gate than it did before a brushfire scorched the island's south side a few years back.
For couples: Dogpatch – The hottest of San Francisco's microhoods, this patch of Victorian cottages surrounded by waterfront industrialia has become Artisan Central, home to high-end chocolatiers (Recchiuti Confections), messenger-bag manufacturers (Rickshaw), urban wineries (Dogpatch WineWorks), and even a French butcher (Olivier's Butchery). Fittingly, the Museum of Craft and Design just opened here, too. Explore, shop, taste, and soak in the maker vibe.
For families: Exploratorium – For nearly half a century, this hands-on science museum has been showing kids — and adults — how the world works in the most creative ways. In 2013, it moved into a flashy new building on the Embarcadero, with space for such exhibits as an algae chandelier and a see-through pinball machine, but it hasn't lost its DIY soul. Don't miss the phantasmagoric portrait of San Francisco constructed out of toothpicks.
For the adventurous: The Presidio's Crissy Field – In a pair of former aircraft hangars, test gravity — and your nerves. After taking an hour-long belay class at Planet Granite, you can explore the climbing gym's 45-foot-high walls overlooking the Bay. Or bounce to your heart's content at House of Air's indoor trampoline park. Not feeling that daring? Check out Mark di Suvero's prehistoric-looking steel sculptures, on display here through Memorial Day 2014, courtesy of closed-for-renovation San Francisco Museum of Modern Art.
Tip: You know not to mistake San Francisco's climate for LA's, of course. But if you didn't remember to pack a scarf, don't pay tourist prices: Instead, shop at the mini-chain Sports Basement (in the Presidio or SoMa) for quality discounted outerwear.
Insider Tip
A walking tour sounds so … expected. But San Francisco City Guides tours are a different story altogether — the key word being "story." These volunteers focus their tours on specific neighborhoods or themes (Downtown Deco, for example, or Mission Murals), which makes them personal, even quirky. Oh, and did we mention free?