8 Best Things to Do in Naples, Italy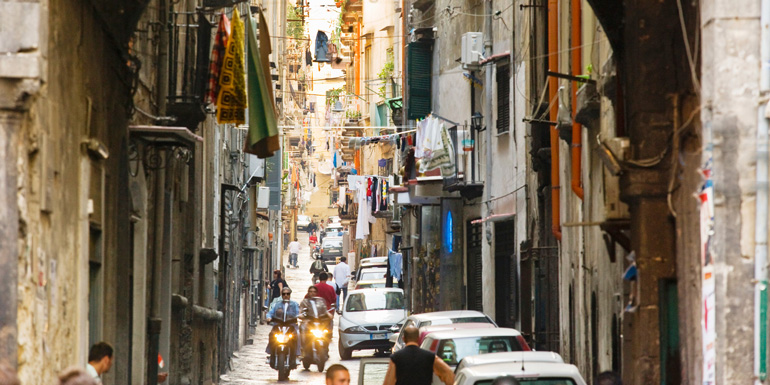 Naples isn't for the faint of heart. Most cruisers head off to see Pompeii or bolt for the pleasures of Capri or the Amalfi Coast. And, with the siren calls of sunny Sorrento and lemon-scented Positano beckoning, there's nothing wrong with that. But it's easy to create a memorable day here in the shadow of Mount Vesuvius: Savor a true Neapolitan pizza (fold slices lengthwise to eat it like a local); lean in a doorway with your gelato; and duck into boutiques along Via Toledo. Overwhelmed by the cacophony? Find a moment of peace in a laundry-hung alley before you're propelled back out into the frenzy.
Restaurants
Breakfast: Gran Caffè Gambrinus – Forget the American notion of breakfast of champions. Ignite your day in Naples with a tiny cup — about a spoon's worth, really — of espresso so thick your sugar will rest on top before sinking into the brew. This café has a literary history but, if you don't make it here, you'll find the streets are lined with coffee bars. Just pop into one and ask for un caffè (pay the cashier first). Sip standing at the bar and you'll feel like an Italian — and pay less, too. Best of all, you'll still have room for lunch.
Lunch: Umberto – For the classic, all-afternoon affair they call lunch in Italy, step into this small restaurant, which has been family-owned for a century. This is what chain Italian restaurants back in the States wish they could be, down to the black-and-white family photos cluttering the walls. The starring ingredients of the pastas vary according to season, but try the Tubettoni "d' 'o treddeta" with baby octopus — named for the owner's grandfather — just so you can ask for the story behind his nickname: "Three Fingers."
Dinner: Pizzeria Da Attilio – For pizza that would be worth a flight (no small claim in the city where pizzerias were born), hustle to Pizzeria Da Attilio. Since 1938, three generations have manned the wood-burning oven, where the current pizzaiolo is turning out perfection. The only downfall: After tasting the real deal, you'll turn up your nose at the so-called Napoletana-style pizza at home.
Dessert: Gay-Odin – Even on rainy days, lines spill out the door here, allowing the chocolate aroma to waft down the street as it has since the late 1800s. Give in, and be prepared to empty your suitcases in order to stockpile artisanal chocolates and pralines. Queue up for souvenirs — and a scoop (or three) of gelato al cioccolato.
Tip: For a true Neapolitan pizza, look for the Associazone Verace Pizza Napoletana certification (it'll be prominently displayed). The organization vigorously protects the traditional pie.
Activities
For Everyone: Pompeii – History buffs and the morbidly curious are drawn to these ruins for a time-capsule glimpse of life in ancient times. The incomparable feeling of strolling Roman roads is heightened when a guide brings the devastated city to life with stories of the everyday people who made their homes here before (still active!) Vesuvius erupted in A.D. 79 and flash-froze the city.
For Couples: Capri – Few places on Earth are as blissful as you dream they will be — but the isle of Capri is one of them. Hop a ferry to this bewitching spot to explore the bougainvillea-strewn streets, buy a picnic lunch (of Caprese panini, naturally), and charter a gozzo (classic wooden boat) for the afternoon. You'll bob along the impossibly clear cerulean waters, swim through the flickering grottoes, and luxuriate under the Mediterranean sun. The bliss is, shall we say, less pure in August, when tourists flood the streets.
For Families: Castel dell'Ovo – Who can resist any place named Castle of the Egg? Naples' oldest castle commands jaw-dropping views of the city and sea, but the legend behind it is just as captivating. The 12th-century structure was built, story has it, upon the site where poet Virgil buried one important egg. The castle — and Naples — will stand only as long as the egg doesn't break.
For the Adventurous: Mercato di Porta Nolana – If you're an adrenaline junkie, plunge into the roiling city of Naples, ready to thread your way on foot through traffic snarls. Head right to Mercato di Porta Nolana, behind the medieval city gates at the head of Via Sopramuro, for a true taste of the city. This street market seems made for Instagram® sharing, but you'll be among locals who come here for floppingly fresh seafood — and everything else under the sun.
Insider Tip
Spend some time on Napoli Unplugged to catch up on current events, recommended tour guides, and fun tips for planning your visit.
Instagram is a registered trademark of Instagram LLC.