Repositioning Cruises: Are they right for you?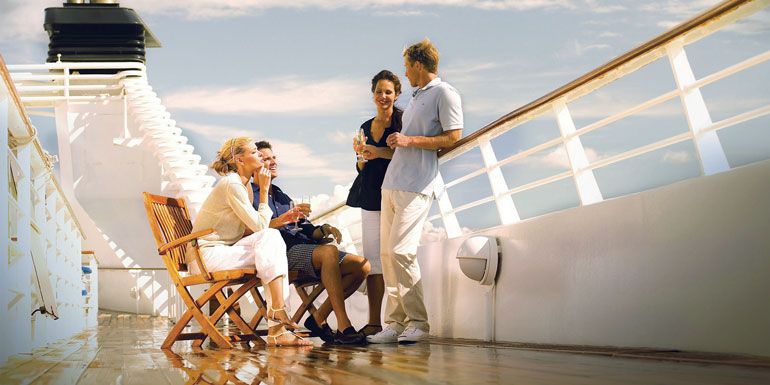 When ships change course from, say, winters in the Caribbean to summers in Alaska or Europe, the one-off voyages between the two regions are called repositioning cruises. These sailings tend to be around two weeks long, as they usually require crossing the Atlantic or Pacific Ocean. In addition, you'll have long stretches at sea, though there are a few exceptions with more ports, such as sailings between the Caribbean and New England.
Repositioning cruises tend to be cheaper than standard itineraries, because they're one-offs rather than part of a regularly scheduled route that a cruise sails throughout the season, though the one-way flights you'll need at the beginning and end may mitigate the savings.
Most repositioning cruises take place in the spring and fall, so keep in mind there could be weather issues. For instance, hurricane season in the Caribbean extends to November, and it might be too chilly for swimming or sunbathing crossing the Atlantic in April.
Here, what these sailings are really like, what they offer, and why you should consider if they're right for you:
1. You can get a good deal.
Since they're long, one-off itineraries with lots of sea days, repositioning cruises are not as popular with the masses as typical routes, so fares tend to be much lower.
2. You won't have anywhere you have to be.
With fewer ports and less pressure to plan what you're going to do in them, you can truly relax. Repositioning cruises are ideal for people who don't need to be constantly stimulated or entertained, or who need a break from their intensely scheduled days at home.
3. You can attend lectures.
Because repositioning cruises have more sea days, cruise lines — especially the luxury ones — break up long sea days with interesting lectures by guest authors, academics, and other experts on everything from politics in the Middle East to oceanography. Activities including wine tastings, movies and classes — from painting to dancing and languages — are also scheduled for these sea days.
4. You'll avoid the crowds at popular ports.
Since repositioning cruises take place in the off-season, the ports they do stop at are not at the height of their tourist rush. For example, England and Portugal in April or October, en route between the Caribbean and Mediterranean, are less crowded than in the summer months of July and August.
5. You'll have the ship to yourself.
While these same ships will likely be fully booked at the height of their seasons, repositioning cruises do not sail at full capacity, offering you more space and easy access to restaurant reservations and spa appointments.
6. You'll probably have an adult-only cruise.
You won't see many children on repositioning cruises. Because of their length, these sailings are right for passengers who appreciate a quietly sophisticated vibe, and the peace and quiet that comes along with it.