How to Book the Best Family Cruise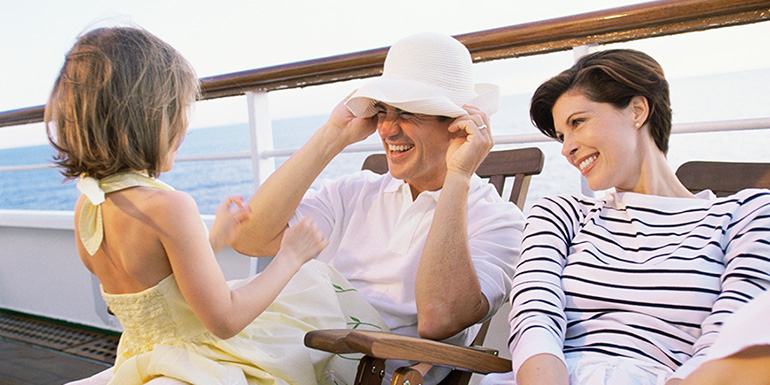 Family cruising is an easy way to vacation with your children, since it affords quality time together, as well as coveted time apart. A bonus is that family cruising provides your youngsters with hands-on learning as you explore worldwide ports together. Here, what to look for when planning a cruise with your children:
Choose your week carefully.
If you have young children who aren't yet in school, consider an off-season cruise, when families who don't want to pull their kids out of school can't travel. During these quieter sailings, rates are lower and the kid-friendly areas are less crowded.
However, if your children are social, it may be worth the extra fare to sail during peak times, since more kids their ages are likely to be onboard to connect with at the pool and in the youth center.
Look for family deals.
Some cruise lines offer special "kids sail free" promotions. Luxury line Crystal Cruises and budget-friendly MSC Cruises have both offered these specials in the past. Subscribe to individual lines' promotional email newsletters to make sure you don't miss out on a sale fare.
Research the programs.
One of the best "deals" about cruises is that, unlike at most resorts, the children, tween, and teen activities are complimentary. Since not all ships' programs are created equal, you'll want to compare options before plunking down your non-refundable deposit.
Pay attention to the cabin configurations.
Booking an inside cabin is a great way to save money on a cruise if you're the type of person who only uses your stateroom to sleep and shower in. However, if your little ones still need naps, you'll want to upgrade to a balcony cabin. There's nothing more depressing than being holed up in a windowless room during naptime when you know the sun is shining gloriously outside.
An important consideration: While balconies are safe for kids (there are continuous railings and plexiglass on most ships), you'll want to make sure small children aren't left alone in your balcony cabin, even when you're showering.
Make dinner reservations.
On cruise lines that offer the traditional early and late seatings for dinner, most families with young children want the early option — so reserve a table for your crew when you book if you want one. You'll also want to reserve early dining times for your family at any specialty restaurants onboard, before they fill up.
Know that diapers may dictate your experience.
Children in diapers are not allowed in cruise ship pools. If you have a child still in diapers, check with the cruise line you're considering to see if it has kiddy pools and, if so, whether swim diapers are allowed there.
Children who are not yet potty trained are also not welcome in many of the kids' programs on ships, since the majority of lines don't allow their child care workers to change diapers. (Check out our handy chart for which lines are the most baby-friendly.)
Communicate with older kids before you sail.
Prior to your cruise, inform any teens or tweens of your expectations. Many parents, for example, allow older kids to use the teen programs on sea days but expect them to have dinner and explore ports with the family.