13 Things to Expect on the First Day of Boarding a Cruise Ship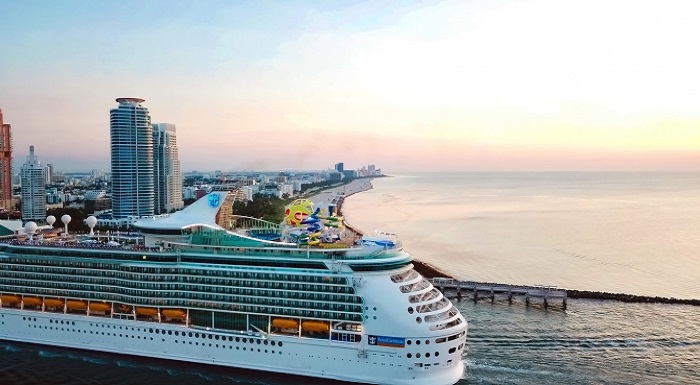 Never been on a cruise? You're probably wondering what to expect on the day you board the ship. We'll walk you through a typical cruise embarkation day.
1. Arrive early.
To be honest, your embarkation day usually starts the day before your cruise. Unless you like leaving a major vacation to chance, we suggest flying in the day before your sailing to protect yourself against flight delays that could cause you to miss the ship.
2. Get yourself to the ship.
If you flew in the day before your cruise, check with your hotel to see if they can arrange a shuttle to the port. If you're flying in the day of departure, you can book transfers from the airport to the ship through the cruise line. If you're driving, research in advance to see if you want to park at the port or if an off-port lot with a shuttle service is a better value.
3. Drop off your luggage.
As soon as you arrive at your cruise terminal, you'll be greeted by porters who will tag and label your bags. You can save time by printing the luggage tags provided with your cruise documents and attaching them to your bags prior to arriving at the port. The porters will expect a tip, and if the service is fast and friendly, $1 or $2 a bag is appropriate.
Later — sometimes hours later — the luggage is brought to your cabin. That's why it's critical that bathing suits, prescription medications and anything you need for the day is in your carry-on bag.
4. Go through security.
When you enter the cruise terminal, you'll go through an airport-style security screening. Your carry-on bags will be screened and you'll walk through a metal detector, but unlike an airport, you may also be asked to fill out a health questionnaire.
5. Check-in.
After you've cleared the security checkpoint, you'll directed to a line to check-in for your cruise. Depending on when you arrive, you might have to wait in line. Have your proof of citizenship for each member of your group ready for inspection. Your picture will be taken, you'll be issued your cruise card (which will serve as your shipboard ID), charge card, and room key. You can speed things up at the check-in counter by completing online check-in on your cruise line's website prior to your cruise.
6. Board the ship.
After you've checked in, you'll be directed to a waiting area if the ship isn't ready to receive passengers yet, or directly to the gangway to board immediately. As you're preparing to board, the ship's photographers will offer to take your photo in front of a scenic background. Posing is voluntary, though most people do. You'll have the opportunity to purchase the photo onboard after you set sail.
7. Expect a delay before getting into your cabin.
Depending on how early you board, cabins might not be ready yet. If that's the case, head to the buffet for lunch. You can also use this time to make speciality dining reservations, pre-book your shore excursions, and make spa appointments. Turnover day can be hectic for the crew, and your fellow passengers will be frazzled after a long day of travel and finding their way around unfamiliar surroundings, so be patient and know that things will be more relaxed once the ship casts off
8. Listen for an announcement that cabins are ready.
It always feels good to be able to drop off your stuff and put valuables in the safe. If you packed your swimsuit or gym clothing, you can go play for the rest of the afternoon. Your cabin steward may stop by to introduce themselves and orient you to your cabin and what services they will provide during your cruise. Your luggage will arrive several hours after you've boarded. It will either be placed in your room or just outside the door. Plan some time to unpack before the muster drill or after dinner.
9. Go to the muster drill
No matter how you plan to spend the afternoon, the muster drill (the run-through of what to do in an emergency) will interrupt the day, usually about an hour before sail-away time. You have to go to the location that you would gather at if you ever heard the ship's general emergency alarm. Your muster station location will be noted on a map on the back of your stateroom door, and sometimes on your keycard — if you get lost, there are always staff members in the stairwells to help direct you.
On some ships, you're expected to bring your life jacket from your cabin, while others ask that you go right to the drill. It's quick and fairly painless. The crew will explain that this is where you go if you ever hear the distress signal, take note that everyone showed up, and demonstrate how to use the life jackets. Then you can be on your way.
10. Celebrate the start of your cruise at the sail-away party.
Just before the ship is scheduled to pull away from the shore, most ships will offer some sort of sail-away party on the pool deck. The festivities can vary from ship to ship, but there's almost always a band or DJ, dancing, and a chance to let loose as you head out to sea. If the weather isn't cooperating, the sail-away party will be moved indoors to one of the lounges.
11. Enjoy your dinner.
After sail-away, it's time to think about dinner. If you've got a fixed seating, you'll want to go to the dining room a few minutes before the time indicated on your cruise card. If you want a quicker meal, the buffet will be open. Or, if you want a special experience, many ships offer some sort of special offer or discount to try the specialty restaurants on the first night of the cruise.
12. Check out the entertainment.
After dinner, many passengers wander around exploring the bars or listening to live music. Depending on the ship, there may be a welcome from the Captain, a champagne waterfall in the atrium, or a welcome aboard show or other entertainment in the theater. The dance club will be open late if you want to get your party on!
13. Plan for Day 2.
As your first day comes to an end, return to your cabin and find the next day's schedule waiting for you, along with a turned down bed and perhaps a surprise (might be a towel animal or a chocolate) from your room steward. Take a few minutes to review the activities schedule for Day 2 to see what events you'll want to attend. If you want to enjoy breakfast in bed, use the card provided on most ships to pre-order the morning room service meal. Then, it's time to turn in and start dreaming about the rest of your cruise!
This article was written with contributions from Sherri Eisenberg.
Join The Discussion
What's your least favorite part of embarkation day?