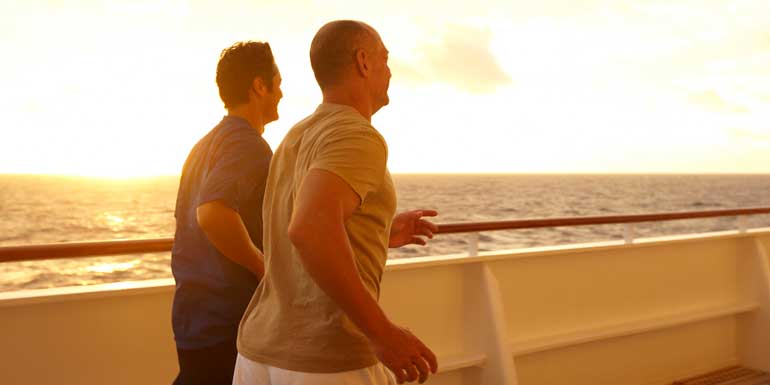 Trying not to gain weight — much less lose weight — on a cruise may seem difficult. However, if you think of your ship as a floating gym and spa rather than a sailing restaurant and bar, you can disembark healthier than you boarded.
In fact, I've found that when I sail with this mindset, a cruise is the perfect opportunity for me to focus on me, especially now that my kids are old enough to entertain themselves. Here's how to follow in my wake and get healthier on your next sailing:
Eat at least one healthy meal per day.
It's preferable to be virtuous at dinner. As a Northwestern University study shows, it's better to eat less in the evening. Most cruise lines have a few light options on the main dining room's dinner menu. Some — like Crystal Cruises — have separate spa menus. And others, including Celebrity Cruises' AquaSpa Café, have specialty restaurants focused on healthy fare.
Beware of hidden fats.
Ship buffets often have salad bars with dozens of toppings. You'll want to pile on the pumpkin seeds, carrots, and smoked salmon, but not the blue cheese dressing or salami.
Don't drink your calories.
Resist guzzling sodas or juices, and instead fill up on water and tea, which are complimentary all day in most ships' buffet restaurants.
Plan your indulgences.
Splurge at one meal a day — ideally at lunch so you have time to burn off the calories before bedtime. Use this as an opportunity to eat your favorite foods or taste the local cuisine.
Pick your poison.
Love wine more than food? Have a couple glasses at dinner, but just remember that those calories add up; you'll want to indulge in either food or alcohol.
Pretend your ship doesn't have elevators.
Sailing on a large ship? You're in luck: 11 minutes of stair walking burns about 100 calories. You can easily clock 30 minutes a day, especially on one of the newer mega ships.
Don't confuse relaxation with weight loss.
You can't lose weight in the spa, so don't book the pricey treatments with the idea that they'll help you stay thin, especially ionithermie, which involves mild electrical currents and detoxing wraps made from clay or algae. The mask may feel good, but all you'll lose is water weight.
Make working out a priority.
You don't have to work out all day every day to see an impact, but plan to break a sweat for 30 to 60 minutes each day. On port days, take a pre-breakfast jog around your ship's track, or join an early-evening volleyball game.. On sea days, hit the gym or take a boot camp or boxing class — Royal Caribbean's Oasis of the Seas and Allure of the Seas have full-size boxing rings.
Burn calories while you sight-see.
Book active tours that involve bicycling, kayaking, or hiking. If you're in a city, such as Rome or Barcelona, skip the bus tour and explore on foot: An hour of brisk walking burns about 300 calories. Our advice: Carry a pedometer to help you track your progress and keep you motivated.