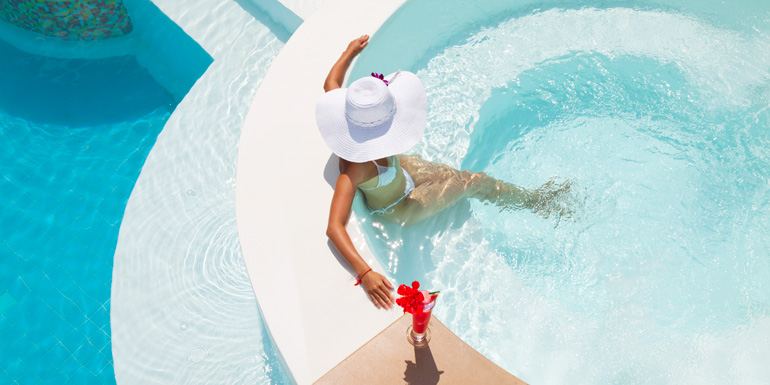 When you travel to a foreign country, it's always a good idea to brush up on the local language. The same is true for cruising — you don't want to have your friends tell you they're meeting on the port side of the lido deck near the bow only to realize you have no idea where that is. For example, did you know that a repositioning cruise is a sailing a ship makes between seasons and two different regions? Here are 11 other terms you should know before you set sail:
Aft/Bow:
The rear and front of the ship, respectively. If you forget which is which, just think about taking a bow. You lean forward, right? If you need more help, remember that walking from the front of the ship to the rear is a real pain in the aft.
Atrium:
The open, central room of the ship, which typically spans multiple levels. This is a common gathering area, so cruise lines put a considerable amount of money into their designs. (Picture a hotel lobby — often one that looks like it could be in Vegas.)
Cabin Steward:
The person responsible for cleaning your room. Develop a good rapport with him or her, and you might come back to a pleasant surprise or two.
Cruise Director:
The ship employee who manages the onboard entertainment. These high-energy individuals often emcee events, with varying levels of cheesiness.
Gangway:
The ramp connecting the ship to the port. Remember, you don't walk the plank on a vacation — pirate ships have a gangplank; cruise ships have a gangway.
Lido Deck:
An English word for a public outdoor swimming pool complex, this term is used on cruise ships to describe the top deck, where you'll often find the pool, hot tub, and open-air bar.
Muster Station:
The point on the ship where everyone in your cabin will rally in case of an emergency.
Port/Starboard:
The nautical terms for the left and right sides of the ship (when you're facing the bow). If you're one of those people who needs to make the L with your left thumb and pointer finger to tell which hand is which, just remember that "left" and "port" both have four letters.
Purser:
The ship's officer in charge of accounts, money, transactions, tickets, etc. Head to the purser's desk with any questions regarding your bill.
Tender:
Not all ports have harbors deep enough to dock a large cruise ship. At these ports, passengers are ferried ashore by small tender boats.
Veranda:
Another word for "balcony."