December 2014 - 7 Night Mexican Riviera (Los Angeles Roundtrip) Cruise on Carnival Miracle
Long Beach, 1 Sea Day, 2 Days Cabo, 1 Day Puerto Vallarta, 2 Sea Days, Long Beach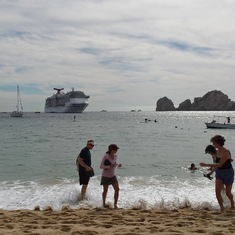 My wife and I loved this cruise because it was one of the most relaxing vacations we've ever taken. Our balcony cabin was great and the cabin staff was always ready to clean up or deliver in room coffee/food at any time. Our restaurant staff members were excellent; Glenn and Erick both did a great job and their friendly personalities made our cruise experience that much better. The pizzeria on the 9th deck offered delicious Napoli style pizza 24 hours/day. Also, the flatiron steak, filet mignon and prime rib were each cooked perfectly. The cocktails on the Miracle are all very strong, which was a pleasant surprise given their price tags. Puerto Vallarta and Cabo San Lucas are both beautiful ports that feel safe while offering a variety of activities. The Miracle also had 4-5 stand up comedy shows per night which is great but . . .
Cons:. . . the comedians were not that funny especially during their "family friendly" shows. The restaurant was noisy from being right above the engines and the food itself was rather underwhelming (other than what was mentioned above). The Miracle's buffets leave a lot to be desired; lunches and late night buffets often were extremely bland or offered food that tasted bad. The after dinner shows were a big let down on this cruise with the singers and dancers all leaving the audience disappointed. Missed cues and off key singing led us to leave both "big shows" within a few minutes. Also, the one night we went to the nightclub, we ended up leaving within a few minutes because the song choice was not our style.
Recommended: Yes if you are looking to relax and destress more than anything else. No if you are looking for a luxury cruise experience with great shows and activities.