September 2015 - 7 Night Alaska Sawyer Glacier (Seattle Roundtrip) Cruise on Norwegian Jewel
Alaska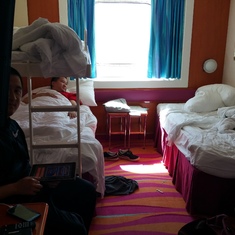 Trip started off badly when NCL (via the customs laws) would not allow my wife to board for she had left her green card at home. For a first cruise I was miserable for the first few days for my boys and I were were like.a car with three wheels but things did get better after we reached port for I was able to call home and speak with her for 35 minutes. I bought her a nice Tanzanite necklace in Ketchikan.
Cruising was an interesting experience for where else could a schmuck like me be so well treated by the working staff. Our junior room steward Leo in particular was a sympathetic voice when I was in the dumps. The ports themselves seem commercial to me but I enjoyed myself in Skagaway due mostly to the longer port stay. Juneau felt rushed with just 6 hours in port and only 1 in town after a visit to the Glacier. I wish we could have gotten to Victoria earlier for its tough to justify spending my hard earned money to see the gardens when the ship arrives at 5 and you get off the ship at 530 with under two hours of daylight left. The ship itself was fine but not everyone is into live entertainment in the evenings for I would have liked seeing some of the movies shown in our rooms on a large theater type of screen with popcorn. Too much prodding to sell more things to the passengers for even the live entertainment performers were hocking their CD which was a turn off for me.
I liked the food for we mostly ate in the Garden Cafe which was informal as opposed to the Main dining rooms. The two steak houses were fine as were the Pan Asian restaurant. The acrobatic act on the final night was fun and the trip itself would have been great if only my wife were with me for the week.