April 2016 - 7 Night France & Spain (Southampton Roundtrip) Cruise on Ovation of the Seas
Top Quality Food and Live Music - Daytime Entertainment Disappointing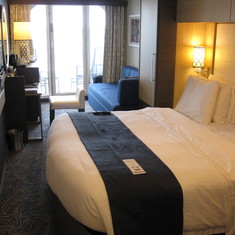 Embarcation was extremely efficient (we checked in on-line beforehand) and we were on board within 20 minutes. We are first timers with Royal Caribbean, but have cruised several times with P & O, and once with NCL.
Our balcony cabibn was disappointing, being very narrow and basic laminated surfaces (- a bit like you find in a caravan), only one tv screen, and a tiny shower/wc with a hand basin capable of holding an inch of water.
You don't get the bathrobes/clippers or body lotions with RCI, and neither do they believe in coffee sachets in your cabin, fruit, canapes or chocolates - all little touches you get with other cruise lines we've sailed with.
There is a price to pay when you cram 4k-5k guests onto a ship with main dining areas incapable in size of satisfying their dining needs, and hence you get lots of queues / lines. Service was poor on several occasions - we waited seated for 30 minutes for a starter to arrive in the Chic restaurant, and the wine waiter left us a wine list, but never returned to take an order - fair enough as this was the ships 3rd cuise and you expect some teething problems.
The food was however top class, including the buffets, and we haven't had better on any ship. Wines in dining areas are pricey - white wines average $55 plus 18% gratuity per bottle. Reds go from $31 - £310 plus the 18%.
We greatly enjoyed the live bands especially the Rewind Project with Mick Wilson. Sadly, the views in the music hall, top areas of the theatre and  Two70 venue appear to have been designed oblivious to the requirement of gusts to actually see the acts. If you didn't get there early, you wouldn't get a seat as they fill up rapidly.
You get the usual suspects reserving sunbeds on upper decks, then disappearing, and the entertainment is geared more for the younger crowd - we expected guest lecturers, but you don't get any. In fact the daily entertainment was mainly quizzes - cheap to run and held in bars for you to buy the drinks. No dance lessons and
there wasn't a daily cinema showing up to date films either, although you can pay $12 to watch an old film on your cabin interactive tv.
After two days we arrived in Gijon Spain - an industrial town with docks, and as it was a sunday, the town centre shops were closed - a merit award to the guy who thought that one up at Royal Caribbean.
You get photographers stopping you each time you walk to a restaurant, and the Spa is for those who don't mind paying $230 for gel insoles.
Lifts/elevators are all in the centre of the ship, so if your cabin is at the front or back, you have to walk the length of a football pitch to get to one.
Overall, we were disappointed and will in all likelihood, not go back to Royal Caribbean, but you've got to try things to find out if they suit you.