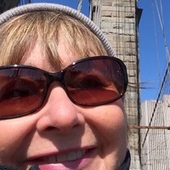 vister
My husband and I love to cruise!!! We started in 2007 and have been on 13 cruises, so far. Next one in Feb. 2015 and then Oct. 2015. We love to meet new friends onboard!
Upcoming Cruises
Past Cruises
May 2018 - 7 Night Western Caribbean (Miami Roundtrip) Cruise on MSC Seaside
March 2018 - 10 Night Ultimate Caribbean (Ft. Lauderdale Roundtrip) Cruise on Celebrity Reflection
February 2015 - 7 Night Eastern Caribbean Getaway (Miami Roundtrip) Cruise on Celebrity Reflection
October 2014 - 15 Night Classic Caribbean Transatlantic (Rome To Miami) Cruise on Celebrity Reflection
We Love Sea Days!!
This was our second transatlantic on Reflection in the Reflection Suite and it was SO much fun!!  The ports were different this time.  We left from Rome (Civitaveccia) so we went 4 days early to experience the city first.  We absolutely loved Madeira!  I wish we had more time there.  The other 3 ports in the Caribbean we had done many times.  The crossing was so smooth!  Reflection attracts an older crowd but there was quite a mixture of all ages. Not many kids though.  My 2 girlfriends and I brought a couple of costumes and the crew loved it!  We made the most of the 70's theme night.  There was also a paid event party called Indulgence which was very cool!! The service on Celebrity ships is always far above other lines for us.  Everyone is so nice and they go out of their way to make you happy.  The entertainment choices were better than expected on this cruise based on our past experiences.  There was some really talented guest performers.  The food is always great.  Our favorites are Lawn Club Grill and Murano.  Our only disappointment was Blu.  It used to be good.  Don't know what happened.  Oh, and they don't make a big deal about the last formal night anymore. No flaming baked Alaska presentation or parading out the chefs.  All in all, a great cruise and we made some lifelong new friends!
February 2014 - 7 Night Western Caribbean (Ft. Lauderdale roundtrip) Cruise on Celebrity Silhouette
February 2013 - 7 Night Eastern Caribbean (Ft. Lauderdale roundtrip) Cruise on Allure of the Seas
Loved the Aqua Theatre Suite!
This was our first cruise on a mega ship and we loved it!! There is SO much to do! We generally cruise with Celebrity and we still think that Celebrity has better food and specialty restaurants and service BUT RC has excellent entertainment!! The shows we saw on this cruise were the best we have ever seen on a ship! We especially loved Mo5aic! 5 guys who were on America's Got Talent. Awesome! The production shows were amazing also - like Chicago and Blue Planet. We loved our suite as well. We were al bit concerned that the shows and the practice sessions would be too loud (we read some reviews) but that was not the case. It's very well insulated and we were not at all bothered by the noise. The show was great too! How great to have our own vantage point! That pool is an engineering marvel! The concierge club staff were wonderful. We really didn't have a complaint about anything. We are looking forward to the next ship out - Anthem of the Seas!
December 2010 - 7 Night Western Caribbean (Miami roundtrip) Cruise on Celebrity Eclipse
Wow!!!! What a gorgeous...
Wow!!!! What a gorgeous ship!! Celebrity is our favorite line and this new ship did not disappoint! One of the things I really love about Celebrity is that I never feel like it's crowded. I can always find quiet spots. The food and service are the best! Loved the Hot Glass Show too. The specialty restaurants are wonderful! We ate at all of them!
October 2009 - 4 Night Mexican Riviera (San Diego roundtrip) Cruise on Radiance of the Seas
April 2007 - 7 Night Mexican Riviera (San Diego roundtrip) Cruise on Celebrity Mercury
Cruise Tips
We didn't do anything. Spent our pre cruise in Rome.
Took a tour of the island! So beautiful!
Should be a "Good" button to click. We always go to Maho beach. We finally saw a 747 land! The BBQ chicken at the restaurant there is amazing!
I wish there was a "Good" button to click. Didn't do anything this time but in the past, we took a tour from Annie Fontaine. She's great and is still at it. We saw her to say hi.
Allure of the Seas
Don't go right up to the buffet when boarding. Instead, try the roast beef sandwich at the Park Cafe! Yum!!! Be sure to make friends with Benjamin at the Rising Tide bar. He will take good care of you!
Celebrity Reflection
There's a special brunch in the main dining room on one of the sea days. Wait at least an hour to beat the crowds or you will be waiting in line.
Voyager of the Seas
Try taking your luggage off yourself on disembarkation day. It was SO much easier for us! We didn't have to wait in a room with a bunch of others for our number to be called. We just hung out in our room till about 9 and got off the ship easily. Didn't have to do any re-packing.
Celebrity Silhouette
Try the Lawn Club Grill! It's so much fun to make your own flatbread and get grilling tips from the pros! Awesome food!
Diamond Princess
Bring your own hair dryer unless you actually like those crappy ones that are attached to the wall.
Celebrity Eclipse
Don't depend on your cell phone to have the correct time. Wear a watch. I found that between our 2 phones, the time of day varied wildly while on a cruise.