March 2016 - 12 Night Southern Caribbean Carnival Journeys (San Juan To Galveston) Cruise on Carnival Liberty
Worst Vacation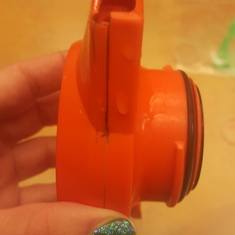 Carnival Liberty, Puerto Rico
Sail Date March 6, 2016
Served bacteria and mold contaminated water and under-cooked chicken, as well as loud construction noises outside my stateroom at 5 A.M. resulting in lack of sleep. These events have tainted my cruising experience aboard Carnival anytime in the future.
The first day of the cruise, I ate fish and chicken tacos. The chicken was under cooked for lunch and tasted bad so I stopped eating it. I wound up going back to the room early that night and vomiting all night long. Since Carnival was not enforcing the use of hand sanitizer prior to going to the buffet, I thought it would be safer to start ordering room service. I would order hot tea; it took me a couple of times receiving the tea to realize that the pots smelled like feces and were corroded with bacteria and mold. I brought one of the pots up to management, and they told me it was a fluke. Meanwhile, I had another pot in my room that was the exact same. Management then apologized and admitted that these pots should have never made it to my room, but in the meantime my boyfriend's and my entire 12 day trip was ruined. I asked that they keep the pots as evidence and they swore that they would, but discarded them and the water that was in them; therefore, I had no evidence. However, I was able to take pictures of the contaminated pots. I don't have the pots only pictures of them after they were somewhat cleaned and returned to me by Carnival. They promised they wouldn't do that or discard of them but they threw one away and rinsed the other one out. Although they discarded them they admitted I should never have received them but said there is no proof that is why I was sick.
I was supposed to be sharing a room with the female of the party, while my boyfriend was sharing another room with his buddy. Because I was so sick my boyfriend had to pay out extra money to the girl I was sharing a room with because she and I had a more expensive room and he was forced to stay with me to take care of me. Before we realized what was going on with the room service, he had tea with me and was soon also sick. My boyfriend had to be in the room with me so much that he was barely able to use his alcohol package that he paid extra for.
We notified the infirmary of what transpired and that we had food poisoning; they said they would only treat us if they quarantined us. We were only asking for Pepto Bismol and Imodium. We told them we did not want to be quarantined and then they said "okay, then we can't give you anything". If it was mandatory we be quarantined, why did they allow us to leave and wander the ship? This is very disturbing!!
On top of all of this, at 5 AM the last 3 or 4 days of the trip the crew started doing work on the ship right outside our stateroom that was extremely loud. I complained to Tina in Guest Services and she kept telling me they never received the complaint; so I started calling every 15 minutes.
Guest Services was extremely rude on this ship. More often than not they had an "Oh Well" attitude.