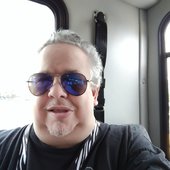 teamhutchens
Yadkinville, NC
Joined 08/2016
Brian, spends too much time working and not enuff time cruising, but gotta pay for the cruises!
Upcoming Cruises
Past Cruises
February 2018 - 5 Night Bahamas (Charleston Roundtrip) Cruise on Carnival Ecstasy
November 2017 - 5 Night Western Caribbean (New Orleans Roundtrip) Cruise on Carnival Triumph
Family Cruise on Triumph 11.25.17 with a BONUS Day!
Hi everyone! Here are some thoughts I had about our cruise: • Not a fan of the long drive, nope, I cannot drive more than 8 hours anymore in a day. o The drive to NOLA was 12 hours, we decided to leave on Thanksgiving to miss the traffic, that part worked, but one thing we forgot was that the food places would be closed for Thanksgiving. We did eat at Bojangles before they closed at 2 PM. When we got to Atlanta, the few places that were open were packed, we bought subs and sandwiches from a RaceTrack store, we did not spring for the gas station sushi however. • Will not be paying for the boys and their girlfriends to go anymore. They can go on a cruise, but they will be in their own separate cabins (2 to a room on their dime). • The hotel we stayed at was nice enough for a one night. We hit the road the next morning and were off to NOLA. • Not a fan of NOLA o We were probably NOT in the best part of the city, BUT dang! We thought we had found a kewl place for gumbo and bought an online coupon for it, but when we got there, the Cajun Daiquiri and Café was just a Daiquiri shop the kitchen was closed at 4. • The embarkation process at NOLA was on the verge of controlled chaos, not really a fan. • I did like the Triumph, but I like the Fantasy class ships better o The ships I have been on did not have the upgrades, but now with most of the Fantasy class having the upgrades, I will stick with them, I did not the extra people. I know there is a trade off in the size of the ship will hold more people but just liked the smaller size for the Fantasy class. I would like to try the Magic or a member of the Dream class for comparison • Loved the SeaDay Brunch of course o Now you know I love the Steak and eggs, the steak was a bit smaller than I remember it, but it was very good. • Not a fan of the Lido eating due to the crowds and trying to get a seat for all of us. o I do understand that I have a special issue with Kyle and not being able to leave him alone of have him carry his food, but just the basic crowd in the Lido deck turned me off. They were nice, but still just a drag trying to get around. • Did not get off the ship in Progresso still had a good time on the ship. o We just did not see an excursion that we wanted to do, so we just chilled out on the ship, it was nice, even without the Casino. • Had a good time at the El Cid resort o I do recommend this excursion, it was all inclusive, the pool water was a bit cool for me, but the hot tub was great and right next to the bar. I was expecting some kind of bill at the end, but yes it was indeed an all inclusive drink and food excursion and within 2 blocks of the ship. Now, I did take a cab back to the ship with Samantha and Kyle, Kyle is not able to walk very well for a long distance, the guy at the resort got us a cab for $7. • Internet was ok, but this website hated it o The kids did not have a problem with the Internet, but they have better phones than I do. I used the ships computers, very nice HP all in one computers, not too shabby pcs. NO CRT monitors lol. • When we came back from Progresso the Internet was not happy with crossing into another Time zone and would not work. • After leaving Progresso, the ship encountered a propulsion issue and could not get above 13 knots, the ship is usually capable of 23 knots. o This delayed us getting back to NOLA from 8 AM to 8 PM Thursday evening. The ship had an information session with the Cruise Director Jess from the US (a bundle of energy, that is how she always introduces herself), then a Q&A session with the Ships Senior Management team. It started out nice, but then it got rough. Carnival is offering $200 to help with making connections for flights. There is a problem though, the people were encountering significantly higher prices to make changes in their flights if ANY were available. o Anyone who wanted to was able to stay on the ship Thursday evening without charge, but had to leave between 6 and 8 AM. We stayed on the ship, had a nice dinner and then had to disembark about 8 PM and get back on the ship, this was pretty disorganized, but we made it. o We were given credit for the extra day on our VIP status so I will be going Gold on our next cruise when Danyl does (She has one more 4 day cruise than I do) We have now crossed a cruise from NOLA off our list, unless Danyl and I get a fabulous deal on a cruise from NOLA, we will not be going back to that port. We are looking forward to the cruise in February by ourselves.
May 2017 - 6 Night Western Caribbean (Miami Roundtrip) Cruise on Carnival Vista
Cruise Tips
We did the El Cid resort as our excursion, it was an all inclusive resort.
Did NOT like the city, dirty, poorly laid out for driving. We did not do an excursion.
We did not want to do an excursion, just hung out on the ship and relaxed!
Carnival Triumph
There is a great ocean view deck right off the Atrium AKA Capital Lobby, go there to avoid the crowds!
go for the amphibious bus tour!
do the 10 best of jamaica, just avoid the diamond watch seller. please do get the $5 combo plate of chicken and pork for lunch, the tour guide will call in the order, you will need to get sometime to drink on your own.
Carnival Sensation
Bring an extension cord or non surge protector power strip. get the 12 pack of water for $3.99 well worth it, we went thorugh the 12 pack, the 3 bottles of water included for past sailing as well as a couple bottles from our other room that bought a 12 pack also.