February 2016 - 7 Night Western Caribbean (Tampa Roundtrip) Cruise on Vision of the Seas
Very good, but not great!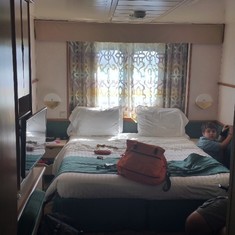 First, let me start by saying this is our 6th cruise, having previously sailed with Princess and 4 times on Disney. We had a great time, but things were just not up to what I expected. That being said, we already booked our next cruise with Royal Caribbean!
So here goes. First cruise out of Tampa. Port is easy to find, and you can drive right up, unload your luggage and then park. Parking was $105 for the week. Getting checked in was quick and painless. Once on board our room was available by 1 PM, which was quick compared to other ships I've sailed on. The ship was diverted before the first stop due to a medical emergency on board. OK, I can't be upset about that because I'd want them to do the same for any of my loved ones. But as a result, we went to Cozumel twice, instead of Roatan. I've been to Cozumel 3 times before, so that was a disappointment. Everyone's ship-booked excursions for Roatan were promptly refunded.
On the other cruises I've taken, they were always taking your photo, and pushing you to buy the packages, which I never do. On this ship, the photographers were there, but didn't pester you to take your picture, which was nice.
The crew were all very friendly and helpful! I had only one bad interaction where the woman screwed up our room service order, which took more than a half hour to receive, and we didn't eat because it was wrong. When I called her to complain, she claimed it was my fault. It was too late to place another order. Two nights in the main dining room (both very early) we had to wait a while to be served. There were several who were really nice and went out of their way to be excellent. More than once I asked for two appetizers or two entrees. Once he brought me two portions because he thought "it was too small!" We had MyTime Dining, and if you don't have a reservation, you wait in a line next to the people with reservations to be seated. But our wait times were not excessive. The first night, she gave me a slip with instructions for making reservations, but I never did, because that defeats the purpose of
MyTime Dining. I love the flexibility of eating when we want, but I miss the old way of having the same servers for the whole voyage.
My 9 year old loved the kids club! My 16 year old wouldn't go near the teen center, which seemed like it was just a room. The game arcade had maybe 8 games, none of which were any fun. Plus Air Hockey.
You have the freedom to adjust the mandatory gratuity amount to your own discretion, but in my mind, taking money off for one bad server only penalizes all the good ones, because the tips are averaged out among all the crew.
Food: Just OK. We ended up eating at the specialty restaurants 4 of the 7 nights. The buffet was good, but not great. Breakfast was the worst. Sausage gravy that tasted like paste from art class. The turkey and pork sausages were both lousy as well. We tried the main dining room once for breakfast and the menu was the same. Not what I would have expected. There was a cafe in the adult section near the spa that had great sandwiches, which we sadly did not discover until about the 5th day.
P.S. - some of you may wonder how we ate so many times in main dining if we ate at the specialty restaurants 4 out of 7 nights... Multiple dinners, OK? Don't judge me... that's how I can state the quality of the food- I ate it all!
--- Hot Rock Dining at Izumi!---
The entertainment seemed geared toward the ship's demographic, which appeared to be an average age of 70. But we were pretty tired after our days ashore anyway. Movies on the big screen by the pool every night!
Internet was ridiculously expensive, so days without email--- boo hoo. Soda was not free, but we had purchased one drink package, so we did ok.
On our scuba dive in Belize, one of the divers was actually the guest services manager on his time off. I got to chatting with him, and he was very friendly. Back on board, he sent us an invite for our family to eat at the Chop's Grill specialty restaurant on the house! At the time of our reservation, he came to our table to meet the rest of my family! Very nice surprise!
Overall, I can forgive the so-so food and lackluster entertainment in favor of the deal we got and the friendly atmosphere. Our stateroom attendant was very attentive and friendly, and I actually gave him an extra tip! We had been eyeing a 12-day cruise for this December which encompasses Christmas and New Years' on the Grandeur of the Seas. We wanted to check out this ship first, and were interested in any deals they may have for booking on board. Glad we did, because the price was the same and they needed only $150 down per stateroom, of which I booked two, and they gave us that amount back in credit to use on the cruise we were on, PLUS another $50 for each stateroom for the next cruise! So basically FREE deposit!
In summation, I would rank Royal Caribbean third out of the three lines we've sailed, but that's not meant to be a criticism. Disney is our favorite, but pricey (we don't pay because we are DVC members, but can only cruise every so often due to the points needed.) Princess is nice, but didn't have the itinerary or dates we wanted. This cruise went to 4 stops in a 7-day sailing which is uncommon, and three of the four were places we hadn't been (Still haven't been to Roatan, sadly.) The Christmas cruise is 12 days, with 5 stops, 3 of which we've never been to. Oh, and the onboard agent was able to list WTH (
) as our agent, so we can possibly get more promotions through them!
If the saying "you get what you pay for" is true, then I guess we did, because we paid a very low price, yet still had a great time! Any time I started to think "Hmm..." about anything, I remembered the low fare we paid for the cruise. If the litmus test is "would you do it again?" then the answer is resoundingly "YES!" (since we ARE!!)
---Docked in Costa Maya---
---Costa Maya, seen from the Ship---
---The view from the deck while at Sea---
---Sunset, Last Night at Sea---
---The Vision in Belize---