May 2014 - Rhapsody of the Seas to Alaska - Inside Passage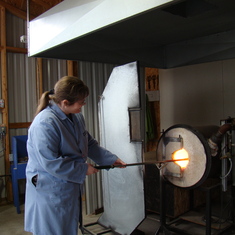 For our first time cruise the experience was amazing - the Tracy Arm Fjord was a stunning sight to see.
The ports of call were interesting to go to - and our shore excursions were a highlight. However, in Skagway the business people were rude and a bit pushy towards potential customers. In fact, if I ever returned to Skagway it would be for our shore excursion - which was the glass blowing and not for the city. In fact, if you were looking for a shore excursion in Skagway, I would recommend the glass blowing experience - I felt it was a highlight of my trip.
The Windjammer food was good and diverse for being an international cruise ship - this is where we ate at for breakfast, lunch and dinner. Sometimes it got a bit too packed and they had to shuffle people around. As for the food, I wish there was a bit more for vegetarians to choose from but overall they had a good selection of foods. I recommend that you get there as soon as they open or late to avoid the crowds. I did not go to any of the formal dinning rooms, because the Windjammer and the Parks Cafe was technically included in the cruise ticket price. The Parks Cafe was located in the Solarium and it had small snack-like foods to select from. The food from the Parks Cafe was good for small time hungers, as they offered foods such as yogurts, muffins, fruit cups, and sandwhiches.
I don't think I would get the Royal Replenish package again - I felt it was a waste of money - and they had coffee and tea always sitting out.
The Stateroom Attendants were friendly and kept our rooms clean - they cleaned it two times a day.