May 2015 - 7 Night Norse Legends (Rotterdam Roundtrip) Cruise on Rotterdam
Disappointed compared to the previous cruise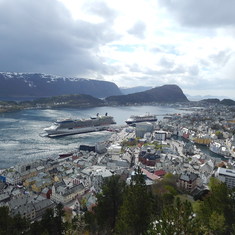 Sales, sales, sales, raffles, drawings, auctions, flyers on the door, when we returned from shore, walking down the hall etc - I felt like a target for advertising the entire cruise.
We had problems with temperature control and toilets in the cabins which were resolved after multiple phone calls.
The windows were dirty and some foggy between panes which made it impossible to take good photos out the windows (all over the ship).
We were in general seating for dinner and got the big frown for asking for a table to ourselves. There was a big push for sharing. You need to set up the tables differently.
The service was good and a few people were outstanding.
I feel like the they dont really want feedback or there would have been forms in the room, An email while disembarking is the worst time for anyone to provide feedback.
The tour guides in Norway were very political (complaining) which I thought was uncalled for.
The tour guide in the Netherlands was fantastic.
The food was full of things that some older people can not eat - bell peppers, tomoatoe sauce and garlic. My Mom had trouble at some meals finding anything she could digest. This is an older crowd and more options to add of not add some ingrediants should be provided. The food was well prepared and delicious.
Crowds were well handled - checking in and out and getting people on and off for shore visits.
I enjoyed the information on the ship and the route that were provided on the tv. The weather was not kept up to date.
The shows were a highlight of the cruise. I really enjoyed them.
I do not plan to cruise with Holland America again. I dont know if another cruise line would be any better or not. My last cruise with Holland America was in the Caribean 4 years ago and that was fantastic.