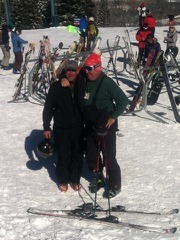 Past Cruises
October 2018 - 7 Night Best Of Cuba (Miami Roundtrip) Cruise on Empress of the Seas
October 2015 - 8 Night Southeast Asia (Hong Kong To Singapore) Cruise on Voyager of the Seas
Average itinerary and Cruise. Still reccomended
   Our itinerary left from Hong Kong (Wonderful City) to Sanya, China then to Ho Chi Minh City (Saigon), Bangkok, Thailand and finally to Singapore.  As we docked in Sanya, we were greeted by Chinese Soldiers dressed in Riot gear - A show of force that was certainly unnecessary to protect a town with very little to offer. 
   Saigon was a very interesting city with a fascinating culture and interesting temples.  Since automobiles have a 200% duty on them which increases the price beyond the affordability of most natives, one will marvel at the sheer number of scooters that travel the streets with overloaded contents.  Families of 5 persons or 5-foot (1.7 meter) stacks of goods are not unusual to find on one scooter.
   Bangkok was an incredible city with intricate temples that awed the senses.  Nightlife was reported to be fantastic but it is the architecture that will change one's perception of the area.
   Being only 1 degree above the equator, Singapore suffers from a hot climate and no wind.  None-the-less, it is a clean modern city with excellent transportation and the world's highest-rated airport.  Most places are air-conditioned and very friendly.
   Voyager of the Seas is a good ship for about a 7-night cruise.  Any longer and the ship starts to get very small.  I recommend the Promenade Cafe for great sandwiches and wonderful pizza.  It was a welcome find after enduring the crowds at the Windjammer cafe on a daily basis.
April 2014 - 7 Night Western Caribbean (Tampa Roundtrip) Cruise on Norwegian Dawn
Cruise Tips
Norwegian Dawn
Two items to pack for every cruise: 1.) A multi-plug adapter as most cabins have limited options. 2.) A pair of walkie-talkies to meet up with your travel partners. Staying in communication is much easier this way.