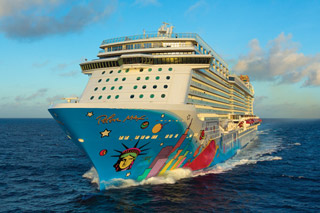 Norwegian Breakaway
Sail Date: October 27, 2013
food was fair. every complimentary restuarant had the same menu.
stateroom was excellent and so was our girl  Imee. ship was   too noisey and crowded .(i know 4,000 people plus.).the way you take charges on board for bar bills
etc. needs to be addressed. i was charged for a bar bill i was never at. there was no signature on the receipt and whoever was the server apparently put down my stateroom number  and i was charged for the bill. i spent a lot of time with the customer service desk trying to straighten out the error. had to wait on line entirerly
too long. also  had to wait on line to get into the restaurants.                                                                                              
i was not a happy camper. officer chris mason miller  on deck 11 made our cruise
a bit nicer. he was very accomodating.