Rotterdam Cabin Category T2
Floor Plan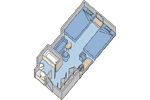 Size: 140-319 sq. ft.

Occupancy: 2 guests standard

Amenities: Two lower beds that convert to a queen-sized bed a picture window with a fully obstructed view private bathroom with tub and shower mini-safe flat-panel television DVD player telephone multi-channel music and a hairdryer.

Please Note: Smoking is prohibited in all guest staterooms.

Wheelchair Accessible Staterooms: 3428 and 3439 have roll-in shower only.
Large Oceanview Stateroom (Obstructed View) T2 Cabins:
Large Oceanview Stateroom (Obstructed View) T2 cabins can be found on:
Large Oceanview Stateroom (Obstructed View) T2 Reviews
Primarily Catering To Elderly passengers by CLP14

Verified Review / Sail Date: / Traveled As: Couple
Rotterdam Feb 11, 2018 by jamesy34

Verified Review / Sail Date: / Traveled As: Couple
We had a great time on this wonderful cruise! by lesgogo

Verified Review / Sail Date: / Traveled As: Couple
Large Oceanview Stateroom (Obstructed View) T2 Cabins - Oceanview
Other categories for Oceanview cabins include: