Rotterdam Cabin Category SZ
Floor Plan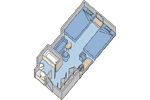 Size: 140-319 sq. ft.

Occupancy: 2 guests standard - some sleep 3

Amenities: Two lower beds that convert to a queen-sized bed a picture window private bathroom with tub and shower mini-safe flat-panel television DVD player telephone multi-channel music and a hairdryer. Some staterooms also have a sofa bed and/or 1 upper berth to accommodate additional guests.

Please Note: Smoking is prohibited in all guest staterooms.

Wheelchair Accessible Staterooms: 1943 and 1956 have roll-in shower only.
Large Oceanview Stateroom SZ Cabins:
Large Oceanview Stateroom SZ cabins can be found on:
Large Oceanview Stateroom SZ Cabins - Oceanview
Other categories for Oceanview cabins include: