Cabin Category SG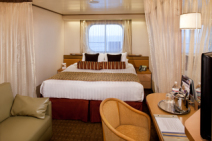 Floor Plan

Size: 140-319 sq. ft.

Occupancy: 2 guests standard

Amenities: Two lower beds that convert to a queen-sized bed double porthole windows a private bathroom with tub and shower mini-safe flat-panel television DVD player telephone multi-channel music and a hairdryer.

Please Note: Smoking is prohibited in all guest staterooms.

Please Note: Staterooms 2504 and 2505 have shower only.

Wheelchair Accessible Staterooms: 1804 1805 1806 1807 and 2500 have roll-in shower only; 1804 and 1805 have two lower beds that do not convert.
Large Oceanview Stateroom (Porthole Window) SG Cabins:
Large Oceanview Stateroom (Porthole Window) SG cabins can be found on:
Large Oceanview Stateroom (Porthole Window) SG Reviews
21 Day Rotterdam Cruise by baronbad

Verified Review / Sail Date: / Traveled As: Couple
Fantastic cruise by jamietnyc136

Verified Review / Sail Date: / Traveled As: Family (older children)
Large Oceanview Stateroom (Porthole Window) SG Cabins - Oceanview
Other categories for Oceanview cabins include: