Cabin Category EY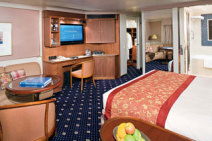 Floor Plan

Size: 365-397 sq ft. including Balcony

Occupancy: 2 guests standard

Amenities: Two lower beds that convert to a king-sized bed a private balcony floor-to-ceiling glass windows large sitting area with sofa bed private bathroom with tub and shower -- or shower only -- and two sinks walk-in closet mini-bar refrigerator DVD player television mini-safe telephone multichannel music and a hairdryer. Enjoy additional suite amenities including a variety of firm medium and soft pillows no-host mini-bar personalized cruise stationery oversized bath towels one-touch telephone concierge service fresh flowers and complimentary DVD library.

Please Note: Smoking is prohibited in all guest staterooms but is permitted outside on balconies.
Signature Suite EY Cabins:
Signature Suite EY cabins can be found on:
Signature Suite EY Cabins - Suite
Other categories for Suite cabins include: