Norwegian Breakaway Cabin Category I2
Floor Plan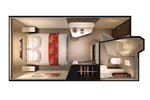 Size: 135 sq. ft.

Occupancy: Up to 3 guests standard - some accommodate only 2. Door opens to center interior corridor.

Amenities: Two lower beds that can be converted to a queen-size bed two pull down beds bathroom with shower 26" flat-screen TV mini-bar full-size closet and a safe.

Wheelchair Accessible Staterooms: 9461 9455 12425 12441 12443 12639 12679 13431 13439 13471 and 13479.

Please Note: Smoking is prohibited in all staterooms and suites. Smoking is allowed outside on balconies but cigar and pipe smoking is prohibited in all suites and outside on all balconies.
Family Inside Stateroom I2 Cabins:
Family Inside Stateroom I2 cabins can be found on:
Family Inside Stateroom I2 Cabins - Inside
Other categories for Inside cabins include: