Caribbean - Bahamas Cruise Review
Royal Caribbean Majesty of the Seas
Majesty of the Seas
Cruise Review to Caribbean - Bahamas
Experience: 1 cruise (first)
Review: 1
Helpful Votes: 0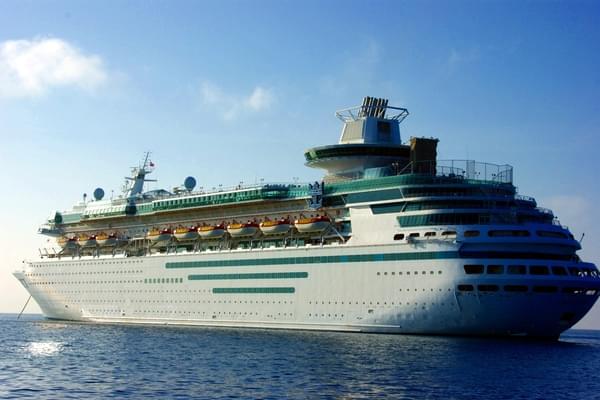 4 Night Bahamas (Miami Roundtrip)
Sail Date: December 23, 2013
Ship: Majesty of the Seas
Cabin Type: Inside
Traveled As: Couple
Reviewed: 5 years ago
Review Summary
My boyfriend and I recently just took a cruise on Royal Caribbean's Majesty of the Seas. We left from Miami and we scheduled to make two stops in the Bahammas and one in Key West before heading back to Miami.
First thing was getting to our cruise ship. We booked this cruise last minute so we did not go through Royal Caribbean to book it. We went through a website called Direct Line Cruises. We arrived at the airport and went straight to baggage claim. There we found a woman holding a Royal Caribbean sign for our cruise. They had a free shuttle for everyone who booked through them. Because we used a different website we had to pay for this shuttle. It still ended up being cheaper than taking a cab but nonetheless it was annoying that we paid all this money and couldn't even get the shuttle.
Everything about the shuttle was fine. The process to get onto the ship went smoothly and soon we were on board ready to go. The only thing that was disappointing was how long it took our luggage to get to our room. We flew in from Chicago where it is very cold. I was wearing jeans. Miami was so hot that I wish I would have had a spare set of clothes with me. Guess I should have packed a bigger carry on bag. Anyway, we had to complete the mandatory muster before our ship left. Because I was still in jeans this was miserable. Standing outside in the hot sun for about a half an hour made me feel like I was going to pass out. It took a long time to get everyone organized.
Our ship left and everything was going great. Then the next day at 8 a.m. arrived in Nassau. My boyfriend and I were eager to go on an excursion off the ship. We wanted to do something that involved the beach. We headed to the shore excursion desk and I headed to talk to a woman working while my boyfriend had to clear something up at Guest Services. This woman was less than helpful and rude too. When my boyfriend was done at guest services we went back to the shore excursions desk. We talked to the other woman working who was even more rude and unfriendly. We thought that spending $80 a person to use the private beach of Atlantis was a little ridiculous. We asked her if there were any other beaches to go to that wouldn't be such a high cost to us. She told us we would have to look outside of ship for this and she said it in a very rude way. We walked away from the desk feeling bad because this woman had treated us with such disrespect. Deciding to just wing it, we left the boat with no plans.
About 100 yards off the ship, a local man working for a small tour company stopped us and asked us to take a tour of the city for $30 a person. The tour was to go to Atlantis, a few historical sites, and to see everything from the upper to lower class neighborhoods of the city. It was scheduled to be 2-2 1/2 hours long. Because it seemed like a fair price and we had no other plans for the day we agreed. A review we had read prior to going on this trip had said that they also did not book excursions through the ship and found the prices were lower outside of the boat. This proved to be true because everywhere we went, the excursion prices were lower. The $80 a person it would have cost to go to the beach was $65 when we arrived to Atlantis. I recommend paying this price to use the beach if thats what you want to do all day. Keep in mind the beaches close at 5 p.m. so head there early.
We went on our tour and had a good time. Our tour guide was named Dirty Harry. He was fun and very knowledgable. Going through the middle and lower class areas of the city was an eye opener. The city was filthy. There was garbage everywhere. We stopped at a local beach where we were looking at Fort Montagu. We dipped our feet in the water feeling excited because this was the first time we had ever been in the ocean. Then a diaper floated by us and we were quickly disgusted.
After our tour, we walked down to Junkanoo beach. We were offered marijuana from local people atleast 6 times from our walk to and from the beach so be prepared. The beach was also dirty and garbaged filled. This is why I said I would recommend paying the money to go to the private beaches of Atlantis. We didn't stay long and walked back toward the ship.
We stopped at Senor Frogs before going back on the boat and had a FANTASTIC time. On our walk back to the ship we bough fresh conch shells from two local men on the pier. Do NOT do this. The shells smelled so bad and stunk up our room for the rest of the trip.
We were looking forward to the next day because we were scheduled to go to CocoCay. This was supposed to have beautiful beaches and the cruise was going put on a barbeque for lunch. Due to high winds we couldn't dock and had to spend the day at sea. We felt ripped off. I know there is nothing anyone can do about the weather but this day could have changed our whole trip for us. The day at sea was awful. The ship was crowded and there wasn't a lot to do. The weather wasn't nice enough to sit outside and soak up some sun. And forget going in the pool with all the people around.
The third day in Key West was awesome. I wish we had spent more time there. We went on a guided Pub Crawl and had a GREAT time. Our tour guide Zam was awesome and we learned a lot about where to go and what to do.
There are some other things that I would like to point out about our experience on the boat. We had a 9:00 dinner time. By the time we got through with dinner, we were so full we just became tired and ready to go to bed. We didn't have the energy to go enjoy the late night activities and we didn't have any room to drink. My boyfriend and I are under the age of 25 so this is the type of stuff we like to do. The servers in the dining room were awesome. So were the bartenders and other servers throughout the boat. The food, however, just wasn't that good, no matter if it was breakfast, lunch, or dinner. The Windjammer Market Place put on buffets for breakfast and lunch. No matter what time you went, finding a table was a challenge. We had to take turns getting up to get our food so we wouldn't lose our place. The pizza from the pizza place made me sick because it was undercooked.
We also did a drink package. It was $40 a day per person for unlimited wine and beer. Knowing what we do now, we would not have gotten it. We would have spent more time off the boat at the local bars. Then they slap on the added gratuity. Everything is about tipping. Everywhere we went people expected a tip. And even though we bought the drink package and drinks were no cost after that, they still ran our card and gave us a slip to sign with a tip line. We already had to pay $40 gratuity for the drink package so it was annoying that they just kept expecting more.
The boat was a lot of families and older people. It didn't have much to offer a young couple like us. Next time we go on vacation we will go somewhere all inclusive. And next time we cruise we will pick a ship with a higher rating.
Ship Experiences
Food and Dining
Onboard Activities
Entertainment
Children's Programs
Service and Staff
Ship Quality
Cabin / Stateroom
Ports Of Call
Other Reviews Of This Sailing