Caribbean - Western Cruise Review
The Cruise Was Fine, Getting On and Off the Ship Was a Nightmare
Liberty of the Seas
Cruise Review to Caribbean - Western
Experience: 7+ cruises
Reviews: 3
Helpful Votes: 23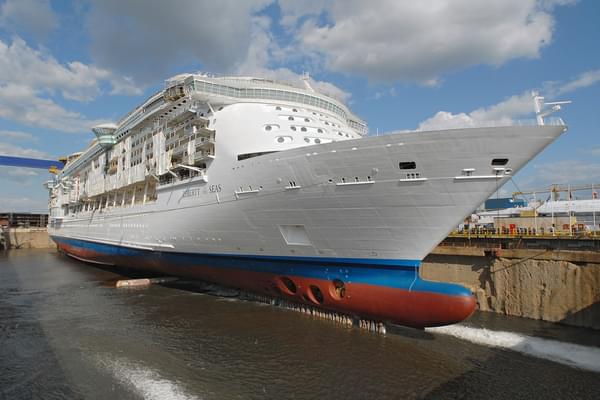 5 Night Western Caribbean (Ft. Lauderdale Roundtrip)
Sail Date: April 26, 2014
Ship: Liberty of the Seas
Cabin Type: Inside
Traveled As: Couple
Reviewed: 4 years ago
Review Summary
Liberty of the Seas
April 26 – May 1, 2014
Ft. Lauderdale – Belize City – Cozumel – Ft. Lauderdale
Cabin 6291
Introduction
My wife, Joanne, and I are Diamond Crown and Anchor members. This was our 12th Royal Caribbean cruise. We last sailed in 2008 so this represented, in certain instances, a sharp departure from our cruising experiences of six years prior. More on this throughout the review. We have been loyal Royal Caribbean customers for years. We were even stockholders and had an RCI Visa card to earn points towards cruises. Boarding in Ft. Lauderdale and getting ashore again, after returning to Ft. Lauderdale, were such nightmares I may never again set foot on another cruise ship. Royal Caribbean demonstrated an incredible disregard for the wellbeing of their customers at the front and back-ends of this vacation. Disney knows that the two most critical elements for delivering a good vacation experience to their customers occur when they first arrive at a park and when they leave. That's what sticks in people's memory and RCI should send some execs to Disney World to see how it's done.
Saturday – April 26th – Embarkation "Scotty, get me outa here. Beam me up."
Boarding was supposed to start at noon. We drove up to the cruise terminal a bit after twelve, dropped off our luggage and parked across the street in the Mid-port garage. We walked back across the street with a few carry-on bags and found the end of a line to get on. I had asked our baggage porter if there was a line for Diamond members? He said not until you get in the building. It's now 12:30 p.m. and we've not moved a step in ten minutes. It is starting to get a bit warm standing in the 90 degree Florida sunshine and the line is growing rapidly behind us. No one is getting inside the cruise terminal and the hero of the day is a Broward County cop who single-handedly starts forming everyone into a line which serpentines along the 300 foot wide front of the terminal. He got everyone under a large awning to get people in the shade. We were three rows out from the building and ultimately there would be ten rows of passengers in line to get aboard. This police officer should get a medal for saving 3,600 passengers from heatstroke. This sentiment was echoed by a number of our fellow passengers. He was great.
Sometime after 1:00 p.m. a door opened and the line began moving. Nobody from the cruise line could be found outside the terminal building. An ambulance and fire truck full of EMTs arrived to minister to someone beyond where we could see. They left after an hour without lights and sirens on, so hopefully it was a minor event for a passenger. A heat related issue would be my bet.
An hour-and-a-half after getting on line to board, we were at least now in the cruise terminal and still had to weave back and forth through more lines to get to a check-in person.  I felt like if Royal Caribbean can completely screw up the act of getting on board, do I really want to depend on them for my comfort and safety for the next five days? If we hit an iceberg a mile out of port, I wouldn't be surprised. I told Joanne, we had cruise insurance and I wondered when I get in front of a check-in person and ask for our money back, what would they do? We had waited six years, and this cruise was our 35th wedding anniversary celebration. Joanne really wanted this cruise.  I was more than ready to get a hotel on the beach somewhere in lieu of five more days of these ass clowns. I kept my mouth shut and dutifully followed Joanne aboard after over two hours on line. Many of our fellow passengers would have at least another hour or more on line to board.
We drank a bottle of water in our room and then went to the Windjammer where I drank three lemonades and a couple of ice teas. You would hope that somebody at Royal Caribbean would figure out 3,600 passengers out in the Florida heat for hours might need a cup of water to keep them hiking up to ten passes in front of the terminal. A guy behind me on line had a Navy cap and prosthesis for one of his legs and he got no different treatment than the rest of us. If you were parents with young children, or were elderly using a walker or cane, you had up to a three-quarter of a mile hike to the head of the line. Absolutely no one from Royal Caribbean gave a crap. People in hell all want ice water and 3,600 paying clients felt like hell 100 feet from the Liberty and could have used a cold drink. Memo to Royal Caribbean . . . hire somebody to see to the comfort and safety of your passengers waiting to board. Oh, you have a crewmember or RCI employee with this in their job description. FIRE THEM you morons.
I believed Royal Caribbean's philosophy was that if they could make everyone's boarding process as miserable as humanly possible, then whatever shipboard treatment we received for the next five days could only be an improvement.
The lifeboat drill was also pretty strange. A little before 4 p.m. we gathered at our station on deck four. The primary message by Captain Gjerstad was for him to list all the things that would get you thrown off the boat. "Possession of illegal substances, being rude or abusive to a member of the crew, dumping your murdered spouse overboard, etc., etc. Purchasing and consuming excessive quantities of alcohol on the ship was NOT on the list. I really have to believe that some company lawyer gave this script to the captain with orders to read it. There was none of the warm and fuzzy 'welcome aboard, we want you to have a spectacular vacation, thank you for choosing Royal Caribbean.' This was not how I remembered being welcomed aboard in past cruises.
We next headed up to the Diamond Crown and Anchor member lounge on deck 14 for a cocktail and to watch the ship's departure.  Gustavo Butcher was our Diamond Concierge guy. He also gave a welcome speech about anyone caught in the lounge who was not a Diamond member would get thrown out of the lounge and off the ship. I can see the company's viewpoint, but I'm still waiting for my first crewman to give me a welcome back moment. I'm not holding my breath. Again, I think company lawyers are writing everyone's script. We interacted with Mr. Butcher throughout the rest of the cruise and he couldn't have been nicer or more cordial.
After booking the cruise, Joanne made reservations one night in Portofino and another night in Chops. Back in the day, there would be a reminder delivered on a card or piece of paper to your cabin reminding you of such reservations. Not any more. At seven o'clock, we showed up at Chops and learned our reservation there was in a couple of days and we were redirected over to Portofino. Here Flavio Constanti from Romania took great care of us and he took a major step in improving my mindset about this cruise.
Our Cabin
On deck six (6291) our inside cabin had a window looking down one deck to the Royal Promenade. You can sit in the window seat and watch the various parades or just people watch. The cabin is very quiet. We were amidships about four cabins down from the "Ben & Jerry's Sweet." This cabin (6305) sits above the Ben & Jerry's premium ice cream shop in the Royal Promenade. The cabin window looks at the backside of Ben & Jerry's cow sign and not much else. As compensation for the blocked view, cabin residents each get a free scoop of ice cream per day. Apparently a few years back the benefits were more substantial. I think Ben & Jerry's normally gets about $3.00 per scoop.
FlowRider
This was the first Royal Caribbean ship we've sailed that had the FlowRider. No, I didn't try it out, but you can have a load of fun watching others. Most of the 30 – 40 – 50-year-olds we watched, managed standing about 15 seconds max before wiping out and getting flushed into the back wall of the ride. The eleven to fifteen year-olds did much better. Regardless, there is no happy ending to a FlowRider attempt. Every ride ends with someone slamming into the back wall, with or without their bathing trunks being dragged half-off. The exception was a greying fiftyish guy that put on a surfing clinic. He was clearly an accomplished surfer and worked the ride like a pro. Everyone gave him a huge hand after his wipe out. As I said, no happy endings. It's great fun though.
Quiet Places Amongst Your 3,600 New Friends
At any given time, it seems like there are 40 or 50 activities to do on the ship. It's easy to hang with the crowd at the pool, in the casino or on the Promenade. If you want a quiet place to read or take a nap, here is where you can go. During the day, head up to the Viking Lounge (also called Olive or Twist) on deck 14. A panoramic view, comfy chairs, air conditioning and very few people await you. Also, go forward on deck 11 as far as you can. There is a windowed door on both the left and right sides of the ship that leads to about 20 lounge chairs that look out over the ocean. The deck spaces flank the fitness spa but are not shown on any deck plans. Few people have discovered them. On deck 4, where you mustered for the lifeboat drill, lounge chairs are put out and you can shoot a cannon down the length of the ship and not hit a soul. If you are a Diamond member, your cruise card gives you 24 hour access to the lounge.
The Ice Show
Joanne had booked an ice show reservation online well prior to our departure. It was on the afternoon of our first sea day. Without a reminder, we were engaged elsewhere on the ship and forgot all about it until after it occurred. A day or so later, a new German friend, Jorge, said whatever we do, don't miss the ice show. We looked up Gustavo Butcher in the Diamond lounge and he made us new reservations for the next day. The show is called "Encore" and is spectacular. We've seen ice shows on four other cruises and this show is amazing. If the skaters didn't have Olympic Ice Dancing Gold medals than I don't know what their problem is. The show's special guest star is Larissa from Las Vegas. A beautiful woman on ice skates with hula-hoops? I can't begin to describe her performance, but she brought the house down with a standing O. She gets my WOW Card.
Me and My Maintenance Guy, Dy Carl, Save The Liberty From Sinking . . . You're Welcome!
On our second morning of the cruise, we were waking up in the Florida Straits on our way to Belize City. The toilets flush with a vacuum system when you press the flush button after you do your business. I did my business, pressed the button and everything worked normally, except the water didn't shut off and kept filling the bowl. Luckily every time I hit the button, the toilet emptied, but just kept filling. If I didn't hit the button every five seconds, the toilet would overflow and the effect would be the same as if the Liberty hit an iceberg in the Florida Straits. The ship was potentially doomed by its own plumbing. While I kept hitting the flush button, Joanne called in a MAYDAY to the maintenance department about our pending demise. No lie, the maintenance department had our guy Dy on the problem within three minutes from Joanne's SOS call. Suddenly the water stopped filling the toilet and I could manage a peek out our door into the hallway where Dy had a maintenance panel open fixing the issue. 5,000 passengers and crew were saved from being shark bait and me, Joanne and Dy are to thank.
This is new to us. When you get on the ship you are given a WOW Card. If someone on your cruise delivers a WOW moment, you can fill this card in and I imagine the person gets some form of added compensation or recognition. After our brush with death, over breakfast, Joanne said, "I think the maintenance guy this morning should get a WOW Card." I told her I was thinking the same thing. We could have used four or five WOW Cards to assign, but Dy Carl was top of the list.
iPads and Cruise Cards
A couple of days into our cruise, Joanne's cruise card wouldn't open our cabin door lock. We brought it down to the front desk and had it re-coded. They told us the cards were pretty sensitive so keep it away from your phone or iPad. On day 4, our sea day, the same thing happened. We figured Joanne's cruise card came too close to her iPad and got erased a second time. The front desk fixed it again and Joanne was much more careful. Keep your cruise card and iPad apart. As an aside, the couple next to us at the desk was talking to them about all the beverage charges on their account. Your cabin has a fridge stocked with water and soft drinks and there is a charge for consuming them.
Elevators
The Liberty doesn't have enough of them. The Liberty of the Seas, a Freedom Class ship, has 3,600+ passengers. It is about 100 feet longer and holds about 500 more passengers than the next size down Voyager Class of ships. Apart from the extra 100 feet in length, they are essentially very similar. They have the same number of passenger elevators. There are two banks of four elevators fore and aft, located at either end of the Royal Promenade. If it's after the muster drill or a show has just let out, be prepared to wait a long time. I don't know about Oasis or Quantum Class ships, we've not sailed on one, but hopefully the architects added more elevator capacity.
Dining
One evening in Portofino and one in Chops make for wonderful dining experiences. Please try them. The three-level main dining room has each level named for a different Ninja Turtle. Deck three is the Rembrandt dining room, deck four Michelangelo and deck five is the Botticelli dining room. Somebody please fact-check me on the Ninja Turtle thing. Our waiter was Belle from the Philippines and she was just marvelous taking care of us at table 486. I felt bad because we were seated at a table for six and except the last night we dined alone. A bad situation for tips for Belle. Belle also worked the Promenade coffee shop in the morning. By the way, the coffee that Royal Caribbean serves on the Liberty is fantastic.
Every night, the main dining menu had three 'pay-per-view' options you could select for an extra cost. A surf and turf, a whole Maine lobster and I think a filet, could be had for up to a $29 additional fee.
We had breakfast and lunch in the main dining room to try that out. For breakfast you can order off the menu a-la-cart or try the buffet they set out. For lunch, there is a custom salad bar where the ship's staff will make a salad, large or small, with the ingredients you select. The main dining room doesn't seem to be a breakfast or lunch option on days when the ship is in port.
The Windjammer up on deck eleven took care of the rest of our breakfasts and lunches. If you can't make up your mind on what you feel like eating, come here.
Belize City
After talking with several fellow cruisers who had been there, we elected to not go ashore and stay on the ship. The popular shore excursion was cave tubing. We were told the country was extremely poor. Royal Caribbean had six shops on their port map. We didn't feel like taking the 25-minute tender ashore to go to Diamonds International or a Del Sol t-shirt shop. As a footnote, all of the tenders to take you ashore were featuring Diamond International logos on every external surface.
Cozumel
The Liberty had a berth at a pier and it was an $8 taxi fare to get into town where the shopping was. If you didn't want to go into town, there were lots of all kinds of shops at the foot of the pier. We have been to Cozumel several times and headed into town and landed at Los Cinco Soles. It's a great 'high-end' souvenir shop and also carries about 200 different kinds of tequila, if that's your beverage of choice. We purchased a few gifts and also had lunch at Pancho's Backyard that is part of the facility. For every $10 you spend at the shop, you get a $1 credit off your meal at Pancho's. Good food and great margaritas. Post-lunch naps back on board the Liberty.
Don't Even Think of Getting Off The Boat in Ft. Lauderdale (Baksheesh Time)
We were given luggage tags numbered 23 to get off the ship. The Liberty was planning to start with group 1 at 8 a.m. and we were projected to be called at around 10 a.m. Crown and Anchor members could wait in a dining room that had coffee and pastries to pass the time. Apparently only six Customs and Immigration personnel showed up to process 3,600 passengers. They decided every departing passenger needed to be finger printed. By 11 a.m. the ship now called group TWO to depart. We were now scheduled to get off the Liberty in early July. Folks at adjoining tables were now worried about missing airplane connections two miles away. I told our friends, it's the U.S. Government and THEY DON'T CARE.
Sometime after 11 a.m. our Royal Caribbean hostess moved all of us to get off the ship. I personally believe the Customs and Immigration people needed a HUGE cash payment to do their jobs. I'm guessing at least $50,000 was required to process 3,600 passengers off the ship and get the next 3,600 people aboard. The head Ft. Lauderdale Customs and Immigration guy probably kept the lion's share and gave a few crumbs to his peons. The delay was the ship and RCI negotiating with Customs on how much pain they were prepared to tolerate versus how much cash was being demanded. O.K. lets open the Casino's safe and see what we have. Work a few cruise ship arrivals and departures each week and retire early in the top 1% club. I'll alert my Congressman to this government shakedown as he will certainly want to make  sure he's getting a cut. Our Customs person was a woman named Orla in case indictments are ever handed out. Not likely.
I expected to pass by the many idle C&I officers on my way off the ship and watch them counting their wads of cash. They were politely discreet.  Paying a bribe to a government official is as much a crime as the official accepting it. So everybody keeps quiet and money makes the world go round. RCI isn't going to admit to this and the customs people know it and will continue to squeeze. Cruise fares will be going up. Ships will continue to sail, albeit late.
I tried to do my good deed for the day. It was just before noon and walking out of the terminal, I stopped a Royal Caribbean employee and suggested could someone arrange to have water brought outside for the next crowd of passengers that would be waiting on the sidewalk. He said this week was completely different as last week's problem was related to them not having a zero count after all passengers had left the ship. Regardless, it was almost time to board and there were still several thousand passengers behind us that needed to be processed off the Liberty. The doors were not going to be welcoming passengers at noon on this cruise either. I tried but the Royal Caribbean guy wasn't going to hear about it.
Summary
The cruise experience itself was nearly perfect. Getting on and off the ship, to my thinking, wasn't worth it. This is likely my last cruise. I've submitted my cruise survey and have written to RCI's customer service department and they just don't care to respond. The Liberty was heading next to the Mediterranean for the summer so my review may be irrelevant. Sorry but I've tried to be fair.
Austin Kearney
Atlanta, GA
pepperdog@mindspring.com
Ship Experiences
Food and Dining
Onboard Activities
Entertainment
Service and Staff
Ship Quality
Cabin / Stateroom
Ports Of Call
Ft. Lauderdale (Port Everglades), Florida
Horrible time getting on board and getting off at the end of the cruise.
Fellow passenger said Belize City was very poor. There were six stores ashore to shop at unless you booked a tour. We stayed aboard.
Other Reviews Of This Sailing