Legend of the Seas Cabin Category SI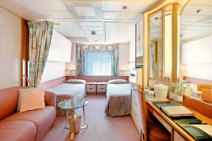 Floor Plan

Size: 151 sq ft.

Occupancy: 2 guests standard

Amenities: Two twin beds that convert to a Royal King a picture window private bathroom with shower vanity area closed-circuit TV mini-safe radio telephone and a hairdryer.

Please Note: Staterooms 2000 2002 2500 2502 2600 and 2602 have portholes instead of windows.

Please Note: Smoking is not permitted in staterooms; as of January 1 2014 smoking will also be prohibited on balconies.
Large Oceanview Stateroom SI Cabins:
Large Oceanview Stateroom SI cabins can be found on:
Large Oceanview Stateroom SI Cabins - Oceanview
Other categories for Oceanview cabins include: