Celebrity Millennium Cabin 6108
Floor Plan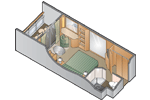 Size: 171 sq ft.; Balcony: 38 sq ft.
Cabin Category: 2B
Amenities: Two lower beds convertible to queen-size bed (except as noted) floor-to-ceiling sliding glass doors that open to a veranda with lounge seating sitting area with sofa 20-inch interactive flat-screen television bathroom with shower mini-bar telephone thermostat-controlled air-conditioning 24-hour room service and hairdryer. Some sitting areas include a sofa bed.
Please Note: Staterooms 8006-8007 8043 9004-9005 9039 and 9041 have partially obstructed views and stateroom 6108 has a smaller veranda that is semi-private.
Wheelchair Accessible Amenities: Wider doors no doorsills to get into stateroom ramped bathroom threshold bathroom grab bars lowered sink and stateroom vanity roll-in shower with fold down shower bench lower closet rods and accessible balconies.
Celebrity requires guests booked in this category to acknowledge need for the accessible stateroom by completing a Guest Special Needs Form.
Smoking is not permitted in staterooms or on stateroom verandas.
Cabin 6108 Deck Map
Penthouse features staterooms in categories:
Convertible Sofa Bed

Sofa bed sleeps one

Double Bed That May or May Not Be Convertible

1 Upper Berth

2 Upper Berths

Wheelchair Accessible Staterooms

Connecting Staterooms

Inside Stateroom Door Location

Sofa

Non-Convertible L-Shaped Twins

Twins Convertible to Queen Bed

Non-Convertible Queen Bed

Sofa bed sleeps two

Obstructed View
Other Cabins in Category 2B