Celebrity Century Cabin Category S0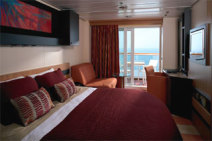 Floor Plan

Size: 175 sq ft.; Veranda: 55 to 80 sq ft.

Occupancy: 2 guests standard - some sleep 3 or 4

Amenities: Two lower beds convertible to a queen bed (except where noted); a sitting area some with sofa bed; a private bathroom with shower floor-to-ceiling glass-paneled door that opens to a veranda 23-inch interactive TV 100% cotton towels complimentary use of Frette bathrobes mini-bar direct-dial telephone thermostat-controlled air-conditioning safe hairdryer and 24-hour room service.

Please Note: Smoking is not permitted in staterooms or on stateroom verandas.
Sunset Veranda Stateroom S0 Cabins:
Sunset Veranda Stateroom S0 cabins can be found on:
Sunset Veranda Stateroom S0 Cabins - Balcony
Other categories for Balcony cabins include: