Mexico Cruise Review
p p Oct 10-14 Cruise to Paradise p Day...
Carnival Paradise
Cruise Review to Mexico
Experience: 7+ cruises
Review: 1
Helpful Votes: 3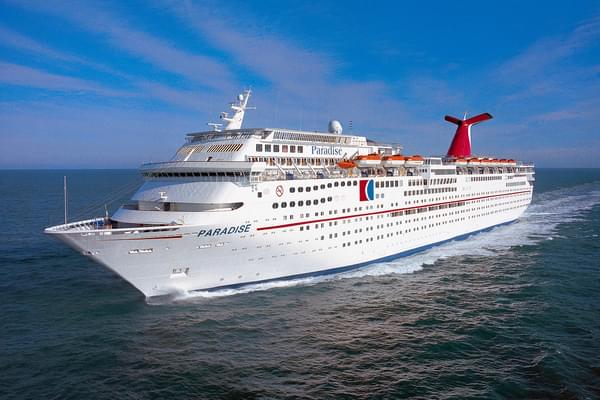 Sail Date: October 10, 2011
Ship: Carnival Paradise
Cabin Type: Inside
Traveled As: Couple
Reviewed: 7 years ago
Review Summary
p p Oct 10-14 Cruise to Paradise p Day 1 Embarkation p We arrived at 11am dropped off our friends, who booked a suite at the VIP lounge, then waited for check-in at the dome. Finally, someone said they were still doing early check in at the Queen Mary, so we rushed over there. There was a short line for the disabled. we quickly got through, then back to the Dome to be first in line for disabled check in. They said first the VIPs would go in, and then we could. They gave us an 11:30AM check-in time. p Soon after we got back, they told us that the time had changed to 11:45Am, so we waited. The Check-in attendants came out let us know it was now set for 12:30Pm. Little did we know there was an inspection going on (they held us up on HAL for the same reason earlier this year). p In the mean time, QM had shut down, and a third line had formed, this one for those who missed early check-in. We were told that THEY could not get in until our lines went through! Happy Happy, Joy Joy! p Finally, we were checked in, our photos taken BEFORE we got to the door to the ship, saving crowding, we were on the Paradise in no time. We met up with our friends at the Lido Deck Paris Lounge, where we were able to find a table close to the ice cream yogurt. Chocolate vanilla were the flavors of the day. p I grabbed a copy of the Fun Times saw no CC MMmdash;no problem, probably too early. I took my carryon bag down to our cabin-- Adapted E116. The twin beds were put together, and my cot was pushed against the wall, not the way we had it on our last cruise. Our attendant used full sheets, so we decided to ldquo;grin bear itrdquo; for this cruise. The TV stations were out of NYC ( San Juan PR), so everything was shown 3 hours earlier. p At 3, I headed to the Normandie for the Fun on Board presentation with CD Jeff Bronson (Broonson). It was fun, even though I didnrsquo;t win any of the raffle prizes! p We were traveling with a group of 14 others (8 cabins in all), so we were assigned 2 long window tables next to each other. It was great to keep in touch. We met in the lobby lounge for drinks before dinner each night. All of our cabins, with the exception of our friendrsquo;s suite on the Upper deck (gorgeous!), were all in the same area as well. From our tables, we were able to watch the full moon rise, which took my breath away. p After dinner, (I chose two appetizers --Duck iceberg salad) Warm Chocolate Melting Cake with sugar-free ice cream for dessert , I headed to the Theater for some Fun Games. First we played TV Trivia, which was just Name that TV Theme Song. Then came Game Show Mania. I was determined to be chosen for Game Show Mania, and after two rounds, Chris finally chose me, with some assist from Sam, who was working the sound. Irsquo;m an expert in Trivia, so I was able to quickly start my Ships on a Stick collection (on my last cruise, they were giving away medallions, Ships were at a premium!). When I told them my name where I was from, they also asked my occupation. I said I ran a Fan Club for Shirley Jones David Cassidy, so my nickname was ldquo;Mrs Partridgerdquo;; and so I was known as that for the rest of the cruise! p The opening show started at 10:15PM, I had seen it before, so I went back to the cabin, after losing $40 at the Casino. A Towel Seal was waiting for us. There I went through a scavenger hunt of sorts, trying to find out where my parents had unpacked my PJs! About 11pm, scraping started on the roof above us! Turns out, we are right under the Empress DR! I could hear it through ear plugs music on my I-pod. Luckily, it didnrsquo;t last long. p MOVIES:RIO, JANE EYRE, LIKE WATER FOR ELEPHANTS Were rotated between the big screen TV in the cabins. p Thus ended my first night of Paradise. p Day 2 Catalina p After a night of smooth sailing, I Woke at 7, and went up for yogurt a banana to absorb my morning vitamins. There were Several Trivia games were on the agenda, but still no M M. I met two women for a full sit-down breakfast. Better than balancing trays (yes, they still have trays on the Paradise), so I had egg beaters, juice toast we chatted about the dayrsquo;s plans. p After breakfast, I went up to the Casino bar found a cozy window seat to read while I waited for the Trivia game (80rsquo;s Name That Tune of pop music that would be heard on VH-1). I won another ship. There were 3 other contests (Famous Places, Moviesmdash;Theme songs of movies of the last 4 years, Scattagories) which I allowed others to win! p Between games, I stopped at the Lido for some pizza cookies for a bedtime sack with frozen yogurt for desert (strawberry chocolate today). p We got ready for Cruise Elegant night, than met for a group photo. The stairs were taken up with an extended family, so our photographer used a flat spent a lot of time getting us organized. We relaxed for a while, while my parents met with friends for drinks. p The menu offered three of the best meat dishes on the same menu (lobster, ribs, prime rib) which angered many in our party. I opted for the strawberry bisque, lobster (and of course more WCMC!) p Waiterrsquo;s entertainment was a conga line to Hot Hot Hot. p After dinner, I took items from my friends who were coming to the show (EIGHT MORE SECONDS) I Found a booth on the second level with a clear view of the stage. Most of the members of the group I traveled with participate in senior citizen performing groups, so they were very interested in the shows. I had seen the show before, but I love the music didnrsquo;t mind seeing it again. p Back to the casino to lose more $$, a stop at the Lido for milk. We had a Towel Lamb greeting us in the cabin, and he watched Jay Leno with us.. p Just another Day in Paradise. p Day 3: Enscenada p Breakfast with friends on in the Elation Dining Room began with a sliced banana (a full banana sliced in its open peel), Cold French Toast Juice (the syrup was supposed to warm up the toast, but did a poor job. My friend had an equally cold Belgium Waffle, so be warned!). Then I headed back to my window seat to wait for Ready Set Draw (a version of Win Lose or Draw). No one showed, so Danielle, the Entertainment crew member in charge of the Trivia, I just talked. She the rest of the current crew will stay on the ship when it goes through the Panama Canal the Inspiration comes through to the West Coast. I told her Irsquo;d heard about the Flash mob performances on the Paradise but she indicated that nothing was planned for this cruise. p Grabbed some more chocolate frozen yogurt (flavors still strawberry chocolate), then came back to my window seat. Some Sea Lions were frolicking in the water outside the ship below the window kept me entertained. p General Trivia came next , I won another trophy. Then came Mind twisters, and although Irsquo;d had them on previous cruises, there were some I couldnrsquo;t remember. I barely made it through Say What you See, where picture clues gave hints for a saying. p Our group met at 5 to listen to the pianist, but he didnrsquo;t show up! We asked at Guest Services, were told that hersquo;d been there but they lost him. He finally showed up at 20 after, dressed very casually. Then the speakers were turned we could barely hear what he was playing. p Nothing looked appetizing on the main menu, so I got the grilled chicken from the everyday menu the tropical fruit appetizer (melon, one blackberry, one raspberry, mango ballsmdash;I should have gotten the greens). The chicken was nice moist. I topped it off with WCMC (see a pattern? My server did!) p The departure time was 10pm, so there was only a deck party Mexican Buffet on the Lido deck, neither of which I attended. I tried playing Flashback Music Trivia, but it was 70rsquo;s FM music which I couldnrsquo;t identify, I could swear that they ran 2 or 3 songs together, because I didnrsquo;t hear 3 clues. We were back in he cabin after that, greeted by a Towel Bulldog, started watching Leno (honestly, I donrsquo;t normally go to bed that early, but running around the ship is very exhausting! p p Almost Paradise! p DAY 4mdash;FUN DAY AT SEA (CIRCLING THE BAY) p p Breakfast with mom eggbeaters, toast juice. I wanted to do Name that Song, but was afraid I wouldnrsquo;t be able to get from the Casino lounge to the 1supst/sup level of the Normandie for TV Trivia, so I just played some slots went to the theater. The game was the same Name That Tune as on the first night I got a few more right, but still didnrsquo;t win. p Went up to the Lido to grab some cookies, but they changed everything to more elegant deserts. I grabbed a chocolate/chocolate chip muffin for the evening some frozen yogurt. Went back to the cabin watched the pre-recorded Debarkation video. This was a change to the ones offered before, when you had to sit in the theater watch it live. Jeff recorded it during a previous disembarkation, where guests could be seen in the background. p I skipped Lunch in the Elation to play Trivia, which started with cartoon-mania. I havenrsquo;t watched cartoons since my niece nephew started school (they are now in college), but there were a few from my childhood that some younger players didnrsquo;t know! p Motown music followed, and another girl I tied for first place with perfect scores. Luckily, there were plenty of medallions to go around (my first of this cruise), so we each were presented with one. Commercial slogans followed, I let someone else win. p A friend came during the slogans contest stayed for general Trivia. She was a great help we ended up in a 3-way tie. They gave a tie breaker question: ldquo;Which product guaranteed in its user guide that it would play dead immediately?rdquo; As s child of the 70rsquo;s, I came up with the answer-The Pet Rock! Neither of my opponents even knew what that was! (TOTAL PRIZES: 4 SOLID GOLD PLASTIC SHIPS ON A STICK 1 MEDALLLION!) p An elegant Tea was served in the America Bar, I had 3 cucumber sandwiches (I skipped the Michael Jackson Trivia for it!) Then it was off to the cabin to get dressed for the Farewell Party in the Normandie Lounge. Itrsquo;s just tucked into the daily schedule not highlighted, so the waiters were pressing drinks on us. The band played all sorts of music, including some that our friends, ball-room dancers, could dance to. Then they changed to music of the 1960rsquo;s the children, who had basically been invisible through most of the cruise, jumped on the stage took over. They were enthusiastic entertaining, but the adults just shook their heads. Our friends requested Tennessee Waltz got a second dance in, but the children stayed on the stage. p Our final meal I decided to order a green salad try the gourmet burger. I ordered it with bacon. The bun was tough, so I just cut it apart with a knife fork. I ate a few of the string potatoes, but wanted to save my calories for my last WCMC. Our last song from our servers was ldquo;Leaving on a Fun shiprdquo;. p I decided to share the wealth with my awards, so I presented Ships on a Stick to the friend who assisted me with my final Trivia contest another woman who gathered the 6 additional cabins of friends together. My Medallion was presented to a woman who risked her health to travel with us. p My parents went to the cabin to organize for packing while I scouted a booth. The one we had on Tues was occupied, so I grabbed the one next to it allowed the dancers to sit in the better seats while I sat on the floor. Shout was a high energy show, but I noticed they omitted a Beatles segment, which used huge paper machersquo; heads inflatable instruments. One of the ushers told me that the cruise-line is putting together a Beatles show, so that could be the reason. p Got back to the cabin my parents had laid out my clothes to pick. We decided to do self-disembark, so we just put our suitcases in the open closet. p TWO TICKETS TO PARADISE-IDONrsquo;T WANT TO PACK TONIGHT! p p Day 5 Disembarkation p p A beautiful day greeted us as we ate our last breakfast in the dining room. I asked for a banana, but they were out, so I had to make do with toast, juice egg beaters. While we were eating, our decks were called, so we went back to the cabins picked up our luggage went to the lounge, which was set aside for passengers needing assistance. Finally, an attendant brought a chair for our friend. The system went very smoothly we got to the parking lot right away, were home by 9am. p The day was reversed, with clear skies in the am fog rolling in by the time the Paradise 3-day left at 5:30.! p
Ship Experiences
Food and Dining
Onboard Activities
Entertainment
Children's Programs
Service and Staff
Cabin / Stateroom
Recommends Carnival Paradise?
Yes!