Caribbean - Western Cruise Review
Another impressive Carnival performance
Carnival Elation
Cruise Review to Caribbean - Western
Experience: 7+ cruises
Reviews: 11
Helpful Votes: 92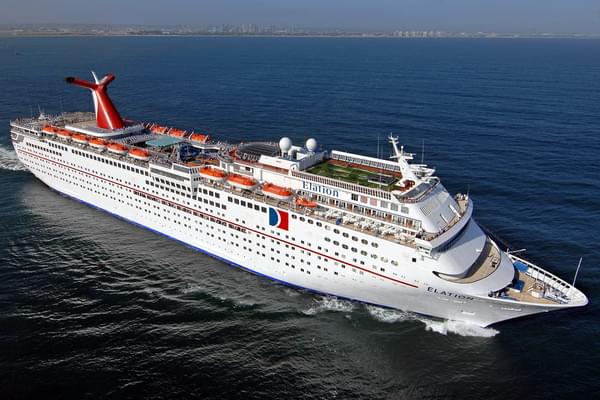 4 Night Western Caribbean (New Orleans Roundtrip)
Sail Date: August 13, 2015
Ship: Carnival Elation
Cabin Type: Oceanview
Cabin Number: E255
Traveled As: Family (older children)
Reviewed: 3 years ago
Review Summary
This ship and New Orleans have some similarities. Both are old. Both show signs of their age. Both know how to party. Both can rip off the unwary. Both  can deliver a memorable culinary experience. 
Our vacation in New Orleans included this short cruise because my daughter wanted to go on a ship with a water slide. No other cruise line sails out of New Orleans this time of year. Our hotel, which she chose, doesn't have a pool. Elation fit our budget and schedule perfectly and delivered a memorable experience. Our cabin was exceptional, a corner in the very transom of the ship with a view overlooking the wake. Some vibration but it didn't bother us at all. The storage locker forces you to step over the bed to get to the porthole. My kid loved to curl up in the recess and close the curtain. Cabin service was superb and although the grout in the shower floor was darkly stained I personally witnessed some guy scrubbing it with some noxious liquid and wire brush so I know it was clean. The antique CRT television was so bad the letters and graphics on the screen were hard to read but we weren't there much to watch it. The cabins are pinkish and look dated but are comfortable and functional with ample storage.  As others said, bring a power strip—serious outlet shortage in these cabins and we brought several devices that needed charging.
Having been on Fascination, a sister, and other Carnival ships, I knew about Joe Farcus and his concepts of interior design and architecture so seeing life-size robots with gears for a heart, fanciful depictions of Renaissance Verona and splashy use of neon and LED lighting were no surprise. This ship uses wood-tone laminate to keep public areas looking warm, particularly in the atrium. My favorite was the Mark Twain Library, with gorgeous model paddle-wheelers and sumptuous seating for reading, games or computing. One thing Carnival's interiors do well—force you out of your usual visual mindset and get you to forget you're on a ship.
There is plenty of open deck space and a sufficient stock of lounge chairs to keep everyone happily sunning. The Serenity Deck, aft, is adults-only and provides a nice respite from the noise and hubbub around the main pool. You will not, however, be able to escape the boorish ignoramus who is unaware of lounge-chair protocol no matter where you go so be prepared.
Sailaway deck party was the usual to be found on most ships, what made this unusual for us was the difference sailing out of this port when our only previous experience was sailing out of South Florida.  We COULD NOT BELIEVE how long it took to reach the open water of the Gulf of Mexico. This was almost like two cruises in one: a Mississippi River cruise coupled with an ocean cruise to Cozumel. We had fun ship-spotting and checking out the oil rigs.
Entertainment on board seemed to please that crowd. Although I didn't particularly enjoy either comedian (walked out, actually) and the stage show was cheap and cheesy (recorded music, no set changes, basic choreography) I was most impressed by the magician who performed for us both at dinner in the MDR and at Chef's Table. The card trick involving his tie was a jaw-dropper as well as the hand-rubbing floral fragrance trick. Karaoke is divided between "family" and "adult." We sang at both. Everything else you expect from hairy-chests and belly-flops and muffin-tops and bingo and champagne art auctions are there in abundance.
My kid was so busy with the instant BFFs she made at Circle C (the "camp" for 12-14 year-olds) I only saw her at dinner and occasionally when I walked through the buffet restaurant to get to the Serenity Deck. No one (except maybe Disney) takes care of kids better than Carnival. I recommend the Bottomless Bubbles or you'll get nickel-and-dimed to death on drinks. At the end of the cruise I asked her how she liked the waterslide. She had such a great time she only used it once.
Dining in the MDR was fine. I always said Carnival's food was glorified cafeteria, salty to sell drinks but served with style to overcome shortcomings in quality. I have to admit they've upped their game. It's a pleasure to eat my words. The escargot was deliciously unchanged, meats were served at the right temperature and doneness (rare to medium-rare for me), and the lobster tails were small (expected), tender, moist, not at all stringy. Chocolate desserts were flavorful and rich as always, better than Royal Caribbean's by a mile. The Baked Alaska was a bit of a disappointment, a slab sliced onto a plate. Breakfast in the morning was a highlight—I'm an Eggs Benedict addict. Smoked salmon was uniformly good, the bagels adequate. Plentiful fruit and cheese available. I honestly can't say anything about the Lido Deck buffet restaurant because I didn't try it, nor did I sample the Deli, Mongolian Wok or pizza. You know they're there. I know they're there. Big lines. Not for me. I'm convinced that's where most people who get sick on ships pick up the bug—waiting in line to get food.
Big splurge was for the Chef's Table. This was the experience that made me realize how hard Carnival is willing to work for my buck. A seven-course meal with unlimited champagne, drinks, a private reception, a galley tour, a private banquet in the ship's most beautiful public room, free group 8
X 10 photo by ship's photographer, a custom menu of dishes prepared in ways no one else aboard will ever see or taste, entertainment between courses provided by the ship's magician, a team of professionals led by the Executive Chef preparing, saucing, finishing and garnishing the courses in front of your eyes. Dishes ranged from "Crab Stack with Corn Custard, Polenta Cracker Tangerine and Passion Caviar" to "Wagyu Bone Marrow Souffle with Scallion and Garlic Panisse and a Gremolata Crisp." The sea bass dish had "Lobster Foam." Seriously.
I can honestly say this little cruise aboard this now-little ship was about as good as it gets on this line. The harder Carnival tries to keep me, the better they do at it.   
Ship Experiences
Food and Dining
As it should be, despite a first-night MDR service glitch. Chef's Table was superb by any standard. Is there a better dessert anywhere than Warm Chocolate Melting Cake?
Onboard Activities
Kept everyone busy and out of my way.
Entertainment
I enjoyed karaoke more than the professional entertainers. The magician who performed at Chef's Table and in our MDR was exceptional.
Children's Programs
Second only to Disney
Service and Staff
Excellent cabin steward.
Ship Quality
Once I learned to "get into it" and overcome my prejudices, I gained an appreciation of what these ships are about.
Cabin / Stateroom
We love corner cabins that only share one wall with a neighbor. This one is all the way aft. Vibrates some, mainly during maneuvering, I guess because of being above the rudder and propellers. Spacious, although floor space taken up by large storage locker. Room for a kid to curl up in window alcove. Outstanding view of wake. Lots of storage space and functioning safe. Single outlet near desk, so bring a power strip. Lots of hooks to hang stuff. Bed is decent, not as comfortable as Norwegian. Large bathroom for a ship. Comfortable, but nicked up, worn and dated. Weird pinkish color-scheme. Ancient CRT television with barely-legible screen. I would take this cabin again anytime.
Ship Tip
If you have an allergy to lines, as I do, avoid the buffet and have breakfast in the MDR. In fact, if you have an allergy to lines avoid the Lido Deck altogether. Nothing served there is worth standing in line. Next longest line (other than for food) is at Guest Services. Hhhmm. Wonder why?
Ports Of Call