There are so many things to talk about from this cruise. 7 Day Isla Roatan, Belieze, Cozumel. I was impressed at how easy the embarkation was in New Orleans. We arrived at the port parking garage at 10:30, parked, unloaded and checked in and was on the boat by 11:30. We always pack a bag to carry on with our sundries and a change of clothes and bathing suit. This is a good Idea as our luggage didn't arrive until 7 PM. . I was very impressed with our Capitan and crew as there was a tropical Storm in the western Gulf and totally missed it. First order was to hit the buffet and then the bar, we decided to do the Cheers program, but waited until Monday and saved $50. I broke even using the program on Wednesday after we returned from our excursion. We booked our first excursion thru Carnival for Roatan. Barefoot Catamaran snorkel and lunch. We loved this excursion and recommend it highly, the Jolly Roger crew took great care of us and we had a blast. Belieze well let's just say this was our least favorite stop! We had booked an excursion not affiliated with Carnival as some of our friends had recommended it. Since we had no contact with them prior to us getting on the tender we didn't know it was canceled. There is a barrier reef and the ship has to anchor about 3-4 miles from the "port" so the tender takes about 30 min. Not a fan!! We ended up going to the Altun Ha Mayan ruins on a 18 passenger van that was driven like we were on a race course with a million pot holes. We were wearing bathing suits and flip flops as our original adventure was supposed to be Goff's Caye beach. Cozumel was amazing as always. We always take a taxi to Paradise Beach. It is a very inexpensive getaway and the service is amazing. Look it up you won't be disappointed. All in all I would rate this cruise a 9 out of 10. The shows were great and the comedians were greater! We had so much fun laughing and hanging out. We had 8 people in our group and met a Facebook group with another 200+ people. They organized a pub/ bar crawl, a poker run thru many different cabins so people could see the different types of cabins that Carnival offers. They had a slot pull, a wacky sunglass event and meet and greet. One thing we tried that we haven't done before was the Steak House! It was Amazing and well worth the extra $35. You will need to make reservations but you will not be disappointed! I hope this review is helpful, I know you will have an amazing time on the Dream or any other Carnival ship. We are cruising again in November on the Magic hope to see you there!!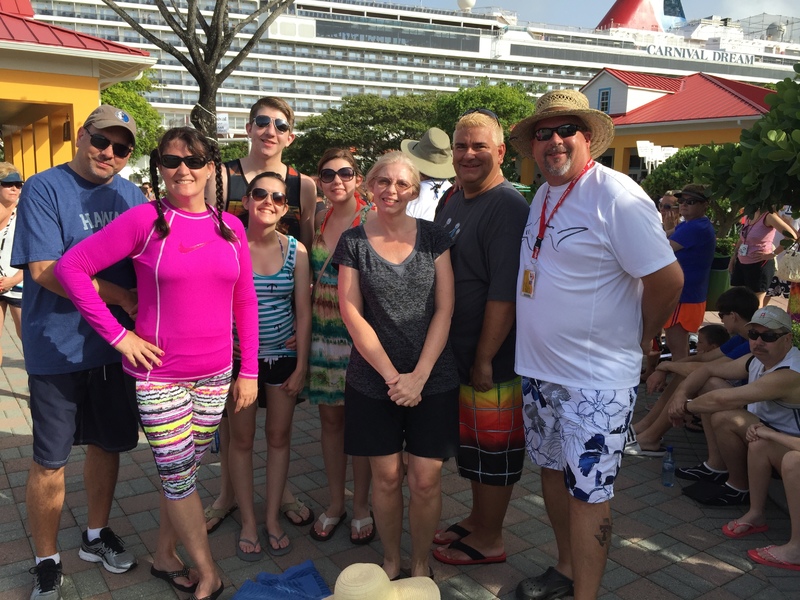 Category Ratings

Click table then swipe to view all columns.
| | | |
| --- | --- | --- |
| Ship Quality | | |
| Food and Dining | | |
| Service and Staff | | |
| Entertainment | | |
| Onboard Activities | | |
| Destinations and Excursions | | |
| Cabin / Stateroom | | |
Port Ratings

Click table then swipe to view all columns.