My review of the Allure of the seas.
Sail Date: March 02, 2014
First let me say I love Royal Caribbean cruise line. I am loyal to royal.
The Allure of the seas is a beautiful big ship. It has everything a cruise ship should have. Bars, Restaurants, Pools, Hot tubs, Shows, & Lots of lounge chairs. The Allure did not disappoint. The bars were top notch, the restaurants ( other then the windjammer) were just vantastic. The pools & hot tubs just great, The shows were
as good as any I have see on Broadway or Vegas. & yes there were tons of lounge chairs. The crew was the best as always. (royal has the best crews hands down)
The ship was clean and looked new as did all the furnishings & carpets.
The cabin # 12660 a suite was perfect with all the amenities you could think of.
The ports we stopped at were Nassau Bahamas (been so many times never got off the ship) St Thomas US Virgin Islands We just walked around shopping and went to
Morning star beach and it was great. I highly recommend it. Next we went to St Maarten first we went to Maho bay beach ware planes come so close to the beach that if you could jump up and almost touch them ( very cool beach a must do)
then we went to Great bay beach rite in front of the main street shopping area with was good but it will cast you $30 for two lounge chairs and umbrella. It has a good view of the ships there & the water is so blue and clean. The shopping was so much better in St Maarten then in St Thomas better deals on everything.
That was all the good not some of the bad. Even throw the ship is super big there were people everyware banging into us ( spilling our food & drinks over us more then three different times) Kids running allover and pushing every floors buttons on the elevators all week long. The cruise had 6,100 guest on this sailing and 3,800 were from brazil (very rude people) 1,200 were Asian, 850 were American & 250 other nationalities. The Brazilians took over the ship basically. They stayed in big groups not letting other guest in the windjammer or bars they would book a bar for the night so other guest could not use them( did not know anyone could do that on a cruise ship) They had a big group that was 4 hours late getting to the ship in Ft
Lauderdale so we did not leave tell 9pm that night and they were late by 2 1/2 hours getting back to the ship in Nassau also the same group of Brazilians. Hardly any of them spoke English making it even harder to talk to. I went to the service desk many times and they said I was not the only one complaining about them. Now the food everyware was just great (chops grille ) was so good as was the main dining room,
Johnny Rockets, Park café. & The dog house has great hot dogs & sausages. The windjammer was just terrible (first time I did not like it there on any ship) The food was not appealing and the taste was so bland. Ritas cantina was over priced and the food was terrible. They are turning it into a Margaritaville Good to hear. Over all it was a good cruise 3 1/2 out of 5 & the ship is my second favorite ( The Freedom of the seas being my #1 still) This was my 23th cruise and 18th on Royal Caribbean.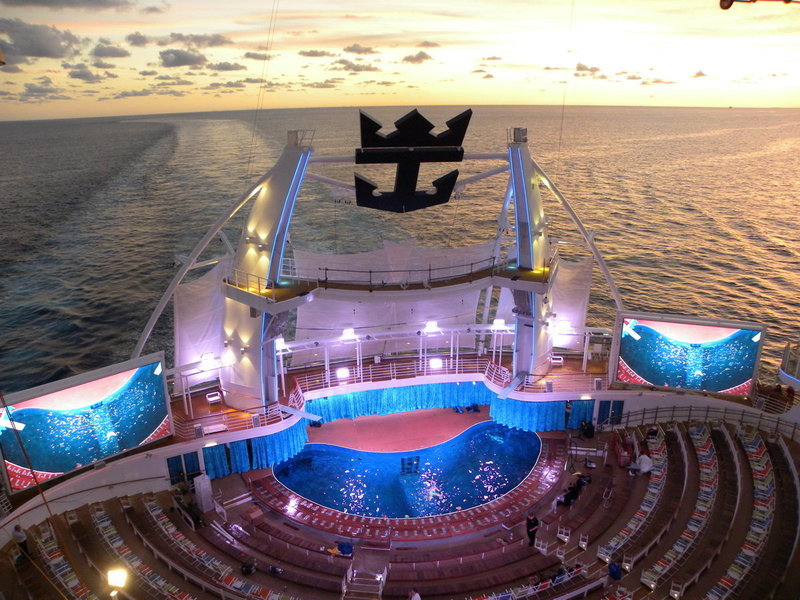 Category Ratings

Click table then swipe to view all columns.
| | | |
| --- | --- | --- |
| Ship Quality | | |
| Food and Dining | | |
| Cabin / Stateroom | | |
| Service and Staff | | |
| Entertainment | | |
| Children's Programs | | |
| Onboard Activities | | |
| Destinations and Excursions | | |
Port Ratings

Click table then swipe to view all columns.