October 2015 - 7 Night Eastern Caribbean (Ft. Lauderdale Roundtrip) Cruise on Independence of the Seas
Independence of the Seas Has Lost It's Independence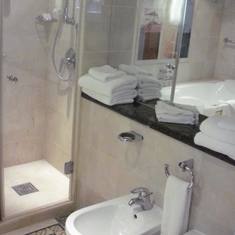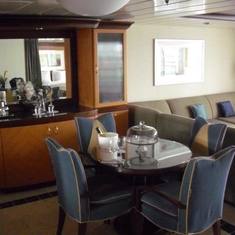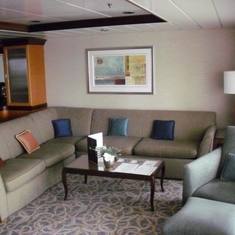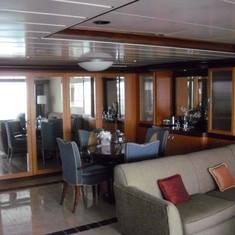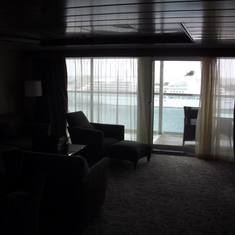 Owners Suite (Majorca Suite): 1350
BACKGROUND: My Husband and I are avid travelers and have experienced practically every mode of transportation over the many years of adventures we've taken across the globe. But cruising for us have become an inherent part of our lives and it really works for us. We like the selection of itineraries and also the accommodation options. And, after nearly 50 cruises between the two of us, we've graduated to elite status on a couple of cruise lines and almost always opt for large suites during our travels. We personally feel our accommodations are one of the most important features of our many trips (whether it be on a cruise ship, hotel or other domicile).
For this trip, we opted for one of the Owner's Suites. We've had this category of cabin before and really loved it on previous trips so it was an easy option for us once we looked at the available choices. However, we experienced more noteworthy issues on this trip than we have on any other cruise we've taken over the years. So many in fact that we started a list early in the week. This review is based on those notes. We've tried to categorize our thoughts to make it easier to reference.
DEPARTURE EMBARKATION FROM FT. LAUDERDALE (Sunday, October 25, 2015): We had no issues checking in and getting our SeaPass Card. However, the staff were immediately perplexed when I reminded them we were in an Owner's Suite and that we were supposed to have an escort to the ship. It took our representative at the counter and a supervisor to figure out this arrangement. After calling someone on the walkie talkie, a gentlemen showed up and said that he didn't usually do this part of the disembarkation but was happy to take us on board. He also said that he had no idea where the person was that was supposed to have come down for us. We appreciated that he was stepping up to pick up the slack for someone else's lack of attention. We were taken on board and let loose just as we passed through the security ID check. We are fine to be on our own and get to the suite on our own but in the past, someone usually took us to either the concierge lounge or directly to our cabin. This process seemed to fall short of what we expected.
We realized we had an hour before the cabins were accessible so on our own we found our way to the concierge lounge. We were actually the first two people in the lounge. Our Concierge, was nowhere to be found and in fact, the entire time we sat in there we had no RCCL staff member available for questions or a greeting. Additionally, there were no beverages available except for coffee and tea which you had to figure out on your own with the machine that was in the lounge. There wasn't even water available. This really stood out to us as in the past we have always been greeted with beverages and something to nibble on while we waited for our cabin. We were able to access our stateroom just before 1PM as indicated by the crew keeping watch on the access doors to the hallways.
STATEROOM: As I referenced above, we booked an Owner's Suite which was named the Majorca Suite (Stateroom 1350). I'll admit, we are very hard to impress when it comes to aesthetics but we were very impressed with the initial impression of our suite when we entered and checked everything out. The furniture was all comfortable as was the bed. There was a huge amount of storage and we noted that the designers used common sense with space that would normally not be used. We probably didn't need 50% of the space available but for long haul cruises more than a week, we could see how the extra storage might be needed. We had previously viewed pictures of the extra-large veranda but was still amazed to see the huge space with two separate doors (one by the bed and one in the living area). The veranda had a small table for two where meals could be enjoyed and two lounge chairs to relax during quiet sea times.
The bathroom was really spacious and included a bidet, a stand-alone shower and a separate Jacuzzi tub (which was used a few times during the trip). We noted plenty of towels and always had ample amount throughout the entire cruise. However, one HUGE noteworthy and noticeable item we immediately realized was that we were not offered the usual Elemis soap products that we have grown accustomed too in suite accommodations of almost every cruise line we've sailed. This was a disappointment as we always enjoy the soap and shampoos and while this seems like a small amenity, it really stood out to us as one of the first amenity related issues we had during our stay.
Then we noticed that we did not have a mini bar. There was a refrigerator but it only had a few Coke's, Sprite's, some cookies, and some M&M's…no beer, no liquor options, no mixers, nothing! We were shocked! And that was the first time on any cruise (regardless of the cabin) that we did not have a mini bar fully stocked. But we later found out that friends several decks down in a regular outside cabin did in fact have a stocked bar, as did a few others. So how is it that we didn't have a bar in an Owner's Suite? We had a huge space for glassware and utensils (which we were used too on previous cruises) but we had absolutely no glassware whatsoever. We had to ask our cabin steward to stock some for us for entertaining.
At the same time we realized we didn't have a stocked mini bar or glassware we noticed we didn't have cut fresh flowers, stationery like we've had before, and no free laundry service that had once come with a suite reservation. So on the first day before we even left the port, we were already getting a bad feeling and comparing in our minds what we thought we paid for and what we were actually going to be receiving.
For a suite the size of an Owner's Suite we felt it warranted a nice coffee/tea service. A Keurig or a Lavazza machine with all the pods and accessories is certainly what we expected. Yet all we found was a very cheap one cup coffee maker you'd find in a flea bag hotel anywhere on the side of the road. And the ONE time we actually tried some of the cheap coffee, it tasted and smelled so bad we had to spray our cabin with deodorizer!!!
On many previous occasions we've been in a suite, we always received afternoon hors d'oeuvres prior to dinner. But we only received one plate all week and it was the day we departed Ft. Lauderdale but nothing any other day of the cruise.
We turned the TV on to review the channel options and they were severely lacking. We noticed that movies (that once were just available and streaming throughout the cruise) were $11.99 per movie. Really? But we didn't realize that the movies were actually FREE for us in our suite because there was nothing to indicate this benefit and of course our concierge didn't fill us in. We realized they were free when we saw our bill and noticed that the one movie we watched was actually credited back to us. It would have been nice to watch a few other movies but we felt the fee was a little high not knowing it was actually free.
As for the stateroom itself what we received was a large room with a large bathroom, large TV and large veranda…nothing more, nothing less. And on the surface it looked relatively clean but we looked under the bed and along the headboard and there was so much dust caked on the carpet under the bed that we were literally standing with our mouths hanging open. Considering the cabin stewards are in the cabins at LEAST twice a day, this told us it was sheer laziness and lack of attention to detail. All cabins on the ship deserve an impeccably clean cabin but we paid for first class accommodations and we certainly didn't feel "first class" when looking under that bed!
THE CRUISE: Our itinerary included a day at sea, a port day in San Juan, one in St. Maarten and a third in St. Kitts. with two additional days at sea back to Ft. Lauderdale at the end of the cruise. With the exception of San Juan, we remained on the ship for the remaining part of the cruise as we have been to these ports before and wanted to enjoy quiet time on the ship while everyone else was ashore during port days. But as ports go, they are great ports and we especially enjoyed our long evening in San Juan and had a lovely dinner at a highly rated restaurant called, "Raíces" which serves traditional Puerto Rican dishes and amazing drinks. So we had a romantic meal, walked around a bit and got back on the ship well before sailing at 10:30 PM.
SPA: We are HUGE spa people and always spend a lot of money during cruises on various treatments, massages and the like. However, as soon as we got on this ship we noticed that the basic spa prices were severely inflated and were a lot more than we paid only a year before on an NCL ship. As basic massage for 70 mins was $265. And while we certainly can afford the prices we decided that we would not support the crazy prices we noticed on the spa menu. We ended up finishing the cruise without booking one spa appointment the entire week.
ROOM SERVICE: I'm not even sure where to begin with this category. To sum it up it was a COMPLETE fail !! One morning while at sea we had breakfast sent up to our stateroom via the pre-order form we left on the outside of our door the night before. We setup everything on the veranda and dived into our food. It was barely edible. Everything was cold, didn't seem fresh, and was slapped onto the plate without the thought that someone was actually going to be seeing it before they put the food in their mouths. We ordered toast for two people and received one slice and only toasted on one side! Needless to say we were starving after picking through what we could actually eat. We didn't even get salt, pepper or cream!!!
During a good majority of our previous cruises (on RCCL or otherwise) we opt to have breakfast sent to our cabin the last morning just prior to disembarkation. So the last night we once again hung our breakfast order on our door around 10PM that evening. Later on that night we noticed that it had been taken off our door so we assumed that everything was good to go. The card indicated that we wanted breakfast delivered between 8-8:30 AM the following morning. The next morning 8:30 AM came along and no breakfast. We phoned the room service number and were told that room service isn't provided on disembarkation day. Since WHEN we thought? We were so angry by this point that we slammed the phone down and ran up to the buffet to try to grab a bite before leaving the ship. As we approached the buffet area we were told that it had just closed and we noticed the crew literally THROWING food into the trash and into storage units to try to get everything put away so no one could see. Again, this was 8:30 AM!!! So no breakfast after 8:30 AM? We've had breakfast with friends on a number of occasions on disembarkation day in the buffet area well after 8:30 AM. So why is this different? We were furious! We basically had to leave the ship having had nothing to eat since the night before.
FOOD/Staff – Dining Room/Buffet: One of us thought the food was acceptable in the Windjammer Buffet, the other didn't. But overall, the ships food was fair to acceptable! We had one lunch and one dinner in the dining room the entire week. We thought the service was horrible and the one time we were in the dining room for dinner I asked for an iced tea and the bar server said, "That's not my job, ask your dining room steward". Really? My mouth was hanging open and I never did get the iced tea.
For every other meal the rest of the week we were in The Windjammer. It was "ok". And on every occasion we left there smelling like spicy food and had to change our clothes before going onto our next event. But the staff in The Windjammer were attentive and doing what they could to help out. We did have a few good meals there but we still noticed it was really low budget, tasteless food.
BAR SERVICE and DRINK PRICES: Most of our drinks ran well over $9.00 with the gratuity! And we're just talking about vodka/cranberry and Bacardi/Coke…nothing over the top. Everyone was in shock all week over the super increased drink prices. It didn't stop us from having some drinks but we certainly weren't buying rounds for our friends like we usually do because of the increased prices.
Also, we were traveling with over 400+ LGBT people. The LGBT community LOVE their cocktails and will spend a LOT of money on alcohol. But in every venue the bar staff was lacking and there were NEVER enough people to accommodate all the drink requests. We all kept saying all week that RCCL was losing a LOT of money because they didn't have enough staff to pour drinks. CONCIERGE: Prior to departing for the cruise we had received an introduction email from our Concierge. He made it sound like he'd be everywhere all the time helping us like we've always experienced from many other concierges' we've had over the years. But he was useless. He obviously didn't escort us onto the ship, was nowhere to be found when we made our way to the concierge lounge and we didn't even meet him until the second day of the cruise.
With our suite we were supposed to have priority seating in the two specialty restaurants. About mid-way through the cruise I phoned the concierge to have him book us into the steak restaurant the last night of the cruise. We needed a reservation for 6 people. He phoned me back and left a voicemail in our stateroom that he couldn't do it and wouldn't be able to get us in at any point during the last two nights of the cruise. So on the last night we went up to the steak house at 8PM (which is the time we wanted seating) and the place was empty!! The person at the door said they could accommodate us if we wanted to bring the group in. But it was too late as we were not dressed and all our friends had made other arrangements for their meal that evening. We were steaming and upset because we had looked forward to a final decent meal with our friends before we all parted ways.
Regarding the concierge, and probably our biggest complaint of all…we received absolutely NO information from him or anyone else about disembarkation day and the special privileges we had to disembark while being escorted around the general lines directly to customs. We ended up getting in the main line on deck 4 and waited for a VERY long period of time to get off the ship. Come to find out our fellow suite passengers had already been escorted off the ship. So after everything else the entire week this just summed up the entire week as a really horrible week as far as RCCL is concerned.
And finally, when we did make it to the customs and immigration area we noticed signs that said, "Global Entry and Cleared Passengers" on two separate signs pointing towards a smaller customs line. We are both Global Entry and Clear Passengers and had our port/land cards with us to use with our passports. When we asked about it the staff knew nothing about it and we ended up having to get in the very back of the line we had exited to enter the Global Entry line (which didn't exist).
CLOSING: We are 99.9% sure that we will never sail another RCCL ship again. We get such amazing service on Carnival and NCL that we would never spend the money we spent again on RCCL for the extreme bad service and lack of amenities we experienced during this recent venture on the Independence of the Seas. We're not sure if there are staffing issues, management issues or all of the above but it seems to us that all of the upper management on that ship should be retrained to know what they're doing and know how to ensure passengers are afforded the experience aligned to the price they paid for their cruise experience. So don't look for us anytime soon in the RCCL check-in line. But I doubt they'll care since they don't have anyone there who cares.