April 2015 - 5 Night Western Caribbean (Miami Roundtrip) Cruise on Carnival Victory
BEST vacation, ever!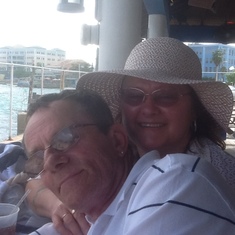 This was our first cruise, but will absolutely not be the last! We were on Carnival's ship, Victory. We were pampered by our personal steward, Viktor. He knew us, and called us by our first names like a friend who's only concern was our comfort! We asked the first night for some ice in our room and we had fresh ice every night there after! Our room was serviced twice daily. Fresh linens and towels galore! Large beach towels too!!
We booked 2 excursions, one in Grand Cayman, and the other in Ochoa Rios. Booking through the cruise line insured top quality adventures, reputable guides, best prices, and you will not be left behind if your trip runs a little later than planned! We swam with the stingrays in the Caymans! All snorkel gear was provided, the guide was friendly and educated us in the rays and other marine life. Touching and feeding wild rays, was an experience of a lifetime! Our other excursion, was a Jamaican beach party! We were treated to a day on a private beach, BBQ buffet grilled right there on the beach, Jamaican music, rum punch, (all you wanted) games, basic Jamaican dance lessons, we swam for sea urchin and shells!
On the ship, there were 4/5 buffet's anytime and all the time! Just get in a line and eat yourself silly! If you get hungry at anytime, it is certainly not due to not finding something you liked!! If you preferred a more restaurant feel, the dinning rooms on board will meet the need, and then some! 2:00 A.M.? No problem. Call for room service 24/7!!! They even cater to diabetic's like myself!
This was overall, the most enjoyable, affordable trip, we have ever done! On board shows, games, relaxing on deck drinking fruity drinks,anything we felt like doing(or not doing)! Our 5 day cruise, excursions and all, cost less than a 4 day trip to Panama City on our motorcycle! We didn't do and see nearly as much as we did on this vacation, on any other trips to anywhere! We are hooked for life!