May 2014 - Explorer of the Seas to Caribbean
beware of cruising with a baby!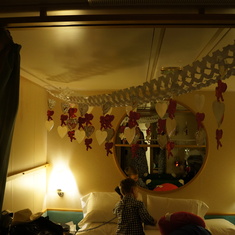 I have to say we enjoyed this cruise very much! The kids (2 boys, 6 and 4) had a very good time. they loved the pool and the jacuzzis (spelling??). THe food was great. nothing outstanding but never had a bad meal. loved it all. the entire ship was very clean. for a ship to have been in service for a while now, i was impressed by the clenliness of everything. nothing looked worn, slightly outdating in color, but overall I felt comfortable. The ports were beautiful. limited time in most of the ports which made it difficult to get out and enjoy them. Labadee was BEAUTIFUL and we had the best time there! They built it up wonderfully!! My only and biggest problem..... our 8 month old!. She was fine but the entire ship had nothing to offer her. They did not provide any babysitting services, in the room or in any other area of the ship. That proved to make things difficult for a baby that loved to sleep. I made the mistake of getting an inside room with no windows, so sitting in the room while she slept was impossible. she wasnt allowed in the pool, no diapers, swim diapers, or pull ups in the pool! Then to top it off, the wanted to charge her gratuities!!! I absolutely refused. Partially my fault for having booked a cruise ship that did not provide any services for her but i also should have been alerted to the extremelly limited amenities for a baby!!!