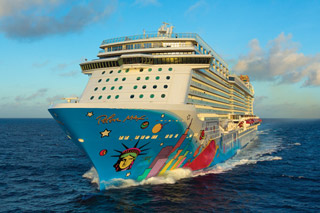 September 2015 - 7 Night Bermuda (New York Roundtrip) Cruise on Norwegian Breakaway
Don't expect to enjoy the sun
I was very disappointed each morning when we  went  to sit out by the pool to relax. On the days at sea, you would have to reserve your lounge chair by 6:30 a.m. My husband and I saw people saving chairs (as many as 6) in both the sun and the shade. As we sat all day in ours, these saved seats were never used by anyone in 5 hrs time. This just meant some people were never able to get a seat. WRONG!!!!
Also, their theatre only accommodates 800 guests. They only present the shows on two occasions. This means of the 4000 guests, only 1600 will be able to see the show. This is not right !!!  My husband and I both agree, "BIGGER DOESN'T ALWAYS MEAN BETTER"
The staff on this ship (compared to the Gem) were not as  friendly or accommodating. Perhaps they are over worked. There were very few staff working the pool area for drinks. If you wanted a drink, you would have to go to the bar yourself and hope your seat was still available for you when you returned.
We thought the food was good and also the service in the dining areas was very good.
We will be booking again with Norwegian, however, on a smaller ship