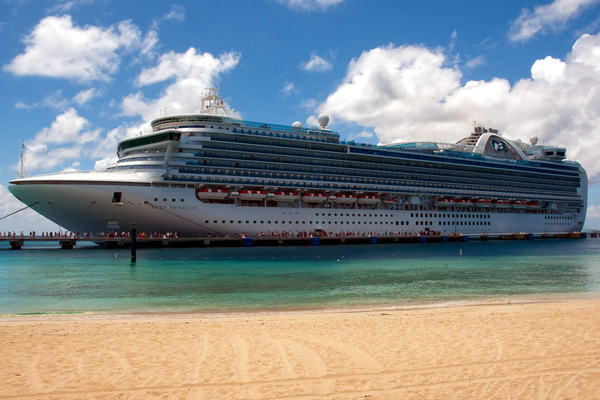 May 2016 - 7 Night Alaska Inside Passage With Glacier Bay (Seattle Roundtrip) Cruise on Ruby Princess
Worst Cruise I have been on.
The food sucked.  It all had the same flavor if there was any flavor at all.  Very few menu items tasked good at all.  The customer service staff fell short of competent on multiple occasions.  I went to the customer service desk the first evening on the ship because the only plug by the bed was 220 volts.  I needed to plug my CPAP machine in close enough to the bed that the mask would reach my face.  The person at the desk told me to go straight to my room and someone would bring me an extension cord immediate.  I did so and no one came.  After awhile I called my room attendant and got no answer.  I just got the runaround from the desk. So I had to go without the machine for the night. I even looked in their gift shops on the boat and they had adapters that went form 110 to 220 but none that converted 220 to 110.  The next morning the room attendant asked what I had called about the night before so I told him and he said o if you would have told me last night I could have gotten you a cord but they are all gone now.  So I told him I they I tried to call him last night and he said that he was already asleep then,.  It was before 10 PM.  He them told me I would have to get one from the service desk.  So I go to the desk again and they tell me I need to get a cord from the room attendant.  I told them he did not have any. They then shrugged and looked at me like I was from mars. I asked if there was any way they could find a cord or adapter for me so I did not have to go another night.  She they said she needed to ask her manager to help with the issue.  She left the desk and came back saying she would email engineering and see if they possible had a cord I could use. When I asked how long it would take to get an answer she again had to consult her boss and they could not give me an answer.  So I left the desk and went about my day at see. Planning on buying a cord at the first stop.  I was surprised when hours latter a man knocked on my door and provided me with a cord. one might think I should have planed ahead and brought my own cord and I will in future cruises (not with Princess)  but I had previously looked in the the plug situation and was reassured that there were plugs by both sides of the bed to plug my CPAP in (Not the case).  
That was not the only problem with the customer service desk. Some how a drink got put on my wife's card even though niether of us ordered any drinks or ever showed our cards to any drink servers on the ship.  When we went to desk to resolve the issue the person was rude and wasted a half hour of our time trying to decided if she would take the charge off or not. Finally she removed the charge.  
My brother and his wife were also on the cruise with us.  they had purchased drink packages for both of them before the cruise.  So once on the ship they started enjoying the drinks. they informed the bartender each time they got drinks that they had gotten drink packages and the bartender swiped their cards and gave them their drinks.  Finally after several times one of the bartenders told them that they needed to have stickers on their cards for drink packages.  So we all went to visit the customer service desk to find out why they did not get the stickers.  We were told that they had no record of they ordering drink packages. I personally logged in to their account with my brother and helped him order the packages months in advance of the cruise. So they told him that he could go and purchase new drink packages and they would remove the charges from his account for the drinks.  So we went to the place were they sold drink packages and he got their drink packages.  We then went back to the not so friendly costumer service desk and showed them the paper work stating that they now had drink packages.  We were told that they would take off all drink charges.  That was on day 1 of a seven day cruise and on day 6 the charges were still on their accounts.  so back we went for some more less than friendly service.  The lady who helped us showed a better level of competence than the others we had dealt with at the service desk but she was by fare the grumpiest of them all.  She finally took of all of the charges.  
Again food bad bad Bad.  We ate 3 meals a day on the boat totaling 21 meals we tried multiple on-trays most nights and sometimes during lunch too. on about 4 of the meals were event partly good. They had great crab legs and the beef wellington was good.  very little of anything else was good.  Very bland and much over use of the same wine flavored sauces.  Even the deserts were bland.  The servers were great and the bed was good too.  They also were notorious for only offing lunch in the buffet area and then closing down one side of the buffet so it created large traffic jams and made it hard to find seating due to no dinning room options.  
It would have to be really cheap deal if I even sail with Princess again but most likely I will never use them again.