September 2014 - Pride of America to Hawaii
Pride of America Hawaii Cruise September 2014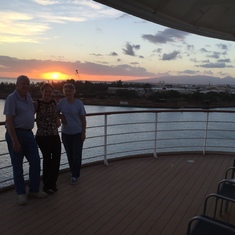 Loved everything about this cruise.
-Excellent ports of call (really loved Kauai!). The afternoon cruise along the Napali coast was definitely one of the highlights.
-Great service. Our room "butler" Peter and our concierge Thomas could not have been more helpful and serving.
- Loved the entertainment. Very talented crew members on "crew talent night"
- We were VIP's which included breakfast and lunch served in "Cagneys". All the breakfast items were excellent!
- If you get the chance.. reserve one of the two bedroom suites on the stern. The private deck is amazing! We were always inviting friends we met on the cruise to enjoy it with us.