August 2014 - Norwegian Jewel to Alaska - Inside Passage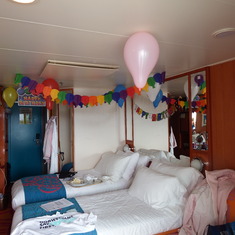 If you are looking for a cruise to take kids this is a great one. They seem to have lots for the kids to do. With Freestyle cruising there is plenty to eat, at almost every time of day, except for midnight buffet. Many choices for kids as well. There is even a separate area for kids and their families. Great family vacation.
Unfortunaley, I didn't realize how many kids now cruised. Having cruised before Freestyle came about, I was used to that type of cruise. Kids were constantly runnng into us. I enjoy the formal nights and more elegant food choices of years gone by.
Service could not have been better, from your room to those cleaning the tables. Everyone spoke great English and were wonderful. I have never seen so many cocktail lounges as was on this ship. Nice entertainment in most of them. The evening entertainment was super. There is something going on at every hour for everyone. You will never be bored.
Wonderful time was had by myself and my two adult daughters, except we thought we had left kids at home.