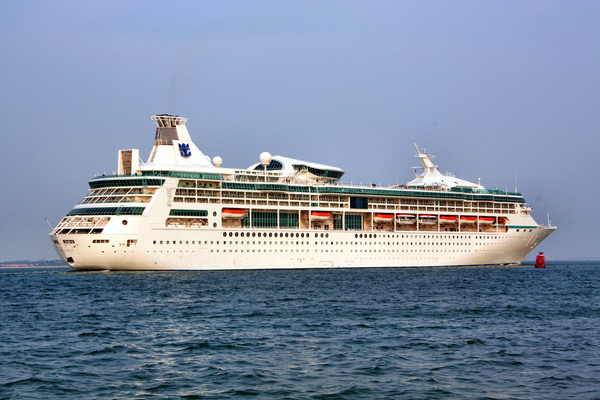 January 2016 - 9 Night Southern Caribbean (Tampa Roundtrip) Cruise on Vision of the Seas
it was ok - but nothing I would write home about
I have to say - this was our first cruise with Royal Caribbean - and it didn't start off well - when "they" (RC) refunded my credit card $50 for no reason and then tried to say I didn't pay the cruise off and owed them $50.  Thankfully they didn't cancel my cruise but it just seemed to be a negative start to this first time trip with them.  Then they seemed to not like to deal with TA's - so another reason to not want to try them again.  We also didn't have confidence in any of their excursions (they didn't seem to "back" their excursions) so for the first time ever - we didn't book any excursions with the cruise line itself - though we did go on some (that we did on the spur of the moment by finding tours on the "dock") and that actually turned out a lot better than expected.
the embarkation went well - better than expected - we were on the boat in no time - but RC seemed focused on "selling" something (excursion, drink programs, specialty dining) and like most cruisers - we were starving so we went to the windjammer - and lo and behold - only one line was open and the food was well.......not that great. 
We then made our way to the dining room - to talk to the wait staff about my husband's shellfish allergy and an hour later - we walked away with the feeling no one understood what a shellfish allergy was - because they wouldn't let us pre-order our menu for that night and they PROMISED no seafood was on the menu the first night - so we would have no fear of cross contamination.  Well guess what - every single entre had seafood on it - and we were so frustrated.  When we informed our waiter of the shellfish allergy - he was so dismissive and just had a bad attitude.  After 2 nights of this - we asked to be moved to another area - as far away from "Igor" that we could get!!  Now I will say once we moved - we had fabulous dining service and the new wait staff was very attentive to my husband's food allergies.
Our cabin was ok - the bathroom incredibly tiny - but we weren't surprised by that but we were surprised that no complimentary shampoo's or conditioners were made available.  And the air conditioning was not as cold as it could be so most nights I sweltered and wished I brought a battery operated fan.  No robe either.  I was missing carnival really bad by then.
The entertainment was bleh - it just seemed to be an "old" ship that catered to "old" people.  Nothing against the senior generation but I missed having a dedicated comedy club and the karaoke was "so so" -
I did however enjoy the movies on the pool deck - and the matinee's in the theater - I did catch up on several movies.  Popcorn would have been nice (again missing those touches that carnival has)
RC does have a decent drink program - which my husband signed up for - and it didn't require that I had too (thank god because I don't drink enough to make it worth it).  I also enjoyed the extra long walking track on the upper deck - though sometimes the wind made it hard to get in a good walk.....but no fault of RC if it was windy.
The ports of call were great - Key west could have been a longer stay - but I'd been there before so I didn't feel cheated.  Aruba, Curacao and Grand Cayman were all great ports - and gave me an idea if I wanted to go back in the future for a longer (hotel) stay.
Debarkation was a nightmare.  We put our luggage out the night before - and the next day - all 3 pieces of our luggage was no where to be found.  we spent an hour in the terminal frantically trying to locate.  We found one piece with the luggage tag ripped off - and the other was in the wrong "line" and the last piece - a passenger took out of the terminal with them (stupid idiot didn't bother looking at the NAME TAG???) BUT it was so frustrating........we vowed never again and will do self assist in the future.
I liked the 9 night cruise but I was not overly impressed with RC or this boat.  I am not sure if I would cruise again with RC - unless it was a destination/price I couldn't pass up - but I think I'll stick with Carnival.