February 2015 - 7 Night Western Caribbean (Galveston Roundtrip) Cruise on Navigator of the Seas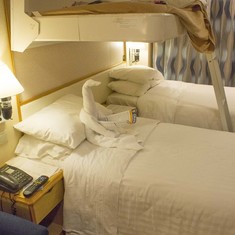 We cruise about once every 5 years, always with Royal Caribbean. Yes it's true there's a little more belt tightening each time, I guess that's due to the competitive climate in cruise sales. That being said, Navigator is a great ship. Service was excellent as always, tho noticeably less formal than in past years (except at guest services, which continued to be of highest quality and formality). Just the right blend of families & ages for my taste, which was a concern- the first 3 days were at sea and I wasn't sure if we'd have hundreds of stir crazy kids. Not a problem at all.
Enjoyed each port. Belize City was much better than I expected, we thoroughly enjoyed the Altun-Ha excursion booked through an external company. Not a fan of the rebuilt Cozumel port that is so much more commercial than the past. Next time I would definitely hire a taxi to get to the real Cozumel, just didn't have enough time to walk roundtrip from the International Terminal and still get to see anything meaningful.
Galveston as a port leaves a lot to be desired. Clearly designed to move freight and not people. Signage is unclear and traffic flow makes little sense. Other disembarkation points have moved SO much more efficiently. There is some current outside construction (much needed beautification?) so perhaps these issues will be addressed.
Rough seas on the way back- 15 ft. waves- but the captain and crew handled everything professionally. The much talked about stabilizer system obviously worked better than in my past cruise experiences. Would enjoy being on Navigator again.