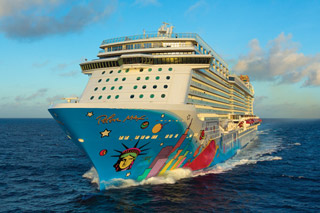 Norwegian Breakaway
Sail Date: October 20, 2013
This was our first cruise. Six family members booked together. Two seniors in their 80s and one in a wheel chair.
 The food was terrible. The Garden Buffet served the worse food of all. And the other restaurants weren't much better unless you wanted to pay for food that was supposed to be included. Garden Buffet would stop putting chocolate milk out right before lunch and tell you there wasn't any more. But if you got there the next day before lunch there would be more. This also happened with other food items. Also way to crowded and very unorganized. Uptown Cafe ran out of turkey by the third day. Ridiculous. Almost everything was served luke warm. Very dangerous temperature for food safety.
Wheel chair accessibility was mediocre. We were never told that there were decks with wider passage ways. Spoke with Norwegian several times before our cruise and this was never relayed to me. It was apparent even before we left for our cruise that Norwegians employees were not sure about policy and procedure. I got different answers to the same questions every time I spoke with them. The same thing happened on the ship.
Not enough elevators to service everyone effectively.
2 pools for 4000 people. What a joke.
Didn't receive all the comps we were supposed to get. Good thing I brought our contract along. It took about 4 trips to the desk to straighten that out.
We were told to reserve the shows we wanted to see weeks before our cruise. So we did. Only to be turned away 20 minutes before the show because reservations didnt matter. It was first come first serve. Again more misinformation. The shows we reserved times were changed. So that messed us up too.
The entertainment that we did get to see was very good. Fat Catz , Fire and Ice, magician.
Stirrup Cay the private island was a nice day. Also the buffet on the island was way more organized  than on the ship. Also the people who worked on the island for Norwegian were much friendlier. Staff on the ship where not to friendly or customer oriented. Especially those at the service desks.
Getting on and off the ship with a wheel chair was stressfull. We were again being giving conflicting information. This was our first cruise and we needed correct information in order to know what to do. Stressfull. Waste of money and vacation days. Dont go on this cruise.